Dr. Martin Brudermüller, Chairman of the Board of Executive Directors and Chief Technology Officer, BASF SE, Ludwigshafen, Germany, presented ambitious goals at the BASF research press conference held at the company's headquarters on January 10, 2019.
Reducing global greenhouse gas (GHG) emissions is one of the greatest future challenges and a topic of concern for Martin Brudermüller. According to him, BASF was and is a pioneer in eco-efficiency. Since 1996, the company has installed systematic sustainability measurements. He emphasized that BASF has made a considerable reduction of CO2 emissions by continuously optimizing production processes and increasing efficiency. Since 1990, the company has reduced its greenhouse gas emissions by 50 % while, at the same time, doubling its production volumes. The current corporate strategy includes the high-priority goal to achieve CO2-neutral growth until 2030. This is referred to as Carbon Management. Activities such as optimizing existing processes, gradually replacing fossil fuels with renewable energy sources, and developing new low-emission production processes are bundled in this Carbon Management program.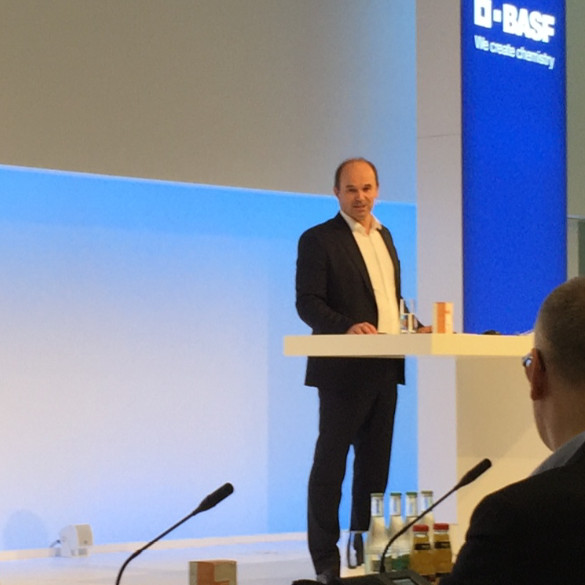 As production processes have already been optimized, further reducing CO2 emissions is limited by technical and thermodynamic barriers. Growth in production inevitably leads to an increase in CO2. Nevertheless, BASF wants to grow production and remain the world-leading company and, at the same time, be a pioneer in climate protection. To do so, Martin Brudermüller explained that they are focusing on the entire value chain and are looking for new ideas to increase efficiency and CO2 reduction. Innovative leaps are needed and being worked on. Eco-efficiency is the innovation driver of the future in Brudermüller's opinion, and the unique Verbund concept of the BASF is the ideal setup for Carbon Management. The Verbund interconnects the production plants in one location, making use of synergies among different value chains such as using, for example, products manufactured in one plant as a feedstock for processes in another plant. BASF's Verbund in Ludwigshafen is the largest Verbund location. In total, it already avoids around 6 million t CO2 emissions.
According to Brudermüller, no other chemical company has announced similar plans and is doing so much research in such a broad way on these topics. He says that BASF is consciously entering new territory and is aware that not everything will be crowned with success.
Achieving another significant reduction in CO2 emissions will require entirely new technologies, which is why BASF has launched an ambitious R&D program. BASF aims to maintain its research and development expenditures at the high level of previous years; expenditures amounted to €1,888 million in 2017.
During the Research Press Conference, four research projects for CO2-reduced future production processes, representative of the portfolio of topics addressed by BASF's research activities, have been presented.
1) Greening Up Steam Crackers
Energy is needed to perform chemical reactions. Steam crackers, for example, thermally break down a feedstock such as naphtha into olefins, for example, ethylene and propylene, and aromatics for further processing. Ethylene and propylene are the most important raw materials in the chemical industry. For this, a temperature of 850 °C must be reached. Currently, this is done by burning natural gas. If this energy could instead come from renewable electricity, CO2 emissions could be reduced by as much as 90 %.
BASF aims to develop the world's first electrical heating concept for steam crackers within the next five years. The idea is to replace the gas-fired furnace of a steam cracker by a high ampere/low voltage e-furnace powered by renewable energy. The concept is still in the evaluation phase. Challenges that have to be solved include finding suitable metallic materials and an optimal reactor construction, working with high current, and creating an efficient operation.
2) Clean Hydrogen Production
The chemical industry uses large amounts of hydrogen as a reactant. BASF, for instance, uses it in ammonia synthesis. Hydrogen will also be essential for many sustainable energy-carrier and energy-storage applications in the future. The main production method is steam reforming of natural gas. It releases significant volumes of CO2.
Together with cooperation partners, BASF is developing a technology to produce hydrogen from natural gas via methane pyrolysis on a moving carbon bed. This technology splits methane directly into hydrogen and carbon. The resulting solid carbon can potentially be used in steel or aluminum production, for example. This methane pyrolysis process requires comparatively little energy. If this energy comes from renewable sources, hydrogen can be produced on an industrial scale without CO2 emissions. The project is still in the phase of lab-scale proof-of-concept and sample production.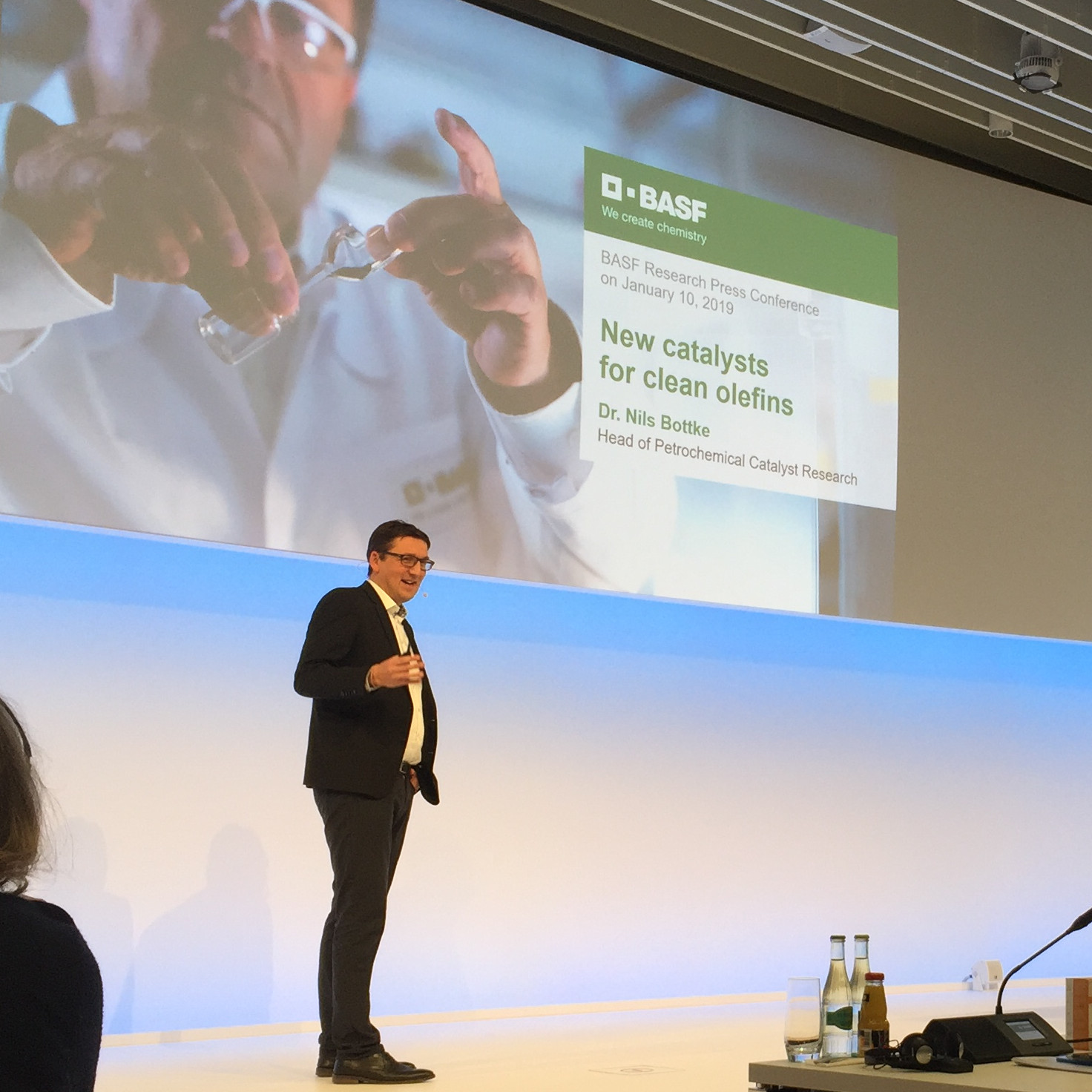 3) New Catalysts for Clean Olefins
Olefins are central intermediates in BASF's and other company's chemical value chain. Currently, it is produced in steam crackers in a highly efficient process. However, it is energy-intensive and a large source of CO2 emissions, especially due to the large production volumes.
Carbon-negative olefin production based on natural gas is being developed. The dry reforming of natural gas (CH4 + CO2) creates syngas (CO + H2), which is then transformed into olefins via dimethyl ether (DME) as an intermediate.
The selective activation of methane has long been a challenge. The first industrial catalyst, containing two novel spine-type materials based on nickel and cobalt, has been developed and commercialization is scheduled for 2020. In addition, a successful proof-of-concept of a catalyst system for the direct conversion of synthesis gas to DME has been realized. Commercialization is scheduled for 2022. These new-generation catalysts are being marketed in cooperation with Linde AG, Munich, Germany. Depending on the availability of raw materials and renewable electricity, this innovative process could be a complement or an alternative to the potential electrical heating of steam crackers described above.
4) CO2 as a Chemical Feedstock
Water and carbon dioxide are very stable molecules. Using them as chemical raw materials is very energy-intensive. Therefore, viable options are limited and the recycling of CO2 into chemical processes only makes sense in selected applications. Such uses will, therefore, not make a large contribution to slowing climate change. The production of sodium acrylate, however, is an example of such selected uses.
Sodium acrylate is an important raw material for superabsorbent polymers, which are widely used in diapers and other hygiene products. It is produced by selective oxidation of propylene. BASF is currently scaling up a production process of sodium acrylate from ethylene and CO2 to industrial scale. The catalytic cycle involves a palladium catalyst and a base. In cooperation with the Catalysis Research Laboratory (CaRLa) at the University of Heidelberg, Germany, the reaction had been successfully implemented at laboratory scale in a mini plant.
---