The German Future Prize of the Federal President for Technology and Innovation awards projects which not only are of high scientific value, but which have concrete applications and are mature for commercial markets. It is one of the most prestigious awards for science and innovation in Germany with a prize of 250,000 EUR.
This year, the following teams have been nominated: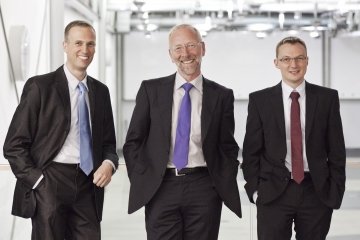 Dr. rer. nat. Stefan Gehrig, Dr.-Ing. Uwe Franke, and Dr.-Ing. Clemens Rabe (pictured, left to right) Daimler AG, Stuttgart
6D Vision – Recognizing Hazards Faster than the Human Eye
A timely warning or a fast reaction can help prevent serious accidents on the road and cars increasingly have automated safety systems included. By using a pair of cameras in stereo and new algorithms, this team is able to identify moving objects such as vehicles, cyclists and pedestrians quickly and calculate their position as well as their direction and velocity. This makes it possible to accurately predict the risk of collision even if road users are partially occluded by other obstacles.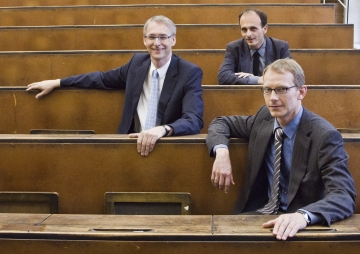 Prof. Dr. rer. nat. Karl Leo, Dr. rer. nat. Martin Pfeiffer, and Dr. rer. nat. Jan Blochwitz-Nimoth
(pictured, left to right) Technical University of Dresden, Dresden, Heliatek GmbH, Dresden, Novaled AG, Dresden, respectively
Organic Electronics – More Light and Energy from Wafer-thin Molecular Layers
By doping organic semiconductors to improve their conductivity, this team has been able to lower the operating voltage of organic light-emitting diodes (OLEDs) by more than a factor of two and improve the absorber material in organic solar cells to give considerably improved efficiency for both applications.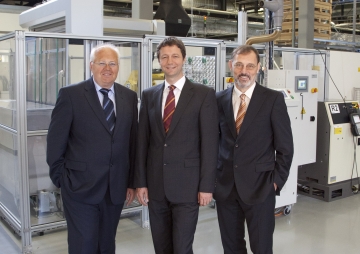 Dr. rer. nat. Klaus-Dieter Rasch, Hansjörg Lerchenmüller, and Dr. rer. nat. Andreas W. Bett
(pictured, left to right) AZUR SPACE Solar Power GmbH, Soitec Solar GmbH, Fraunhofer Institute for Solar Energy Systems ISE, respectively
Concentrated Sunshine – Utilized Efficiently
More than 85 % of the solar photovoltaic modules on the market are made from crystalline silicon, with a typical module efficiency of 14 %. This team has separated the two functions of a standard photovoltaic module — the collection and the conversion of light — to create Concentrix™ Modules where Fresnel lenses concentrate light into small, highly-efficient, multi-junction solar cells, increasing efficiency to around 40 %.
The jury's decision falls on December 14th. The winning team will be awarded the prize by Federal President Christian Wulff at the ensuing award ceremony.