On the occasion of the International Year of Chemistry 2011, the German radio station Deutschlandfunk presents a weekly review of significant, unusual, or current developments in chemistry called "Molecule of the Week" or M3 – Mraseks Molecule Mosaik. The artist Tobias Stengler illustrates the weekly radio series. Vera Köster talked to him for ChemViews about his interest in chemistry and the sciences and the connection between chemistry and fine arts.
Do you have a scientific background?
No, I don't have a scientific background, but I am very interested in sciences, especially in mathematics. In my art I deal with modular systems, series of numbers, constructions, etc. I am very interested in the interface of the arts and sciences. Various cooperations have already resulted from this interest.
What inspires you to draw molecules?
The idea for this came in 1999. I listened to the radio program "Forschung Aktuell" (Research Today) on the radio station Deutschlandfunk. It presented half an hour of the latest news from science and technology. While I listened, I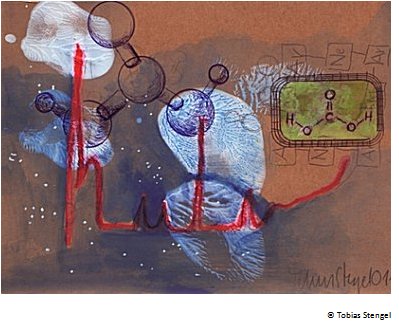 transformed what I heard into drawings. I did so from 1999 to 2009.
On the one hand, I did this out of curiosity for science, on the other hand, with the pictures I tried to understand what I had just heard.
I did my paintings on used index cards. The concept was to not only archive technical innovations and scientific discoveries, but also to document the personal thoughts and reflections I had during these 30 minutes, and also to create a connection between the broadcaster and the listener.
The project ended with an exhibition in Berlin and one in Ahrenshoop, Germany. A catalogue originated from this and the Deutschlandfunk produced a short film.



What interests you most about chemistry?
The structures. Again, it's a system of modules. You can read characteristics from the structure, so to say it is a picture with its internal laws. This also plays an important role in the arts.

For the International Year of Chemistry you illustrate the molecule of the week radio series M3. How did this project start?
During the planning of M3 at the end of 2010, Mr. Pasch from the Deutschlandfunk had the idea to use the concept of the index cards from Forschung Aktuell and the graphical adaptation for a webpage. So I transformed the concept for the M3 series.
What techniques do you use in your work?
For the M3 series I used simple drawing instruments on paper, the index card cardboard. I used pencils, ball point pens, water colors, crayons. This was an intentional decision. They are all things you have to hand when trying to solve a problem.
Other works are wall installations assembled out of modules which are cast out of wax.
Is there an exhibition of the M3 pictures planned?
There is nothing specific planned so far, but, of course, I would like to exhibit them.
I would prefer doing so in a somehow science related location like a University or Institute. I am very interested in the interface between the arts and sciences. Showing my understanding of scientific findings in a location where mainly scientists would see them, is something I would like to do. I think it is interesting for them, as well, to see what non-scientists understand from of their latest findings.
Is it possible to buy pieces of the series?
In principle, yes. Currently, however, I try to keep them together to establish an exhibition.
Let me know if you are interested in a piece.
I will and also, when I hear that one of our readers is.
Thank you very much for the interview.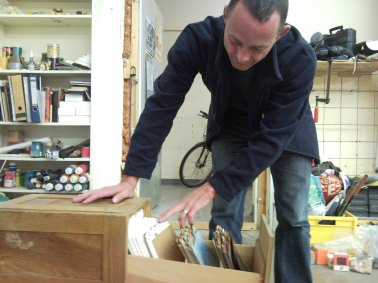 Tobias Stengel received his diploma from the Academy of Fine Arts Dresden, Germany, in 1986. Since then he has worked as a freelance artist. From 2007 to 2009, he held a lectureship at the Technical University of Dresden.
He has had solo and group exhibitions in France, Italy, Germany, USA, UK, and other countries. Pieces by him are in private and public collections in Germany, USA, and Israel.
Tobias Stengel had several scholarships among them the Arbeitsstipendium des Kunstfonds Bonn and the USA-Stipendium Land Sachsen.
Website ofTobias Stengel
---
---
See pictures of Tobias Stengel and go directly to the video and text provided by Deutschlandfunk (German)