Dr. Francis Waller has spent over 30 years as a researcher and group leader in industry. On his retirement, he was Senior Research Associate at Air Products and Chemicals, Inc., Allentown, Pennsylvania, USA, and Adjunct Professor in the Departments of Chemistry and Chemical Engineering at Lehigh University, Pennsylvania. He is the author of the book Writing Chemistry Patents and Intellectual Property. He talks to Jonathan Rose for ChemViews magazine about his experience with patent law and the common issues chemists face when filing patents.
What are the most common intellectual property issues a scientist faces daily?
I teach a short course for the American Chemical Society which was the basis for my book. I asked a modified version of your question to my course participants who are scientists and are starting their careers either in academics or industry. Some of their responses include: having vocabulary to talk with patent attorneys; filling out a Research Disclosure for a patent application; initiating a Prior Art search to determine if the invention is novel; drafting a patent application for the patent attorney; reading patents for competitive information; and understanding the basics of the four forms of intellectual property.
What are the differences in intellectual property law between the USA, Europe, and Asia? Between Industry and Academia?
There are no differences in Patent Law between Industry and Academia. All inventors have the same set of rules and procedures to follow when filing a patent application, obtaining a copyright, or trying to register a potential trademark for their product. Since only inventors can file patent applications, the issued patent carries with it rights. When you join industry, companies have you sign an employer's agreement where you assign these rights to the company. In academia, many times the universities do not have such an agreement. In this case, the faculty member still has the right associated with the patent and sometimes when signing other research agreements faculty will pass their rights to someone else and this may not be their university.
There is basically very little difference with foreign patent application requirements. As of September 16, 2011, the U.S. joined the rest of international community by changing their first to invent requirement to first to file. Now every inventor, worldwide, is on the same page. There are other requirements such as language, fees, and hiring a national patent attorney to file your patent applications in other countries besides the U.S. Some countries have subject matter requirements that are different than those in the U.S.
One important difference is how the issued patent is viewed when infringement is detected. All countries do not follow the same procedure. Overall most countries are improving, but still intellectual property rights of the inventor or the assignee are often ignored.

How important do you think it is, or should be, for students to learn more about intellectual property at university?
Most science trained students enter the workforce as an employee of industry. Therefore, it is very important for these newly minted hires to know something about intellectual property. However, there are hardly any undergraduate or graduate courses on intellectual property unless you are in law school.
Hopefully, my book will offer students an easy read to understand the very basics of intellectual property from a user's point of view. Please also see my Letter to the Editor on this topic appearing in C&EN, under the heading: Improving Ph.D. Education.
What motivated you to write your book?
My motivation was to offer to chemists a practical guide in the four areas — patents, copyrights, trademarks, and trade secrets — of intellectual property from a user's point of view. I hope my book will fill the gap for science practitioners who need the basic fundamentals in order to build a working knowledge to write chemistry related patent applications and have a productive interaction with a patent attorney.
I should point out that about 25 % of the patents issued each year have chemistry as a theme.
How does your book fit into a wider context?
Very few books and hardly any scientific articles report on inventions and discoveries described by patents. I hope that my book will illustrate that patents are a source of valuable scientific information. Patent applications must satisfy certain criteria in front of patent examiners who are knowledgeable about science and trained in establishing novelty, non-obviousness, and usefulness. This type of "peer review" can be more intense if there is later litigation in the courts.

Do you have any other books planned?
Yes, presently I am working on another book but not for scientists. It is for patent attorneys. I was amazed that a reference book integrating several disciplines of chemistry is not available for this audience. I realized this was an important topic because of my dealings with attorneys over my 30+ years of industrial experience. They often would say to me, "I wish I knew more science".

Who or what got you interested in organic chemistry?
Organic chemistry became my focus during my sophomore year at Niagara University, USA. My organic instructor impressed me with his knowledge, outstanding intuitive reasoning skills, and passion for teaching chemistry. It was then I decided that I wanted to be an organic chemist and pursue a Ph.D. after my B.S. with a longer term goal of either college teaching or industrial research.

How did you develop your current interests in the intellectual property aspects of chemistry?
My post-doc experience built on my Ph.D. with additional training in physical organic chemistry. My strength turned out to be experimentation. Designing and executing experiments gave me information to solve problems. Many times, the information was fundamental science or very novel solutions.
When I decided to work in industry, this meant filing patents on the novel, non-obvious, and useful solutions. With no formal intellectual property education, this 30+ year industrial experience helped me to develop my interest in intellectual property.
Which is your favorite piece of your own research?
My favorite piece of research was the investigation of both uses and properties of perfluorosulfonic acid polymers called Nafion® when I was working for DuPont and later Air Products. This family of polymers, which also included perfluorocarboxylic acid polymers, could be solubilized in mixtures of solvents enabling the researcher to coat carbons, other polymers and substrates, and act as counterions when in the ionic form. This led to several years of fundamental research.
Where do you see the field of chemistry in ten years time?
Chemistry today has become more interdisciplinary than it was 20 years ago. I remember seeing recently a want ad looking for an organic chemist with synthetic and mechanistic training to work as a bio-organic chemist. I believe this type of interdisciplinary skill base will continue to grow in importance over the next decade.
Scientists, chemists in general, will collaborate more globally especially when funding is cut back because of the "enthusiastic leveraged loaning and spending" we have seen from 2005 to 2010. I also believe more chemistry resources will be drawn into genome projects, proteomics, non-petroleum feedstock, and food research.
What are your interests outside of science?
Science reading and observing its trends has always been a long term interest. I like to travel and explore other parts of the U.S. and foreign countries. I team teach Pinochle and have an interest in hiking, fishing, photography, growing vegetables, and training young people by judging at the Lehigh Valley Science and Engineering Fair, Delaware Valley Fair, and Intel's International Science and Engineering Fair.

Thank you very much for this interview!
---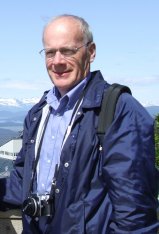 Dr. Francis Waller received his Ph.D. from The University of Vermont, USA. From 1970–1974, he was a postdoctoral researcher at St. Louis University, Missouri, USA, then Assistant Professor, St. Lawrence University, Canton, New York, and Simmons College, Boston, USA. In 1974, he left academia to join the Central Research and Development Department at E. I. du Pont de Nemours and Company, Wilmington, DE, USA. In 1988, he moved to Air Products and Chemicals, Inc., Allentown, Pennsylvania, USA. He was promoted to Group Head, then Senior Research Associate. Waller also became an Adjunct Professor at Lehigh University, USA, where he taught graduate courses in the Department of Chemistry and Department of Chemical Engineering until 2008.
Waller is also very active in promoting science education through hands-on-experimentation and has been given several awards in recognition of this. He has provided an intellectual property short course for the American Chemical Society, and judged the chemistry category at various local, regional, and international science fairs. He holds 45 U.S. patents, and has authored or co-authored 70 scientific papers.
Selected Awards:
Paul Rylander Award from the Organic Reactions Catalysis Society, 2011
Science Hall of Fame of The Discovery Center of Science and Technology, Allentown, PA, 1999
Community Service Award from SERTOMA CLUB, 1998
Catalysis Club of Philadelphia Award, 1992

Selected Publications: