The students Pavlo Solokha, Università di Genova, Italy, and Fabian Schönfeld, Universität Würzburg, Germany, won prizes for their posters at the 13th European Conference of Solid-State Chemistry in Lund, Sweden, September 25–28, 2011.
Solokha's poster was on 3D [Au-Mg] Polyanionic Networks in Novel La-Au-Mg Intermetallics, while Schonfeld's poster presented Thermal Conversions of 3d Transition Metal MOFs. Book vouchers sponsored by the journal ZAAC (Zeitschrift für anorganische und allgemeine Chemie) were presented to the awardees by ZAAC Editor Professor Martin Jansen, Max Planck Institute for Solid State Research, Stuttgart, Germany.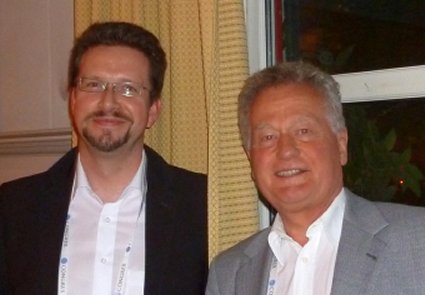 Martin Jansen (right) and Professor Klaus Müller-Buschbaum (left), Supervisor of Awardee Fabian Schönfeld.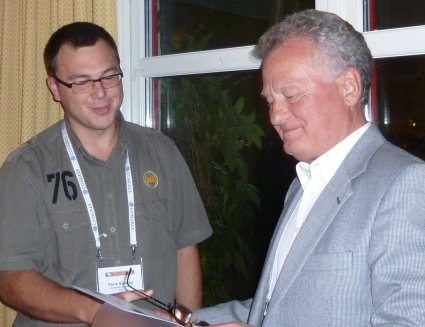 Martin Jansen (right) and Awardee Pavlo Solokha (left).
ChemViews magazine and the ZAAC Editors and Editorial Office congratulate them for their excellent work.
---
Recent articles by the prize winners:
The Utilisation of Solvent-Free Synthesis for the Reaction of Cobalt with Imidazole: MOF Conversion from equation image[Co3(Im)6(ImH)2] via equation image[Co4(Im)8(ImH)] to equation image[Co(Im)2]
K. Müller-Buschbaum, F. Schönfeld,
Z. Anorg. Allg. Chem. 2011, 637(7-8), 955–960.
DOI: 10.1002/zaac.201100019
3D [Ag–Mg] polyanionic frameworks in the La4Ag10Mg3 and La4Ag10.3Mg12 new ternary compounds
P. Solokha, S. De Negria, V. Pavlyuk, B. Eck, R. Dronskowski, A. Saccone,
J. Solid State Chem. 2010, 183(12), 2995–3001.
DOI: 10.1016/j.jssc.2010.10.018