The Dr. Flad Institute is not only a state-recognized vocational and professional school for Chemistry, Pharmacy, Biotechnology and the Environment, but it has gained through its commitment to excellence a top international reputation in the field. Founded in 1951, it started with 30 students, a few square meters, and 300 Marks starting capital. 60 years later more than 7,000 students from over 50 countries have received their training there. Among the many activities in the field of chemistry the school offers today are the Stuttgarter Chemietage, the Days of Chemistry.
Many outstanding scientists were invited to celebrate the 60th birthday of the Institute, among them the patron of the Stuttgarter Chemietage and acting president of the German Chemical Society (GDCh) Professor Michael Dröscher with his two predecessors, Professor Klaus Müllen, GDCh president from 2008 to 2009, and Professor Dieter Jahn, GDCh president from 2006 to 2007.
The Director of the Institute Wolfgang Flad used the festive evening on September 30th to express his thanks and the instructors and coworkers presented a special "60 years Institut Dr. Flad" picture.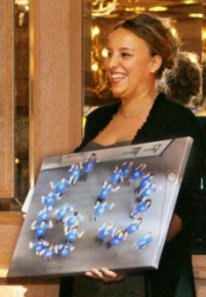 Left: Director of the Institute, Wolfgang Flad, with the next generation, his daughter Dr. Ulrika Flad and her husband Dominik Blosat, who will take over the Institute on Wolfgang Flad's retirement. Right: Presentation of the "60 years Institut Dr. Flad" picture.
The anniversary evening continued with several culinary courses, accompanied by music from the pianist Michael Schlierf. The entertainment program was led by the former SWR radio presenter Christian Zehendner. He moderated the different aspects of the program and undertook, supported by his daughter, a time journey into the 60-year past of the institute. A further highlight was the appearance of Andy Häussler alias "The Enterbrainer" from the magic circle Stuttgart, two-time German master of the mental magic (Mentalmagie) and winner at the world championships.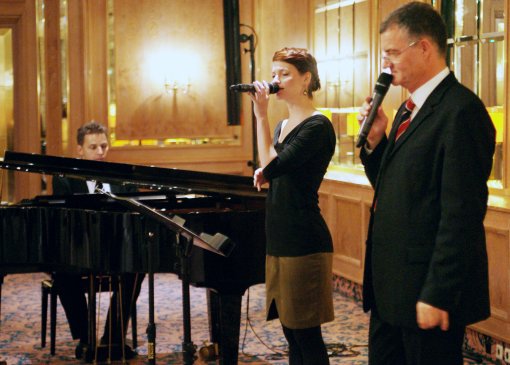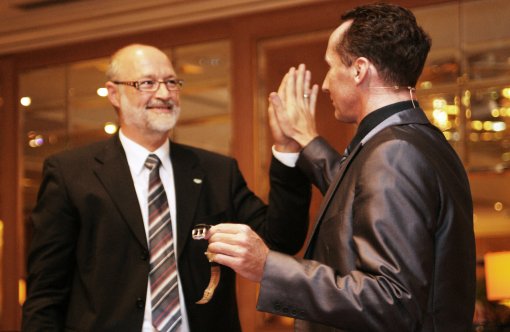 The evening's entertainment. Top: pianist Michael Schlierf with Christian Zehendner and his daughter.
Bottom: GDCh President Michael Dröscher with magician Andy Häussler.
At the festive colloquium on October 1st, the President of the GDCh, Professor Dr. Michael Dröscher, talked about Germany as a center of innovation from the view of chemistry and Professor Dr. Christoph Friedrich, President of the German Society for History of Pharmacy (DGGP), talked about pharmacists as pioneers of chemistry. After the talks, in one of the school laboratories, there was a toast to the next 60 years and two very special and pleasant days came to a close.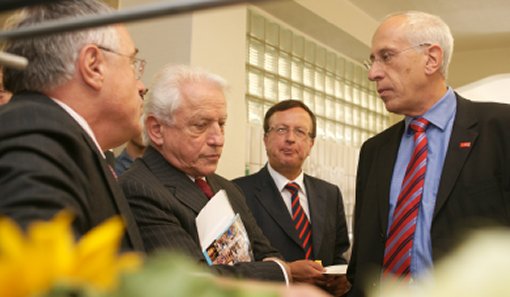 Wolfgang Flad, Professor Christoph Friedrich, President of the German Society for History of Pharmacy (DGGP), and former GDCh President Professor Dieter Jahn.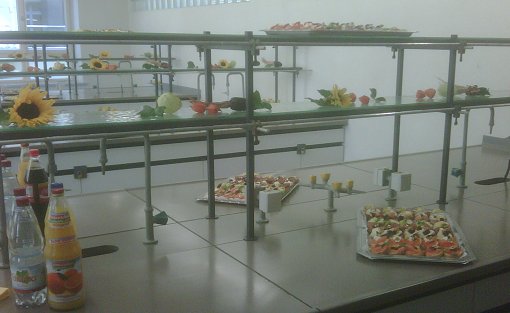 A fitting close to the events: Drinks and appetizers in the lab.
---
See also: