The Wiley–Chemical Society of Thailand (CST) Outstanding Publication Award has been given to Associate Professor Vinich Promarak (pictured, left), Ubon Ratchatani University, Thailand. The award was presented by Her Royal Highness Princess Chulabhorn and Professor Supawan Tantayanon (pictured, right), President of the Federation of Asian Chemical Societies, at the banquet of the Pure and Applied Chemistry International Conference (PACCON2012) on January 12 at Chiang Mai University, Thailand. The award aims to encourage and recognize the original, innovative, and outstanding research being carried out by Thai chemists at the beginning of their independent research careers.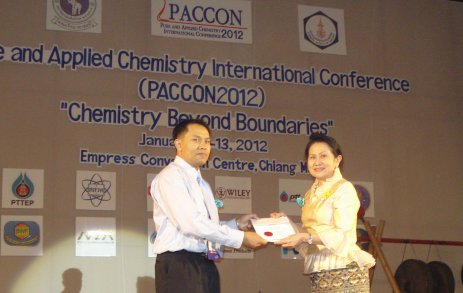 Professor Promarak receives the award for his paper on highly fluorescent bifunctional anthracenes. These compounds show high thermal and electrochemical stability and have great potential as both blue emitters and hole-transporters for organic light emitting diodes (OLEDs).
Vinich Promarak studied Chemistry at Khon Kaen University, Thailand, before going on to study in the UK, gaining a M.Sc. in Polymer Engineering from the University of Sheffield and a D. Phil. in Organic Chemistry from the University of Oxford. His current research focuses on new organic materials for applications in optoelectronic devices such as OLEDs, dye-sensitized solar cells, and organic field-effect transistors.
---
Bifunctional anthracene derivatives as non-doped blue emitters and hole-transporters for electroluminescent devices,
A. Thangthong, D. Meunmart, N. Prachumrak, S. Jungsuttiwong, T. Keawin, T. Sudyoadsuk, V. Promarak,
Chem. Commun. 2011, 47, 7122-7124.
DOI: 10.1039/C1CC11624J