Registration, Evaluation, Authorisation and Restriction of Chemicals (REACH) is the European Union's chemicals regulation. It requires that all companies manufacturing or importing chemical substances into the EU at quantities of one tonne or more per year must register these with the European Chemicals Agency (ECHA) in Helsinki, Finland.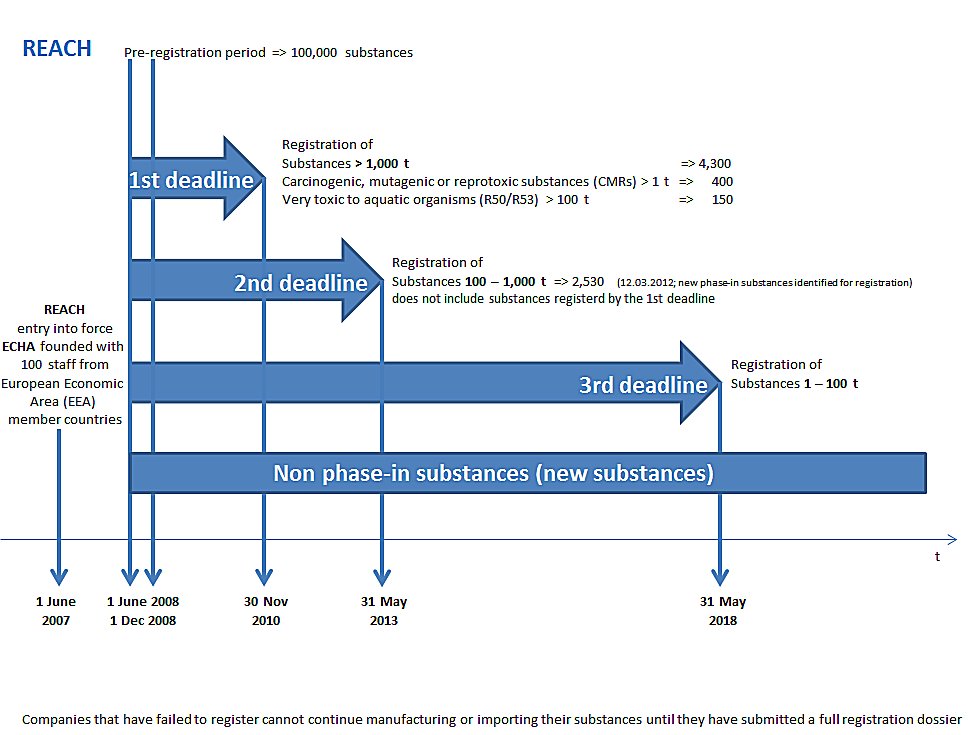 Under REACH, manufacturers and importers of a chemical substance must collect a basic data set on the chemical's toxicological properties, ensure that the envisioned uses of the chemical are safe, and share this information with the European Chemicals Agency (ECHA) in Helsinki, Finland, in the form of an electronic "registration dossier".
While a significant portion of the data generated by REACH is publicly available on ECHA's website, some of the key analyses related to the safety of specific uses, including risk management measures, are treated as confidential business information.
REACH Definitions
Authorization
Substances that are subject to authorization may not be used in the EU, unless a company (and their registered users) have been authorized to do so. Substances that qualify for consideration for authorization are known as Substances of Very High Concern (SVHC).
CLP
Classification, Labeling and Packaging Regulation
Introduces the globally harmonized system for classifying and labeling chemicals into the EU. Companies need to notify ECHA of the classification and labeling that they use for their chemicals
IUCLID
International Uniform Chemical Information Database
Database to capture, store, submit, and exchange data on chemical substances.
Directorates-General (DG)
The European Commission is divided into several departments and services. The departments are known as Directorates-General (DGs).
(Registration) Dossier
Technical dossier: contains data collected by a company to register a substance. It includes physicochemical, toxicological, ecotoxicological properties of substances, intended uses, human and environmental exposure, classification and labeling, proposed risk management measures, testing.
Authorisation dossier: should include a chemical safety report with an analysis of the alternatives, which considers their risks and the technical and economic feasibility of substitution, research and development activities by the applicant, substitution plan including a timetable for proposed actions by the applicant.
European Economic Area (EEA)
At present, the contracting parties to the EEA Agreement are the EU and its 27 members plus Iceland, Liechtenstein, and Norway. It allows Iceland, Liechtenstein and Norway to participate in the EU's Internal Market without a conventional EU membership. In exchange, they are obliged to adopt all EU legislation related to the single market, except laws on agriculture and fisheries.
Evaluation
The ECHA and the Member State Competent Authorities (MS CA) evaluate the submitted dossiers. There are three types of evaluation:
Compliance checking: ECHA is likely to select a 5 % sample of registration dossiers to check the scope and quality of the submitted information. The registrant may be asked to submit further information if necessary.
Dossier evaluation: ECHA will assess the testing proposals and data waiver arguments for non-testing for the information requirements to evaluate whether the testing proposal is adequate before any of the higher tier tests are performed. The objective is to prevent unnecessary animal testing and to reduce the overall burden on industry.
Substance evaluation: The MS CA will evaluate substances that have been prioritized for potential regulatory action due to concerns over their hazardous properties and their potential risks to human health or the environment. MS CA checks whether any further information is needed to control the risks perceived. Outcomes of substance evaluation could lead to the substance being added to the priority list for authorization, a proposal to change the classification and labeling, or a request for further test information from industry. The MS CA may also request that other authorities take appropriate action under other legislation where appropriate.
Registration
is done by submitting the dossier and the chemical safety report which includes information on human health, environment, exposure hazard assessment, risk characterization.
Restriction
The restrictions procedure is a safety net for substances posing an unacceptable risk to human health or the environment arising from its manufacture, use or placing on the market, which need to be addressed on a Community wide basis. A restriction of a substance is any condition for, or prohibition of, its manufacture, use or placing on the market.
SIEF
Substance Information Exchange Forum
Brings together companies registering the same substances so that they can share data.
A Lead Registrant is nominated. He submits the joint dossier and does most of the work including data collection, development of technical dossier and Chemical Safety Report (CSR), and submission of joint registration dossier.
The Member Registrants pay the Lead Registrant a fee to refer to the joint registration dossier and then prepare their individual part of the registration dossier. Members of a joint submission have two options: Purchase a letter of access (LoA) or join a REACH consortium. Both options allow registrants to refer to the joint registration dossier prepared by lead registrant. Generally, a letter of access is cheaper because it does not grant ownership of the data.
Substances
are chemical elements and their compounds in the natural state or obtained by any manufacturing process.
Phase-in substances are, in simple terms, existing substances. The substance is listed in the European Inventory of Existing Commercial Chemical Substances (EINECS) or was manufactured in the Community, or in the countries acceding to the European Union on 1 May 2004.
Substances notified under Directive 67/548/EEC, also called NONS (notified substances), have been registered under the old framework which was replaced by REACH. They have a recognized notification number and are regarded as registered under REACH.
Non-phase-in substances are, in simple terms, new, so far not manufactured substances.They have not been manufactured, placed on the market, or used in the EU before 1 June 2008, unless they were notified under Directive 67/548/EEC.
Intermediates are substances that are solely manufactured for and consumed in or used for chemical processing in order to be transformed into another substance.
---