The EUROpean multilevel integrated BIOREFinery design for sustainable biomass processing or for short EuroBioRef project is a four-year program launched in 2010. It deals with the entire process of transformation of biomass, from fields to final commercial products and involves 29 partners from industry, Small and Medium-sized Enterprises (SMEs), and academics from 15 different countries in a highly collaborative network. The program is supported by a €23m grant from the European Union 7th Framework Program (FP7).
EuroBioRef is coordinated by Professor Franck Dumeignil, Unit of Catalysis and Solid State Chemistry (UCCS), Université des Sciences et Technologies de Lille, France. Dr. Vera Köster asks him for the ChemViews magazine how he started this huge consortium and how organization is performed.
How did the EuroBioRef consortium start?
I am the one at the origin of this project. Initially, I wanted to apply for a European Union grant.
As a specialist in catalysis, I first started to write a proposal on catalysts research with the backup of Arkema and the Alma Consulting Group. Later, the biorefinery concept was built on this core activity, with upstream, downstream and transversal activities like cultivations, logistic, pre-treatment, separations, process design, economics, Life Cycle Assessment (LCA).
The program now is supported by a €23m grant from the European Union 7th Framework Program (FP7).

How is your research connected to this topic?
My research is focused on upgrading alcohols from biomass to obtain fuel, solvents, and building blocks for the chemical industry, and enhancing bio-oil for energy needs.
How is the whole project coordinated?
The project is built in a pyramidal way: It is divided into 11 subprojects including 54 work packages. These are again divided into 153 tasks.
I am the coordinator of the whole project. Each of the subdivisions is led by one specific person. Then, the management is multi-leveled.
So you are coordinating the whole project by yourself?
Coordination tasks are clearly divided by financial, contractual, scientific, etc. aspects. For financial and organizational coordination I have the help of the ALMA Consulting Group, France, which is a partner of my consortium, and of the French National Center for Scientific Research (CNRS). Dr. Jean-Luc Dubois, Arkema, Colombes, France, is involved in the coordination of the industrial parts.
For decisions, we have a complete process, involving specific groups within the project like the management team, the General Assemby, the Executive Committee, the Industrial Property Committee.
How do the consortium partners co-operate?
The partners cooperate through the above-described system. Further, we have now defined value chains in the biorefinery. We have a second dimension of collaboration on these value chains, each of them corresponding to the full realization of a biorefinery, from cultivation to marketable products.
Are all data collected and managed in one place?
First, all the data are processed through the pyramidal structure described above. We have a fantastic internet platform called 'Myndsphere' managed by the ALMA consulting group. Here, all the project data are stored and every individual involved in the project can find ANY document related with EuroBioRef.
Is there some measurement of success?
Yes, first, there is a yearly technical review of the European Commission (EC). In addition, internally we have assessment tools with calculation of probability of success and previsions of revenues, which are constantly updated according to the flow of results.
We also have set key performance indicators for work packages. This helps us to assess the progress.
How were the industry partners chosen?
First, I started with Arkema because of a strong existing cooperation. Together, we then contacted partners we thought have the competencies we need. The ALMA Consulting Group, which helped me in designing the proposal, also activated its network.
Industry partners selected at the beginning also had the privilege of being able to recommending additional partners.
As a general rule, we selected partners according to the competencies we needed in the project, but also keeping in mind that the already present partners in the growing consortium had to give us their agreement on each 'newcomer'. Then, as another parameter, it was also important to keep a good balance between nationalities, in order to set up a network of competencies throughout Europe.
What is the main achievement of EuroBioRef, so far?
The main achievement of EuroBioRef so far is the construction of a pilot plant by Borregaard, Norway, for demonstrating a novel, very efficient and versatile lignocellulosic biomass fractionation method.
And what
is your main goal to achieve?
The main goal to achieve is definitely to be able to propose biorefinery examples that are proved to be technically, economically and socially viable.
What is most fascinating for you about the project?
It is that the project is so interdisciplinary. For example, we work together with agronomists and economists. That broadens so much the views of everybody.
Thank you very much, Professor Dumeignil, for the interview.
---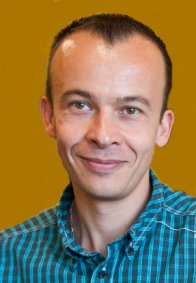 Franck Dumeignil studied chemistry and obtained his Ph.D in 1998 at the University of Sciences and Technologies of Lille (USTL), France. After a 6.5 years research stay in Japan at the National Institute of Materials and Chemical Research (NIMC) belonging to the National Institute of Advanced Industrial Science and Technology (AIST), Tsukuba, and then at the Tokyo University of Agriculture and Technology (TUAT), he obtained a full Professor position at USTL. He is now heading a group entitled 'Valorisation of Alkanes and of Compounds Issued from Biomass' at the Laboratory of Catalysis and Solid State Chemistry (UCCS, UMR CNRS 8181), of which he has been nominated Deputy-Director for the 2010–2013 period.
Professor Dumeignil is Director of the French-Japanese International Associate Laboratory CAT&P4BIO, and coordinator of various projects like the EuroBioRef project and the EQUIPEX project REALCAT.
Selected Publications
Regeneration of Supported Silicotungstic Acid Used as Catalyst in the Dehydration of Glycerol,
Benjamin Katryniok, Sébastien Paul, Mickaël Capron, Virginie Bellière-Baca, Patrick Rey, Franck Dumeignil,
ChemSusChem 2012, in press.
DOI: 10.1002/cssc.201100635
Selective Catalytic Oxidation of Glycerol – Perspectives for Chemicals,
Benjamin Katryniok, Hiroshi Kimura, Elzbieta Skrzynska, Jean-Sébastien Girardon, Pascal Fongarland, Mickaël Capron, Rémy Ducoulombier, Naoki Mimura, Sébastien Paul, Franck Dumeignil,
Green Chem. 2011, 13, 1960–1979.
DOI: 10.1039/C1GC15320J
CeNiHZOY Oxyhydride Catalyst to Control H2 Production from Ethanol at Room Temperature,
Cyril Pirez, Mickaël Capron, Hervé Jobic, Franck Dumeignil, Louise Jalowiecki-Duhamel,
Angew. Chem. Int. Ed. 2011, 50 (43), 10193–10197.
DOI: 10.1002/anie.201102617
Long-Life Catalyst for Glycerol Dehydration to Acrolein,
Benjamin Katryniok, Sébastien Paul, Mickaël Capron, Christine Lancelot, Patrick Rey, Franck Dumeignil,
Green Chem. 2010, 12, 1922–1925.
DOI: 10.1039/C0GC00254B
Direct Conversion of Methanol to 1,1-Dimethoxymethane: Remarkably High Productivity over a FeMo Catalyst Placed under Unusual Conditions,
Julien Gornay, Xavier Sécordel, Béatrice de Ménorval, Sylvain Cristol, Pascal Fongarland, Mickaël Capron, Louise Duhamel, Edmond Payen, Jean-Luc Dubois, Franck Dumeignil,
Green Chem. 2010, 12, 1722–1725.
DOI: 10.1039/C0GC00194E
Awards
Franck Dumeignil has been nominated as a Junior Member of the prestigious Institut Universitaire de France (IUF) academy from the 1st of October 2010. The mission of the IUF is to promote the development of a high quality university research, and to strengthen interdisciplinary projects.
---
Also of interest