Tetsuo Nozoe was born May 16, 1902 in Sendai, Japan. In 1919 he enrolled in a premedical course at the Second High School in Sendai and in 1922 began studying chemistry at Tohoku Imperial University, Japan. He graduated in 1926, and after a short stay in the group of Professor Riko Majima, he moved to Formosa, now Taiwan, to become a member of the Central Research Institute in Taipei. Here he worked under Dr. Kinzo Kafuku.
In 1929, Nozoe was promoted to Assistant Professor at the Faculty of Science and Agriculture, Taihoku Imperial University, now National Taiwan University, Taipei. Nozoe left Tawain in 1948 to take up a lectureship at the recently renamed Tohoku University, Japan, where he was promoted to Professor several months later.
Nozoe was awarded the Order of Cultural Merit in 1958, the highest honor for a Japanese scientist. After 40 years of research into the isolation, characterization, and reactivity of non-benzoid aromatic rings in natural products, he was forced to retire from Tohoku University in 1966. Not wanting to stop his research, Nozoe then took up a position with the Kao Company, who provided him with an independent research laboratory in their Tokyo Research Institute, Japan. He remained an active researcher at the Kao Company until his death in 1996.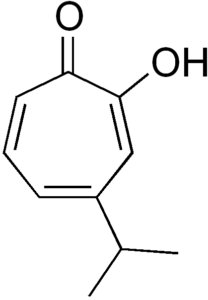 Besides his work on non-benzoid aromatic rings, he is known for the discovery of hinokitiol (β-thujaplicin; pictured on the right), a seven-membered aromatic compound. Hinokitiol is a natural monoterpenoid found in the wood of trees belonging to the Cupressaceae family. It is classified as a tropolone derivative and is widely used in oral and skincare products, and as a food additive in Japan.
Nozoe's Autograph Books
In 1953 and 1957, Nozoe embarked on extended trips to visit chemists all over the world. During these trips, he asked the people he met to sign his note book. Over the course of 40 years, he collected over 4000 signatures and comments from famous scientists, many of whom outlined or depicted their research at the time of the writing, creating a profile of post-war chemistry and collaboration.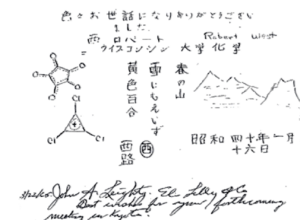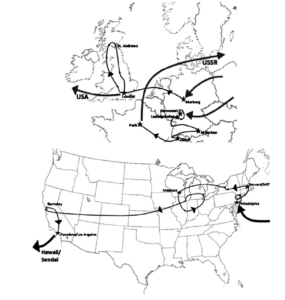 These nine volumes are now kept in the Tohoku University Archives, and are being published in their entirety within The Chemical Record.
---
Tetsuo Nozoe is the answer to Guess the Chemist (10), which detailed some of his work.
For more information on Nozoe's autograph books see:
For more details on Nozoe's life and work see:
Tetsuo Nozoe (1902−1996),
Toyonobu Asao, Shô Itô, Ichiro Murata,
Eur. J. Org. Chem. 2004, 4, 899–928.
DOI: 10.1002/ejoc.200300579
Tetsuo Nozoe: Seventy Years in Organic Chemistry,
Tetsuo Nozoe, Jeffrey I. Seeman,
ACS Publications, Washington D.C., USA, 1990.
ISBN: 0-8412-1769-6