Stabilization and dispersion of metal nanoparticles are important characteristics that can lead to applications of such nanoparticles in medicine, optical devices, and catalysis. Paul Dyson and co-workers, Ecole Polytechnique Fédérale de Lausanne, Switzerland, have synthesized Au and Rh nanoparticles that are stabilized by a cationic polymer (pictured).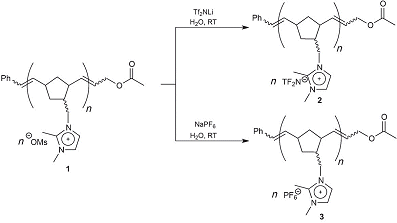 The solubility properties of these particles can be modulated by exchanging the counter ion, thus the nanoparticles can be dispersed in a wide range of organic solvents and ionic liquids.
Owing to their tunable solubility, the Rh nanoparticles show good activity and selectivity in hydrogenation of limonene when carried out in water or ionic liquids. This outcome is a consequence of the solvent, which fine-tunes the surface features of the nanoparticles thereby extending the operating range of the metallic nanoparticle catalyst.
---
This article is available for free as part of the ChemPlusChem free trial.
Also of interest: