The ProcessNet-Jahrestagung 2012 and the 30. DECHEMA-Jahrestagung der Biotechnologen were held in Karlsruhe, Germany, from September 10. – 13.
The unifying theme of the two meetings was sustainable manufacturing – securing the supply of raw materials and their efficiency as efficiency, new resources, and recycling are the keys to securing raw materials especially in countries like Germany with few raw materials. Chemical process engineering and biotechnology are the key disciplines for the development of solutions to unlock and use alternative carbonaceous raw material sources like biomass or CO2.


The conference started at the Media Museum of the ZKM (Center for Art and Media) in Karlsruhe where participants could experience hands-on how artists use science in their media artwork, for example, the giant interactive light and sound installation "resonate". It is a cooperation between students from Master's courses in interior design, Mainz University of Applied Sciences, and the School of Music, Johannes Gutenberg University of Mainz.
A dinner in a relaxed atmosphere gave participants an opportunity for small talk and networking.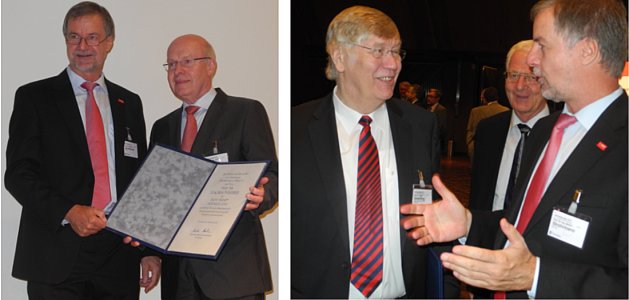 The conference opened with addresses from Professor Martin Strohrmann (above left), chairman of ProcessNet and Senior Vice President Polymer Physics and Analytic, BASF SE, Ludwigshafen, Germany, and Professor Thomas Scheper, chairman of the DECHEMA division Biotechnology and University of Hannover, Germany.
The opening address included an award ceremony in which the Gerhard Damköhler, Emil Kirschbaum, and Hans Rumpf medals were presented by Professor Strohrmann. These went to Professor Henning Bockhorn, Professor Jürgen Gmehling (above, right picture), Professor Joachim Werther (above, left picture), respectively. The DECHEMA Plakette was presented by Dr. Hans Jürgen Wernicke, chairman of DECHEMA e.V., and went to Dr. Ulrich Behrendt and Dr. Jochen Rudolph. The DECHEMA also awarded several students for their excellent work in the field of technical chemistry, process technology, and biotechnology.
The Arnold Eucken Prize was presented by Dipl.-Ing. Achim Noack, chairman of VDI-GVC, and went to Dr. Niels Hansen, ETH Zurich, Switzerland.
The meeting included plenary, overview, and tandem talks on topics such as biomining from Professor Axel Schippers, Federal Institute for Geosciences and Natural Resources (BGR), Hannover, Germany, and recycling and management of resources from Professor Armin Reller, University of Augsburg, Germany, and Dr. Ansgar Fendel, Remondis, Lünen, Germany.
Professor Reller, for example, discussed the increasing use of scarce metals in electronics engineering. For example, approx. 30 metals are found in every-day devices like mobile phones or computers. Extracted from mines where they are concentrated, these metals are then dispersed in electronic equipment all over the planet. While the future retrieval of some of them will be nearly impossible, in general the value added chain must not stop at the use of products, but new strategies for recycling and remanufacturing will have to be developed.
All the talks were well received and much discussed.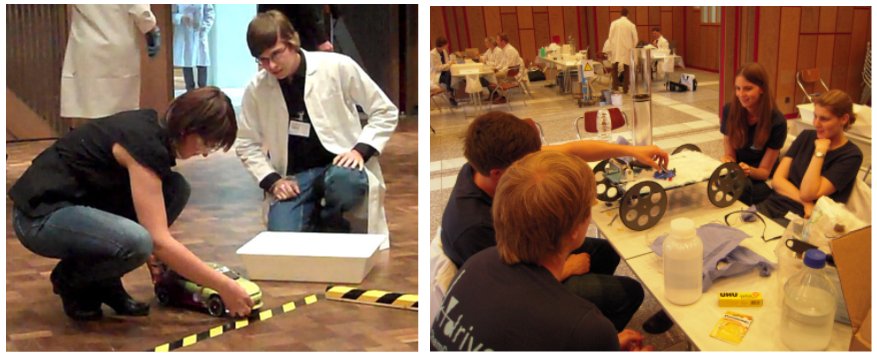 As in previous years, the ChemCar competition was a highlight of the conference and was organized by the Creative Young Process Engineers (kjVI). Entrants were challenged to produce a vehicle propelled by chemistry and capable of traveling a set distance which was unknown until shortly before the event. We will have a detailed report on this soon.

During a panel discussion there was a lively debate as to whether the introduction of Bachelor and Master programs in Germany has made students more flexible and better trained for a job in industry than the old diploma system. Germany has about 16,000 courses of studies and representatives of HR departments say that the result is that students have to explain what their course of study actually is about in their application. Professor Roland Ulber, Technische Universität Kaiserslautern, Germany, said that because the final examination was replaced by many course-related examinations, many students do not get the overall picture anymore and can not combine things. It was also discussed if a completely homogenous education system across Europe would lose the strengths that come from the cultural diversity of each country.

All abstracts from the conference can be found in a special issue of Chemie Ingenieur Technik.
The Closing Ceremony concluded with an invitation to the ProcessNet 2014 and 32. DECHEMA-Jahrestagung der Biotechnologen in Aachen, Germany, in September 2014.
---
There will also be a German language summary in CITplus 2012, 10.