The Maria Sklodowska-Curie Medal and the Jedrzej Sniadecki Medal of the Polish Chemical Society (Polskie Towarzystwo Chemiczne, PTChem) have been awarded to Professor Ben Feringa, University of Groningen, Netherlands, and Professor Janusz Jurczak, University of Warsaw, Poland, respectively.
Both awards were presented during the opening ceremony of the 56th Polish Chemical Society Congress on 16 September, 2013, in Siedlce, Poland.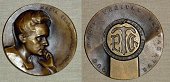 The Maria Skłodowska-Curie Medal of the Polish Chemical Society is the highest scientific distinction the Society can award to a foreign chemist. It is awarded to a chemist who works abroad for outstanding scientific achievements in chemistry of world-wide significance and for contributions to Polish chemists.

Ben Feringa obtained his Ph.D. in 1978 at the University of Groningen, the Netherlands, under the guidance of Professor Hans Wynberg. After working as a research scientist at Shell in the Netherlands and the UK, he was appointed lecturer and in 1988 full professor at the University of Groningen. He was named the Jacobus H. van't Hoff Distinguished Professor of Molecular Sciences there in 2004. He was elected Foreign Honory member of the American Academy of Arts and Sciences and member of the Royal Netherlands Academy of Sciences. In 2008 he was appointed Academy Professor and was knighted by Her Majesty the Queen of the Netherlands. Feringa is currently director of the Stratingh Institute for Chemistry and the Center for Systems Chemistry at the University of Groningen.
Feringa's research interests include stereochemistry, organic synthesis, asymmetric catalysis, molecular switches and motors, self-assembly and molecular nanosystems.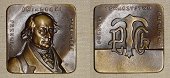 The Jędrzej Śniadecki Medal of the Polish Chemical Society is awarded to a chemist who works in Poland for outstanding scientific achievements of world-wide significance in chemistry. Professor Jurczak receives the Medal for his outstanding scientific achievements in organic chemistry.

Janusz Jurczak gained his Ph.D. from the Polish Academy of Sciences, Warsaw, in 1970. From 1971–1972, he was a Postdoctoral Research Associate in the group of Vladimir Prelog at ETH Zurich, Switzerland. He gained his Habilitaion at the Institute of Organic Chemistry, Polish Academy of Sciences, in 1979 and became Professor there in 1980. In 1991, he moved to become Professor at the Department of Chemistry, University of Warsaw, Poland. Jurczak is also an elected member of the Polish Academy of Sciences.
Among the many scientific interests of Professor Jurczak is the cutting-edge research in stereocontrolled organic synthesis, the introduction of high-pressure methods to organic chemistry, the development of new methods of synthesis of macrocyclic molecular receptors, and the achievements in the field of supramolecular chemistry and molecular biology.
---
Selected publications by Ben Feringa:
Azobenzene Photoswitches for Staudinger–Bertozzi Ligation,
Wiktor Szymański, Bian Wu, Claudia Poloni, Dick B. Janssen, Ben L. Feringa,
Angew. Chem. Int. Ed. 2013.
DOI: 10.1002/anie.201208596
Diversity-Oriented Enantioselective Synthesis of Highly Functionalized Cyclic and Bicyclic Alcohols,
Bin Mao, Dr. Martín Fañanás-Mastral, Dr. Martin Lutz and Prof. Dr. Ben L. Feringa,
Chem. Eur. J. 2013, 19(2), 761–770.
DOI: 10.1002/chem.201202859
Molecular Switches,
Ben L. Feringa, Wesley R. Browne (Eds.),
Wiley-VCH, Weinheim, Germany, 2011.
ISBN: 978-3-527-31365-5
Selected publications by Janusz Jurczak:
7,7′-Diamino-2,2′-diindolylmethane: A Building Block for Highly Efficient and Selective Anion Receptors—Studies in Solution and in the Solid State,
Paweł Dydio, Dawid Lichosyt, Tomasz Zieliński, Janusz Jurczak,
Chem. Eur. J. 2012, 18(43), 13686–13701.
DOI: 10.1002/chem.201201909
"Unclosed Cryptands": A Point of Departure for Developing Potent Neutral Anion Receptors,
Kajetan Dąbrowa, Marcin Pawlak, Piotr Duszewski, Janusz Jurczak,
Org. Lett. 2012, 14(24), 6298–6301.
DOI: 10.1021/ol303065k