Dr. Mamoru Tobisu, Osaka University, Japan, has received the Merck-Banyu Lectureship Award (MBLA 2012) from Merck Research Laboratories, USA, and Banyu Life Science Foundation International, Japan. The award was established in 2004 to encourage young scientists. It is bestowed annually on a Japanese chemist less than 40 years of age, who has made as outstanding contribution in the field of synthetic organic chemistry.
Tobisu is recognized for his work developing a series of catalytic reactions that can directly transform inert carbon‒oxygen, carbon‒cyano and carbon‒silicon bonds into an array of useful compounds. These methods enable the functionalization of methoxy and cyano groups during the latter stages of multi-step synthesis.
The award was presented at the Banyus Sapporo Symposium, Sapporo, Japan on July 6, 2013.

Mamoru Tobisu studied chemistry and received his Ph.D. in 2001 from Osaka University, Japan, under the direction of Professor Shinji Murai. From 2001–2005, he worked for the Takeda Pharmaceutical Company, Osaka, Japan. He started his academic career at Osaka University in 2005 as an assistant professor with Professor Naoto Chatani. Tobisu then moved to the Frontier Research Base for Global Young Researchers at Osaka University as a lecturer in 2006 and was appointed as an associate professor at the Center for Atomic and Molecular Technologies at Osaka University in 2011.
His current scientific interests include organometallic species and the development of new catalytic methods.
The awardee will travel through Europe and the US to present his award lecture: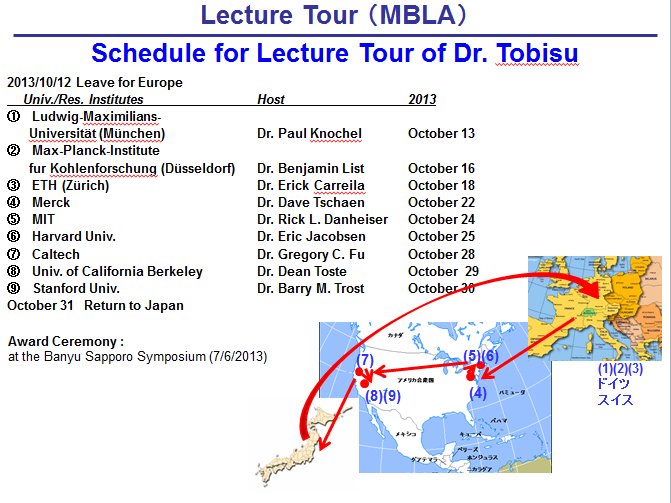 ---
Rhodium-Catalyzed Carbon–Silicon Bond Activation for Synthesis of Benzosilole Derivatives,
M. Onoe, K. Baba, Y. Kim, Y. Kita, M. Tobisu, N. Chatani,
J. Am. Chem. Soc. 2012, 134(47), 19477–19488.
DOI: 10.1021/ja3096174
Modular Synthesis of Phenanthridine Derivatives by Oxidative Cyclization of 2-Isocyanobiphenyls with Organoboron Reagents,
M. Tobisu, K. Koh, T. Furukawa, N. Chatani,
Angew. Chem. Int. Ed. 2012, 51(45), 11363–11366.
DOI: 10.1002/anie.201206115
Catalytic Arylation of a C-H Bond in Pyridine and Related Six-Membered N-Heteroarenes Using Organozinc Reagents,
I. Hyodo, M. Tobisu, N. Chatani,
Chem. Asian J. 2012, 7(6), 1357–1365.
DOI: 10.1002/asia.201100971