Fuel cells provide an efficient way to convert hydrogen, and possibly other renewable fuels, into electricity. Sales of fuel cells and hydrogen systems generated over $1 billion in 2012 and are forecast to increase to over $2 billion in 2013. Production costs of low temperature fuel cells for transportation purposes are falling as platinum loadings continue to fall. However, market penetration for fuel cell vehicles and portable fuel cells is predicted to remain low in the near future.
Fuel Cell Technologies, Fuels, and Applications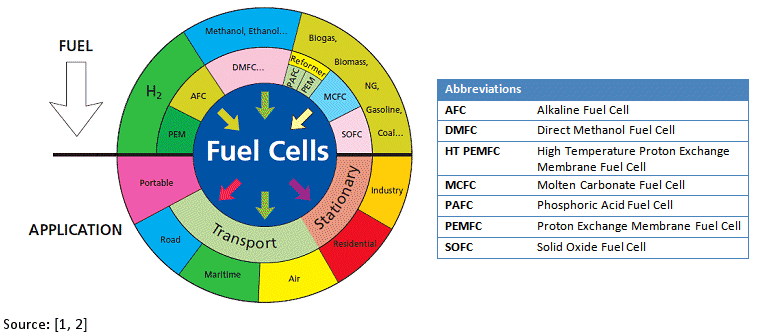 For more information on each type of fuel cell see: How Do Fuel Cells Work?
Typical Fuel Cell Technology by Application

Fuel Cell Capacity by Application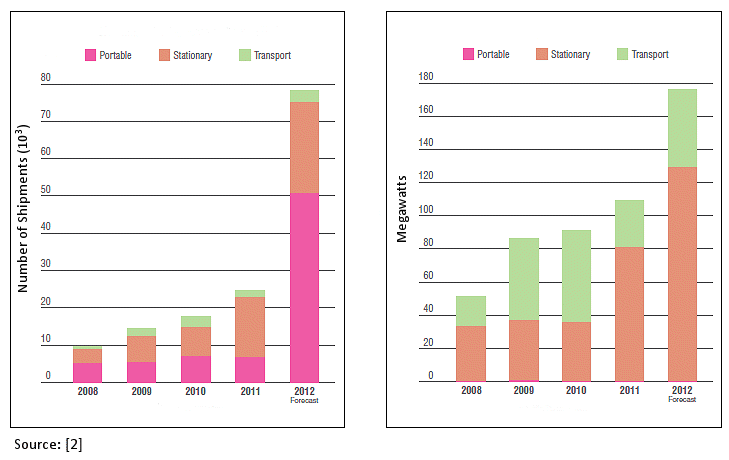 Fuel Cell Capacity by Region

Capacity by Fuel Cell Type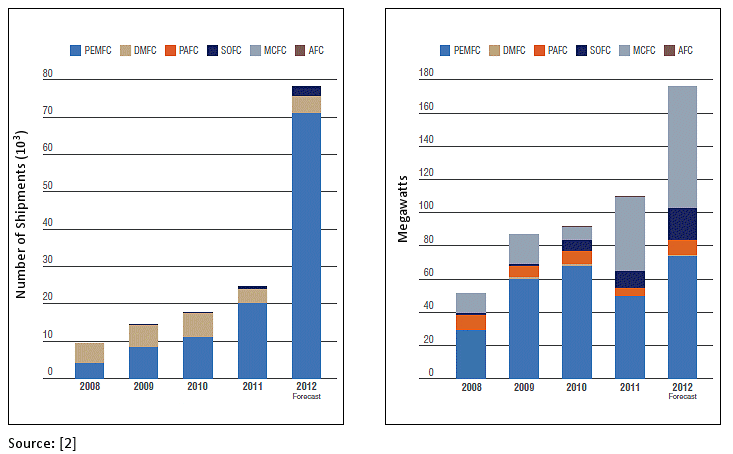 Cost per kW of a Transportation Fuel Cell System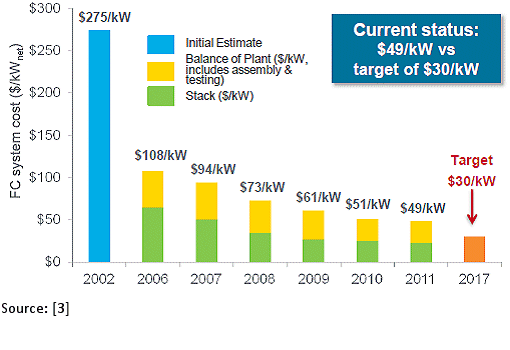 Platinum Loading in PEM Fuel Cells for Transportation Systems
In PEM fuel cells, the anode catalyst is usually a very fine platinum powder coated onto carbon paper or cloth. Cost reduction can be achieved through efforts to reduce the Pt loading while maintaining efficiency.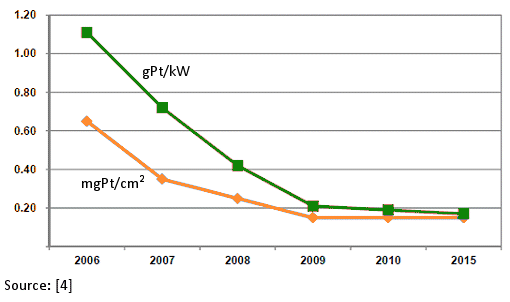 Projected Costs for a Range of Manufacturing Volumes of Transportation Fuel Cells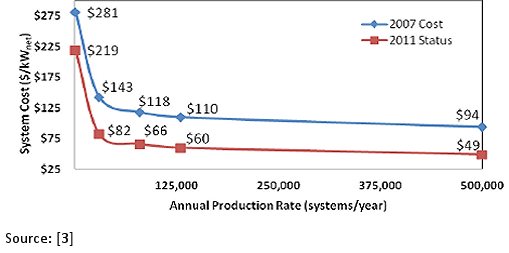 ---
[1] Hydrogen Energy and Fuel Cells: A Vision of our Future, European Commission, Brussels, Belgium, 2003.
[2] The Fuel Cell Industry Review 2012, Fuel Cell Today, London, UK, 2012.
[3] 2011 Fuel Cell Technologies Market Report, US Department of Energy, Washington D.C., USA, 2012.
[4] The Fuel Cell and Hydrogen Industries: 10 Trends to Watch in 2013 and Beyond, Pike Research, Boulder, CO, USA, 2013.
Also of interest: