Uwe Bunz is Professor at the Organic Chemistry Institute of the Ruprecht Karls University, Heidelberg, Germany. His research interests are the synthesis and properties of π-conjugated materials, such as cruciform fluorophores, which change their emission color depending upon their substituent pattern. In his spare time, Bunz enjoys cooking and here he shares with us an aromatic delight: Oxtail with Fennel.
In the Lab
What was your first experiment?
When I was six years old, I tried to burn down my mother's house while doing some experimental combustion chemistry.
When was the last time you did an experiment in the lab – and what was it?
A couple of years ago I did a Sonogashira reaction. I think I was propynylating a diiododialkylbenzene to make a monomer for alkyne metathesis.
I still go into the lab occasionally and look at fluorescent solutions. I add model analytes, such as amines, metal salts, etc. to show the color changes of fluorophores – all to the mix of horror, exasperation, and occasional surprise of my students and co-workers.
What is the most exciting experiment you did?
With my own hands: Reduction of 1.1.1 propellane in dimethylether with lithium ditertbutylbiphenylide to form a 1,3-dianion in 1988. The solution of the aromatic radical anion is deepest pine needle green. When you add the solution of the propellane, for a couple of seconds, nothing happens. Then the solution turns bright blood red, an indication that the 1,3-dianion has formed. I thought it was the coolest thing.
Other: When Lioba Kloppenburg, my first postdoc in South Carolina, reacted 1,4-dipropynyl-2,5-dihexylbenzene with a mixture of Mo(CO)6 and 4-chlorophenol to perform an alkyne metathesis in 1997. I got into the lab the next morning and Lioba showed me a superblue fluorescent solution – hallmark of the formation of a poly(para-phenyleneethynylene). This was alkyne metathesis made easy, and I knew that this experiment would get me tenure at the University of South Carolina, USA.
What was your biggest experimental mishap?
During my Ph.D., I worked with organo lithium compounds, and I constantly had fires in my hood. One day, the afterglow was seen from the hallway outside of the laboratory. I had worked with a large amount of lithium sand, and upon too fast hydrolysis it caught fire … Nothing a bucket of sand could not stop …
What advice would you give up-and-coming scientists?
Don't dither. Work speedily, if you realize a good idea. The competition is always there. And, while one should not be paranoid, it is not a good idea to let good results sit for too long.
On the stove
Please share your favorite recipe with us.
See below.
Please give some personal remarks why you chose this one.
I am anosmic, i.e., I have lost all my sense of smell, but I can still enjoy these tastes. My guests have always been very happy with this meal and love it as much as I do – so they say. It is easy to make, too, and you can vary the ratio of the different ingredients and almost always get something nice out.
It is a mix of three different recipes. When I was still at Georgia Tech I read a recipe for rice and beans by the chef Bobo, which I found in the New York Times or on NPR (national network of public radio stations). He takes the holy trinity with pope – bell peppers, celery stalks, onions, pope=garlic – sautés them in olive oil, or you can also use bacon-fat, and adds the beans. However, he uses water instead of red wine for cooking, and some other spices than I use for my beans. This recipe I make occasionally.
Then, I was invited to my buddy Axel's house and he had made classic Ossobuco with a tomato based sugo. This was very nice and reminded me that my mother had, when I was a child, prepared oxtail. On my way home on the train from Frankfurt to Heidelberg, I combined the three dishes floating before my inner eye as superimposed images – I am always hungry and constantly think about food; you find the result below.
As an aside, this is also a variation on recipes like boeuf bourguignon, just with a different type of meat and a different combination of spices.
If you were having a dinner party and could invite somebody, past or present, who would that be?
My grandfather Karl Mayer Sr. He died while I was in high school, 17 years old.
As I grew up without a father, he was a role model for me and a serious and successful man. His approval, and talking to him as an adult with a profession would be important for me. I still miss him, even though he died in 1980.
As for someone I don't know, I would probably choose John Lennon or Marcel Proust as a dinner companion.
Would you like to give some advice on cooking?
Read cookbooks, look in the cooking section of your newspaper, see what you like, look at what your friends cook, get inspired by it, and start to change things around. Your version of a dish might be as good or sometimes spectacularly better (or worse!) than theirs; you can always improve even perfect dishes.
Never ever eat fast food. It is horrible. Instead, take a bar of Lindt chocolate or a loaf of Niederegger Marzipan or some local nougat with you so that you have something to eat when you are stressed out or are just hungry for a quick bite.
Uwe Bunz' Recipe:
Oxtail with Fennel
Per person approx. 500 g juicy, meaty oxtail. I buy normally 2.5 kg oxtail. The recipe can be scaled up.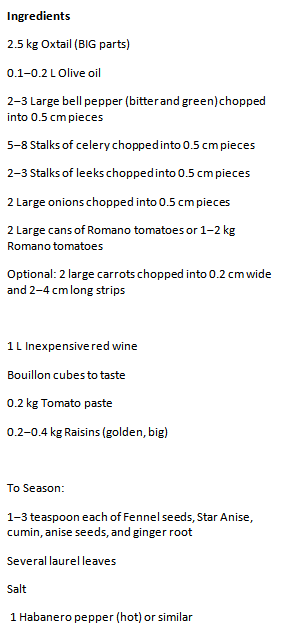 Directions:
THE EVENING BEFORE:
Put generous portion oil, 0.1–0.2 L, on high heat. Add oxtails. Sear for 10–15 min, then take the tails out, and sautée the vegetables until caramelized. It should smell super aromatic.
Next take another large pot and put the tails in first and then add the sautéed veggies – if the veggies are on the bottom they tend to burn! Add the red wine and the tomatoes. Add bouillon cubes until it tastes mildly salty.
Add chopped hot habanero to taste – this dish can work from sweet-mild to super-dragon-fire-breathing hot. Then add all the spices: anise, star anise, fennel seeds, ginger (finely chopped or finely grated), laurel leaves, and cumin.
Let it cook on a low heat or the smallest flame for 2–4 h, then (and this is a BIG part), let it cool over night. The resting period over night will make sure that the different flavors intermingle and will create a taste explosion.
ON THE DAY:
Taste the oxtails the next morning. The meat should almost fall off the bone. Depending upon how ready/tender the oxtails are, start heating the pot 1–2 h before your guests arrive.
Ca. 60 min before you plan to eat, add the tomato paste to make a smooth concoction. The tomato paste adds an additional sweet taste. Add the big raisins approx. 20 min before you serve.
Serve with pasta: Mafaldine are particularly good, but you also could use bucatini or maccharoni.
As for wines, this complexly aromatic dish can handle an Amarone or a hefty Chateauneuf du Pape or a massive Languedoc with sweet tannins. You can also drink one of the heavier barriqueish German red wines from the Pfalz, or a berry-bomb from South Africa or Australia.
---

Uwe Bunz studied chemistry at Ludwig Maximilians University Munich, Germany, and gained his Ph.D. there in 1990. He did postdoctoral research at the University of California, Berkeley, USA, in the group of Professor K. Vollhardt from 1991–1992. He gained his Habilitation at Gutenberg University, Mainz, Germany, in 1997. He was hired as Associate Professor (1997–2001), then promoted to Full Professor (2001–2002) at the University of South Carolina, USA. In 2003, Bunz moved to the Department of Chemistry and Biochemistry at Georgia Institute of Technology, Atlanta, USA. Since 2010, he has been Professor at the Organic Chemistry Institute of the Ruprecht Karls University, Heidelberg, Germany.
His research interests are the synthesis and properties of π-conjugated materials. This includes large heteroacenes for use in organic electronics, cruciform fluorophores, which change their emission color depending upon their substituent pattern, hyperbranched conjugated polymers, and water soluble conjugated polymers.
Selected Awards
Dreyfus Teacher-Scholar Award 2001
Selected Publications
---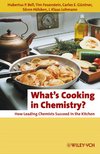 The idea to show what top scientists like to cook – on the bench and on the stove – is taken from the very successful book:
What's Cooking in Chemistry: How Leading Chemists Succeed in the Kitchen
H. P. Bell, T. Feuerstein, C. E. Güntner, S. Hölsken, J. K. Lohmann,
Wiley-VCH, Weinheim, Germany, 2009.
ISBN: 978-3-527-32621-1