The 16 chapters of the book Modern Tools for the Synthesis of Complex Bioactive Molecules, edited by Janine Cossy and Stellios Arseniyadis, describe the application of innovative modern synthetic methods and techniques in the preparation of natural products and other compounds of biological and pharmacological interest. Many impressive examples illustrate the importance of the described techniques.
Matthias Breuning, Universität Bayreuth, Germany, writes in his review that the book impressively shows the importance of the modern tools and their influence on developments and progress in natural products synthesis, in particular over the last decade.
"The editors have aimed to combine a large number of current trends in natural products synthesis within a single book. As the book does not focus on specific narrow areas, not all chapters will be of equal interest for many readers—on the other hand, this selection provides an excellent opportunity to grasp good overviews about facets in natural products synthesis that may be less familiar to the reader."
For Matthias Breuning particularly noteworthy is the first part. It shows the great power of modern catalysis and the elegant synthetic strategies derived therefrom. "The whole potential of a modern reaction or technique is often not fully recognized until one sees all the successful applications to complex structures, as is possible in many parts of this book."
He warmly recommends the book to any student interested in the synthesis of complex compounds, and he is sure that experts in the field will discover interesting new aspects, as well.
---
Read the full book review at: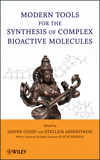 Modern Tools for the Synthesis of Complex Bioactive Molecules
Janine Cossy, Stellios Arseniyadis (Eds.)
John Wiley & Sons
Hardcover
596 pages
October 2012
ISBN: 978-0-470-61618-5