Professor Gautam Radhakrishna Desiraju, Indian Institute of Science, Bangalore, has played a major role in the development and growth of crystal engineering and the study of the structural aspects of the weak hydrogen bond. He is one of the most highly cited Indian chemists.
Professor Desiraju spoke to Dr. Vera Köster for ChemistryViews Magazine about scientists who inspired him, his hopes for the future, and chemistry research and education in India. As President of the International Union of Crystallography (IUCr) he also talks about plans for the upcoming International Year of Crystallography (IYCr 2014).
What excites you most about chemistry today?
Chemistry is still a unitary subject with a small number of guiding principles, but the application of these principles makes for a rich variety of applications. Chemistry appeals both to academic researchers as well as to industry, no other subject does this quite as well. I do not agree that it is a "mature" subject with all its essential questions answered.
What are your hopes for the future?
My hope for the future is that chemists will respect nature and nature's laws. A typical example of our folly has been the appearance of all sorts of "modern" lifestyle diseases, which we have promptly attempted to cure with sophisticated and "special" drugs. All this confusion, even while malaria and tuberculosis take their victims in the millions.
Which trends would you like to see disappear?
We have too many fads that take up too much time and effort. Chemists – and scientists in general – have become impresarios and business managers. I don't want to use the word "confidence tricksters"; we haven't quite got there as yet. I wish chemists would spend more time in their labs, more time with their students and post-docs, more time reading the papers of others, more time writing reviews and full papers, and spend less time poring over h-indices and journal impact factors, less time on junkets to distant locations for seemingly scientific conferences, and less time in writing grant applications. They should manage with small, compact research groups on small, compact research budgets, and know how and when to just stop.
A scientist should stop when one is more of a hindrance than a help to the overall cause of science. A scientist should stop when one is spending more public money than he or she is giving back overall to the society that is financing the venture. There must be more accountability. I wish that we arrive at a balance in evaluating and rewarding youngsters and older scientists, without exaggerating either group. My fear is that we will continue to do all these "awesome" things in the name of doing science.
Who has inspired you most in chemistry and during your career?
Very great chemists of yesteryear, especially those of the late 19th and early 20th century have really inspired me. They did science out of love and conviction, they contributed in a glorious way and their ideas have influenced us forever. They are my heroes.
Tell us a bit about your career path, please.
My career path has been highly unusual. For a start, I did my Ph.D. in the US and returned to India in 1978 in search of a job. Most Indian students in the 1970s did the reverse. They took a masters or doctorate in India and then fled to the US. My American training at the University of Illinois has been an abiding strength throughout. For example, I had no doubt that I would not accept, even as I attempted my tentative steps in the world of chemistry, the highly feudal and paternalistic model for science that prevailed in India. It still lingers on, albeit flabby and inefficient. The very fact that I have gained international recognition even while working in and against this oligarchic set-up, reiterates that one can follow one's convictions if taught the truth.
I dared to follow my dreams and this led to a new subject, crystal engineering. I have been very fortunate in that two ideas I tried to build up on, namely the concept of the weak hydrogen bond, and the concept of the supramolecular synthon, led to broad support and success.
What does the International Year of Crystallography (IYCr) mean to you?
IYCr will enable the crystallographic community to spread the broader message that science brings communities and countries together. Less-endowed countries in Africa, Asia, and Latin America can be brought into the scientific mainstream. It will reaffirm that crystallography is a subject with a vivid past and a bright future. I am perhaps the first President of the International Union of Crystallography to have received my primary training as a chemist rather than a crystallographer. I took a Ph.D. in organic chemistry. This speaks a lot for crystallography; it is a subject with porous borders.
What activities is the International Union of Crystallography planning for the International Year of Crystallography?
Crystallography is too big and widespread a subject for the IUCr to manage alone during the IYCr. We have left national level activities to our national organizations, to academic and industrial institutions, and to individuals. IUCr will coordinate international events. An Opening Ceremony has been planned at the UNESCO, Paris, on 20th and 21st January, 2014 where an international panorama of crystallography will be presented.
We are conducting at least 15 to 20 open laboratories in less endowed regions of the world where students will have hands on experience with crystallographic equipment and will be organizing three summit meetings that aim to bring together scientists and science administrators from countries that have been divided by geography, history, religion, politics, and economics. A meeting in Karachi, Pakistan, attempts to bring together structural chemists from China, India, and Pakistan. A meeting in Campinas, Brazil, will bring together macromolecular crystallographers in Latin America and a meeting in Bloemfontein, South Africa, will attempt to bring together scientists interested in powder diffraction—a subject that is of great interest in Africa because of the mining industry there.
How can we best educate society about the role of chemistry in today's world?
We need to go back to school level education. There are no short cuts. Chemistry, like other areas of science, affects society in ways that are both good and bad. The "bad" face of chemistry is more well-known than the "good" face. Chemists need to talk more enthusiastically about their subject. Many lay people might have heard about Newton, Einstein, Crick, and Watson. How many have heard about Dalton, Haber, and Pauling? We chemists have not done a good job in educating society about the role of chemistry in the world.
What is the current status of chemistry research and education in India?
There is not much to write home about. A country of our size, talent, and resources could have achieved much more in the last four or five decades. We have been crippled by a feudal administration cum research set-up, a pseudo-socialistic model of governance, and a lack of adherence to strict standards and accountability, basically an old boys' network with a lot of technical incompetence thrown in. There is little interaction between academia and industry, or between chemistry on the one hand and chemical engineering, biology, and physics on the other. Domination of the research and education scene by a handful of aging individuals has led to stagnation in recent years.
On the brighter side, the opening up of educational avenues in regions of the country that had traditionally been deprived of these advantages in the past, through initiatives of the Department of Science and Technology (DST), has led to an expansion of the base of the educational pyramid. This can have only good consequences because an increase in the number of educated students must by definition, weaken the feudal apparatus that has controlled science in India for many years.
What do you do in your spare time?
The classical music of South India has been of abiding interest, its nuances echoing the work, whether I practice it or attend concerts. I enjoy books on history and geopolitical strategy. The life of a working scientist is demanding and I attempt the best possible balance.
What else would you like readers of ChemistryViews.org to know about you, your experiences, and your country?
Each individual is different and I have had the good fortune of a fine education and a loving family. I am proud to have been born and then chosen to have lived and worked in India.
---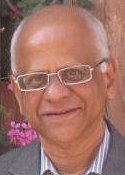 Gautam Radhakrishna Desiraju obtained his B.Sc. degree from Bombay University, St. Xavier's College, India, in 1972 and his Ph.D. degree in 1976 from the University of Illinois, Urbana Champaign, USA. From 1976 until 1978 he worked as a research scientist for the Eastman Kodak Company, Rochester, USA. Upon returning to India in 1978, he spent a year at the Indian Institute of Science, Bangalore, as a research fellow before he became a lecturer at the University of Hyderabad, India, in 1979. He was promoted to Reader in 1984 and Professor in 1990. In 2009 he joined the Indian Institute of Science.
He is currently the President of the International Union of Crystallography (IUCr) and is a member of the Editorial Advisory Board of Angewandte Chemie, the Journal of the American Chemical Society, and Chemical Communications. He is a Fellow of the National Academy of Sciences, Allahabad, India, Indian Academy of Sciences, Bangalore, India, and the Academy of Sciences for the Developing World (TWAS).


Selected Awards and Honors
The Forschungspreis of the Alexander von Humboldt Foundation (Humboldt Award, 2000)
TWAS Prize (2000)
Doctorate Honoris Causa, Universidad Nacional de Cordoba, Argentina (2013)

Selected Publications