LUMA Centre Finland is a catalyst for science and mathematics education, an umbrella organization promoting the collaboration of schools, universities, and the business sector. The collaboration has been especially fruitful in chemistry education resulting in the success of ChemistryLab Gadolin. LUMA is a unique Finnish concept that aims to inspire the joy of science, technology, and mathematics in children and young people.
The LUMA Solution to a Declining Interest in Natural Sciences
Today, Finnish students rank very high in the Programme for International Student Assessment (PISA) survey of natural science skills. However, in the 1990's the country could hardly boast of excellence: students were performing at or below the international average. Studies showed that science and technology simply did not interest young people. Yet innovative engineers and scientists were urgently needed to steer Finland towards the technology-oriented 21st century. The Ministry of Education recognized the challenge and launched a nationwide campaign to update teaching methods and to improve youth's interest in science.
The practices of the national campaign were refined to a more permanent solution: Finland's Science Education Centre LUMA (an abbreviation of luonnontieteet matematiikka, which is Finnish for natural sciences and mathematics). The first LUMA centre was opened in 2003 at the University of Helsinki. Since then nine regional LUMA centres have been launched in universities throughout the country ensuring nationwide accessibility and impact.
The opening of a unifying umbrella organization, LUMA Centre Finland, in November 2013 marked an important milestone. LUMA Centre Finland enables closer collaboration of the regional LUMA centres and their host universities.
The goal of LUMA Centre Finland is to motivate children and youth to study mathematics, natural sciences, and technology and to encourage their interest towards these subjects. LUMA also aims to inspire lifelong learning and to support STEM teachers throughout their careers.
Policy makers are becoming increasingly aware of the implications of the low popularity of STEM subjects. In the future we will need more skilled STEM experts to develop our societies and economies in sustainable ways. "Even though Finnish pupils excel in international learning rankings, we must work systematically to promote the appreciation of teaching, learning, and the studying of science and mathematics. The discussion on the status of sciences and mathematics could serve as a starting point for a campaign to increase appreciation for education and science in general," suggests Assistant Professor Pekka Hirvonen, chair of the Board of LUMA Centre Finland.
LUMA covers a wide range of subject areas including biology, chemistry, geosciences, computer science, technology, physics, and mathematics. The LUMA logo (see Fig. 1) is a colorful flower symbolizing the involvement of different aspects of society in the network. An important part of our mission is to increase awareness of the significance of mathematics, natural sciences, computing and technology for the wellbeing of individuals, society, and the environment.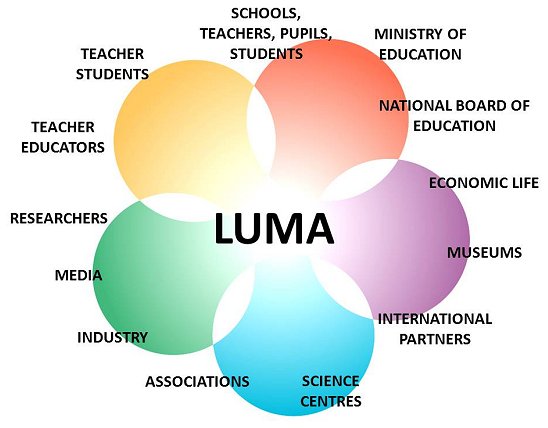 Figure 1. The LUMA logo symbolizes different aspects of the network.
Inspiring Science Activities and Resources are at the Heart of LUMA
LUMA Centre Finland offers possibilities to engage in exciting science and experience the joy of learning to everyone, starting from three-year-old toddlers. After school science clubs, events, and summer camps are important core activities that are specifically tailored to meet the interests of different age groups.
A pilot model for science clubs for young (3 to 6 year old) children was successfully launched in spring 2013 (see Fig. 2). By encouraging the curiosity of children, educators can support their awareness of natural phenomena and even spark further interest in science. In each club meeting the children explored a scientific theme, for example colors, density, and states of matter. In addition to the science and investigative activities, the club sessions were designed to develop social and emotional skills and motivation through art, music, drama, and playing together.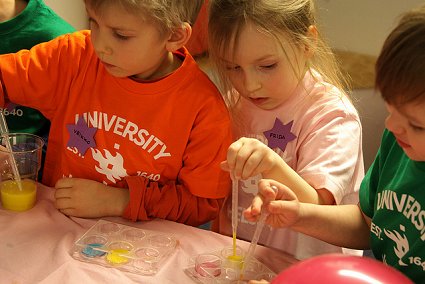 Figure 2. Science clubs for 3 to 6 year olds were piloted at the LUMA Centre of the University of Helsinki in spring 2013. Photo: Elisa Lautala
According to project coordinator Jenni Vartiainen successful engagement in STEM begins with promoting the natural ability of children to question and explore their surroundings. "In my opinion it is crucial to familiarize children with the role of natural sciences and mathematics in their daily lives and to help them connect everyday phenomena to science and technology," she says.
"Children should be given a chance to wonder and ponder on something that interests them. Interest and motivation in children is often awakened by exploring together the diverse ways in which natural sciences, technology, and mathematics affect our lives."
Teachers, too, are lifelong learners. LUMA offers opportunities for continuing professional development. For example in-service training courses help science teachers develop their expertise and nurture their own motivation and passion in science teaching.
The LUMA centres provide information, ideas, tools, and materials for teachers to support them in their daily role as STEM educators. The national LUMA portal, LUMA Sanomat, is a freely accessible gateway to all online articles, materials, and a calendar of events. The Jippo and Luova science web-based magazines are targeted at children and youth, respectively. International audiences can enjoy LUMA as well: LUMA News provides STEM education news from Finland in English and the MyScience web-based magazine is a flagship medium for the world-famous International Millennium Youth Camp.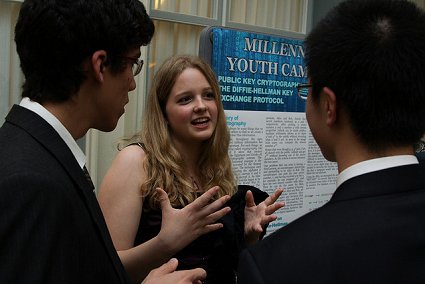 Figure 3. The applied mathematics group presenting their project at International Millennium Youth Camp gala 2013. The fifth International Millennium Camp will be organized in June 2014 in Finland. Application is open until December 15th 2013. Photo: Jussi Nygren
The LUMA Centre of the University of Helsinki publishes an open-access scientific journal as a forum for STEM educators and researchers to make their work public. The LUMAT – Research and Practices in Math, Science, and Technology Education journal publishes peer-reviewed research papers, as well as general articles or perspective papers. Furthermore, the LUMA Centre publishes the European Journal for Young Scientists and Engineers, a peer-reviewed journal for young people interested in presenting their original research.
LUMA Centre's Science Labs are a Teacher's Dream Come True
Imagine a science field trip to a state-of-the art laboratory in an authentic environment including cool hands-on experiments, interaction with real-life researchers, and guaranteed student engagement in chemistry. Imagine that this field trip is free of charge, with all instructions and protocols freely available online for future classroom use. In the Gadolin concept schools, academia and the business sector work together to build positive attitudes towards chemistry.
Just a dream, you say? The dream is reality at ChemistryLab Gadolin, a laboratory that exists for the purpose of engaging 5 to 20 year-old students in meaningful chemistry learning.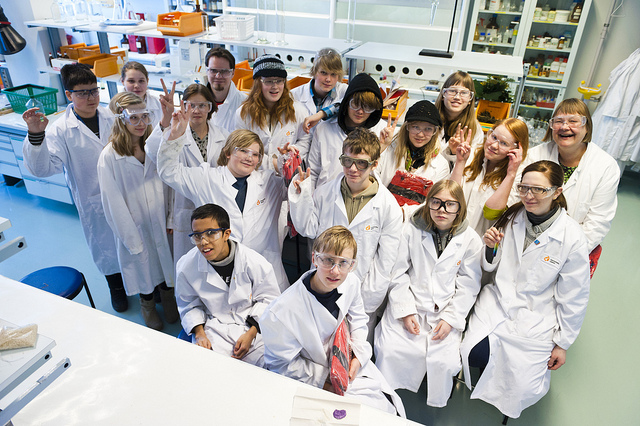 Figure 4. A school group visiting ChemistryLab Gadolin. Photo: Veikko Somerpuro
Since its opening five years ago the Gadolin lab has hosted children, young people, teachers, and other visitors from Finland and abroad. Up to date about 20 000 visitors have experienced the joy of chemistry at Gadolin.
The Gadolin lab offers a wealth of materials and a choice of over 50 experimental protocols and demonstrations. Visiting groups might choose to do practical experiments on a topic they are covering in class, work with computers on molecular modeling or simulations, and tour the campus. Students might be especially interested in finding out what the life of a researcher is like in real life. In that case Gadolin can arrange visits to research laboratories in the Department of Chemistry to meet scientists in their working environments and to learn about the techniques and equipment they use.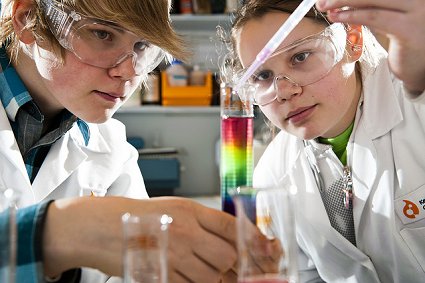 Figure 5. Students engage in chemistry experiments at the Gadolin lab. Photo: Veikko Somerpuro
LUMA's five science laboratories are dedicated to pre-school and school groups and developing STEM education. F2K (physics), Gadolin (chemistry), Origo (mathematics), and Linkki (computer science) are located at the University of Helsinki and LUMARTS (biotechnology) is hosted by the Aalto University, Espoo, Finland.
A Bright LUMA Future for Science, Mathematics, and Technology
We at LUMA share a vision of achieving high level skills and knowledge of mathematics, natural sciences, and technology in young people. Our work is important in discovering the potential and joy for science in all students.
LUMA has been described as a bridge between schools and science, research and learning. Like a true chemist, Professor Maija Aksela, Director of LUMA Centre Finland, defines LUMA as a catalyst: "LUMA catalyzes positive developments and collaborations in STEM education. Our aim is to enable without being consumed in the process." She brings it all together in the LUMA motto: "Together we are more!"
---
Maija Pollari is a science journalist and editor at LUMA Centre Finland. Her background is in molecular biology.
For more information, please visit: