Sophie Lin, Taiwan, is the author of the Wonderlab Comic Series and a R&D Scientist at a chemical company in Taiwan.  She spoke to Dr. Vera Köster for ChemViews Magazine about the inspiration behind the stories of the cartoon which depict in a humorous way the ups and downs of working in a lab.
I saw your first drawings on your poster presented at the International Conference on Organometallic Chemistry (ICOMC) in 2010 and was immediately fascinated.
What gave you the idea to include cartoons?
ICOMC was the last conference where I presented a poster during my student life. Before that, I had presented two other posters, one at the Annual Meeting of the Chemistry Society in Taipei and the other one at the National Taiwan University.
My research was a little related to eco issues, so I placed a big, beautiful picture of earth on my first poster – even though it took up space – to draw the attention of people. I hoped that they would stop by and discuss my research with me.
But actually, it failed; I didn't get any attention or award at that time.
After that, I told myself that maybe my research is not so popular. I told myself that next time I can put any elements on the poster I like. I don't have to care about the opinions of others, because no one will pay attention to it anyway.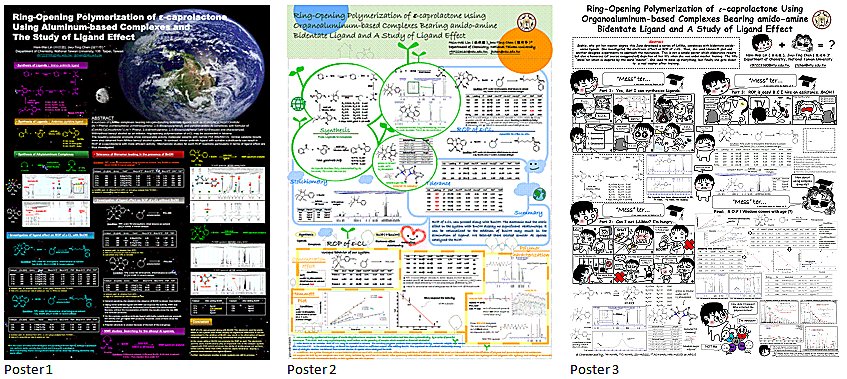 So there came the time I had to present another poster. It was a small poster session at our department for the students who will graduate in the same year. In this second poster, I still tried to focus on the "eco topic", so I used green as the basic color. I put many natural elements on it. They were all illustrated by me, not pictures downloaded from the internet. But the result was not really satisfying for me.
So when I knew I had to prepare a poster for ICOMC, which is the first international conference I ever attended, I asked myself how to make a poster that is unique and creative?
I had no answer. I even tried to hand in the second poster to avoid this issue.
All changed the day before my boss' 60th birthday. I drew a picture of him and combined it with a photo of our lab and made a puzzle for him as a birthday present. At that moment, I just knew what design my poster for the ICOMC would have …
What did your boss think about the poster?
My boss didn't know anything about this poster until it was presented at the conference. He'd seen my first two posters, so I think he believed in me and, therefore, didn't interfere.
Both of us were shocked at the conference, we didn't expect the poster would draw so much attention.
I guess he's proud of me not only because of my research but also of my unique creativity and ideas.
You have a very unique style of drawing. Did you take drawing courses?
I didn't go to any specific drawing courses. I just had common art classes, like everybody had.
I think the style is similar to that of an internet blogger in Asia.
Actually, I don't think that I have a gift for drawing; there are too many people who can illustrate better than me. I think the only thing that made me special is the idea, not only for the posters but also the Wonderlab comic series.
I don't know when I started, it just started.
I read comic books, watched cartoons but I seldom drew.
Even when I started the cartoon series Wonderlab, I still seldom drew. I occasionally illustrate something simple, cute things, on my notes.
It took me more time to think of ideas for the Wonderlab.
The Wonderlab Comic series depicts in a humorous way the ups and downs of working in a lab. Are the stories and characters based on experiences in your lab?
The characters were first based on my lab mates and then evolved into own characters.

Catman is based on a Ph.D. student in my lab. I always think he's like a cat when he's smiling. He's querulous, but not annoying, everyone loves him. K Face and Jin-Jo and, of course, Sophie are based on real people. But as I said before, they just give the shape of these characters but the personalities are quite different.
Also most of the stories are based on my experiences. But to be more related to chemistry, I tried to add some chemistry elements to the stories.
For example, the "April Fool's Day" is based on a real experience. One of our lab mate ate Catman's chocolate and put a tissue in the package and then sealed it. But the "balloon" part was made up by me to be more related to the life in a chemistry lab.
Your pictures have many small and funny details you only see when looking at it twice. How long does it take you to draw a comic?
I like to watch animation, cartoons, and comic books. If you are a fan of Pixar, you must be familiar with those Easter eggs they put in every movie. It makes people concentrate more when they watch it.
Also, I think a good piece will make people want to see it many times. And every time they will get different information, inspiration, thoughts …
I think I'm still far away from that state, but I think if I can include some little trick to make the reader who finds it more surprised and happy, why shouldn't I do it?
In the first year, I tried to play with variations on the topic "Wonderlab". After that, I tried to put something extra in the comic. These tricks didn't take me too much time, they just were there when I came to draw it.
Do you have a favorite comic episode?
I think my favorite one is "UV Lamp".
This is the first comic where I've use the "division" skill. Before that I always used a single window to depict the scene. Starting with that comic I tried to separate it to many parts. This skill makes the comic livelier. In UV Lamp is the first time I really feel my skills "upgraded"!
And another reason is that the story is based on my personal experience.
When not drawing comics, what do you do?
I have a full-time job at a chemical factory in a R&D group. Our company produces materials for paint.
This means, I am still working in the lab. So I often observe things that happen in my lab, and try to make them into one of the comics. But most of the experiences are not suitable for the comic. It would be too hard for the readers to understand. I set up the content of the Wonderlab series for someone who is not quite familiar with chemistry, or maybe works in a different field of chemistry. So I don't go too deeply into a specific instrument or a chemical skill, as this might confuse the reader.
Thank you for the interview and thank you very much for the wonderful comic series Wonderlab!
---
Sophie Lin studied chemistry at the National Taiwan University, Taipei, and now holds a position as a R&D Scientist in a chemical factory in Taipei, Taiwan. She started drawing the Wonderlab comic series for ChemistryViews.org in May 2010.