The Paul Ehrlich and Ludwig Darmstaedter Prize has been awarded to Professor Michael Reth, Albert-Ludwigs-University of Freiburg, Max Planck Institute of Immunobiology and Epigenetics, and spokesman for the Cluster of Excellence BIOSK, Centre for Biological Signalling Studies, Freiburg, Germany. Reth is being honored for his outstanding research achievements in the field of antibody research.
The price, endowed with 100,000 EUR, is awarded on March 14, at the 160th birthday of Ehrlich, by Professor Harald zur Hausen in the St. Paul's Church of Frankfurt, Germany. It is one of the most prestigious international prizes awarded in Germany in the field of medicine. The prize is awarded since 1952.
Michael Reth, born 1950 in Düsseldorf, Germany, studied biology at the University of Cologne, Germany, and gained his Ph.D. there. After a stay at Columbia University, New York, USA, he returned to Cologne in 1985 and habilitated there. In 1989 he moved to the Max Planck Institute of Immunobiology, Freiburg. Since 1995 Reth is Professor of Molecular Immunology at the Albert-Ludwigs-University of Freiburg, but continues research at the Max Planck Institute of Immunobiology and Epigenetics.
In 2007 Reth became spokesman of the Cluster of Excellence BIOSK. Reth has received several awards including the Heinz Maier-Leibnitz Prize of Immunogenetics, the EFIS-Schering-Plough-European Immunology Prize, and an Advanced Grant from the European Research Council. Reth is a member of the National Academy of Sciences Leopoldina and a member of the European Molecular Biology Organization (EMBO), is an honorary member of the American Society for Immunology, and serves on the editorial board of several journals.
History of the Antigen Receptor
It starts with the side-chain theory of Paul Ehrlich. Since 1960 it is known that the antigen receptor contains an antibody anchored in the membrane. Michael Reth discovered in 1990 the two signal molecules of this receptor, Igα and Igβ. Ten years later, he showed that the antigen receptors are not separately arranged in the membrane, but in groups.


Two Models of B Cell Activation
The "cross-linking model" assumes that the many antigen receptors present on the B cell surface are arranged separately and group for signal transduction. Michael Reth has shown that the antigen receptors on the resting B cells are already arranged in groups. According to his "dissociation activation model" the formation of a group does not initiate the activation of the B cell and formation of antibody, but their opening or decay.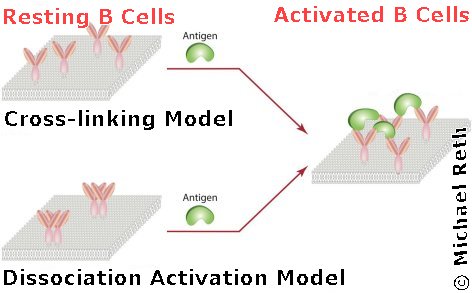 ---
Selected Publications