The Event
The European Biomass Conference and Exhibition (EU BC&E) was opened on June 23rd at the Congress Centre of Hamburg, Germany. The EU BC&E combines an international scientific conference with an industry exhibition and additional parallel events, such as various workshops. This diverse profile gives researchers, students, politicians, businessman, and technologists the opportunity to exchange their experiences and ideas on all different aspects of biomass.
The conference series started 30 years ago and has now extended from biomass itself to conversion processes for biofuel, bioenergy, and various industrial applications. This is also reflected by the topics of the different oral sessions, covering topics like: biomass resources, biomass conversion technologies for energetic use, biomass conversion technologies for material use, and biomass policies, markets and sustainability.
Innovative Technologies to Utilize Biomass
The Scientific Opening was chaired by Dr. David Baxter, Joint Research Centre (JRC), European Commission, Petten, The Netherlands, and Dr.-Ing. Bernd Krautkremer, Fraunhofer Institute IWES, Kassel, Germany. The scientific presentations focused on different innovative technologies used by companies in Europe utilizing biomass in many different ways.
Thomas Krause, CEO Viessmann, Allendorf, Germany, introduced the "Bio Energy Village Concept", where in rural areas biomass from local forests and from agriculture is used to meet the entire energy requirements of a small village.
Dr. Jan Grundmann, Chief Representative, Vattenfall Europe New Energy, Hamburg, Germany, presented research done on solid biomass incineration plants: since continuous power supply is one of the main obstacles in the usage of renewable energy sources, such as wind and solar energy, it is desirable that plants using biomass can be quickly adjusted to changes. The biomass plants investigated showed that, depending on the technological equipment, a quick adjustment is in fact possible, making biomass plants an attractive supplement to electricity gained by wind force or solar energy.


Figure 1. (left to right) Professor Yuan Zhenhong, China, and Dr. Giuliano Grassi, Secretary General European Biomass Industry Association (EUBIA); Dr. Peter Helm, WIP – Renewable Energies, Germany, Dario Giordano, CTO BioChemtex, Italy, and Giuliano Grassi.
The Scientific Opening was closed by the award presentation: The Linneborn Prize, which was established in 1994 for outstanding contributions to the development of energy from biomass, was presented to Professor Yuan Zhenhong, Director of Laboratory of Biochemical Conversion and Chief Scientist of the Research Center of Biomass Energy, Guangzhou Institute of Energy Conversion, China (see picture). He was awarded for his large and broad contributions to the science of biomass – the detailed enumeration of his various contributions lasted in fact for several minutes.
The European Biomass Industry Association (EUBIA) awarded the company Biochemtex, Tortona, Italy, for the merit to bring lingocellulosic ethanol production to an industrial scale. Biochemtex focuses its business on the use of non-food biomass, as an alternative to oil. In partnership with Beta Renewables, Italy, they developed in seven years of studies and 150 million Euro of investment a technology that produces bio-fuels and chemical intermediates on an industrial scale from biomass.
Political
The subsequent Political Opening was chaired by Professor Clemens Hoffmann, Fraunhofer IWES, Kassel, Germany, and who also was the conference general chairman (pictured below). All speakers emphasized the importance of biomass as an alternative source of energy, especially in order to reduce the greenhouse gas emissions in a sustainable way. Besides the sustainability, security and affordability of energy are of major concerns. Whereas wind and solar energy depend on the weather and do not give a high security in power supply, biomass plants for electricity have a security of 99,9999 %.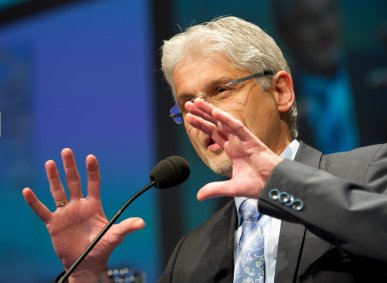 The adjunct Panel Discussion focused on the meaning of biomass as a major contributor to the 20-20 target, which was set by the European Union in 1990. It included the aim to reduce greenhouse gas emission by 20 % and the increase of renewable resources to 20 %, while at the same time to increase the energy efficiency by 20 %. But also the role of biomass after 2020 was discussed and all participants agreed that the role of biomass must not be underestimated for a sustainable energy supply in the future.
A major concern of the discussion was the "energy turnaround" in Germany, as this week a decision by the German parliament is expected, most likely resulting in massive cutbacks of subsidization for biomass plants. The unstable political course has led to a temporary crisis for biomass technology, Clemens Hoffmann stated.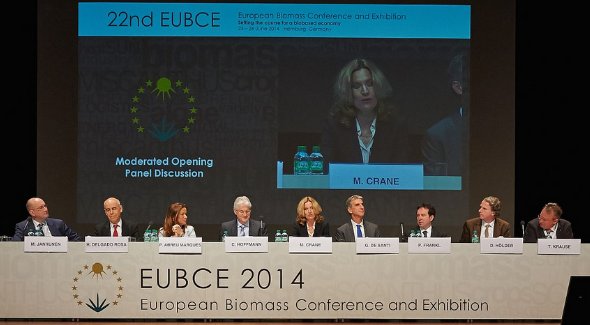 ---