The winners of the Science4Life Venture Cup, the largest German business-plan competition for the life sciences and chemistry, were recognized on July 7 at the headquarters of the Deutsche Bundesbank (German Federal Bank) in Frankfurt.
Science4Life is an initiative that was established in 1998 to support founders of startup companies. It is supported by the Government of the German State of Hessen and by the global health-care company Sanofi.
Awards Ceremony
During the awards ceremony, Professor Jochen Maas, General Manager of R&D at Sanofi-Aventis, Germany, said that in Germany there is a lack of venture capital to successfully support startups in the growth phase compared with many other European countries and the USA. He thinks that better fundamental conditions in addition to more courage on the part of potential investors when it comes to startups is needed.
Tarek Al-Wazir, Minister of the State of Hessen for Economics, Energy, Transportation, and Development, said that this year's competition had 363 participants and 118 business ideas. He was impressed by the innovative ideas the founders are working on to find solutions to economic, environmental, and health issues.
Each of the first five winning companies was introduced by the holder of the same award from the previous year. This gave those present the opportunity to hear what happened to last year's winners since receiving their awards. The 2013 winners also had small gifts and commendations for this year's winners. They stated that what is most important for success in the startup phase is strong team spirit, endurance, and boundless enthusiasm.
This year's first prize, an award of 25,000 euros, went to Hydrogenious Technologies GmbH, Nurenberg (pictured). Their technology promises a safe and cost-effective solution for the storage of renewable energy based on liquid organic hydrogen carriers (LOHC). It represents a significant advance to existing alternatives.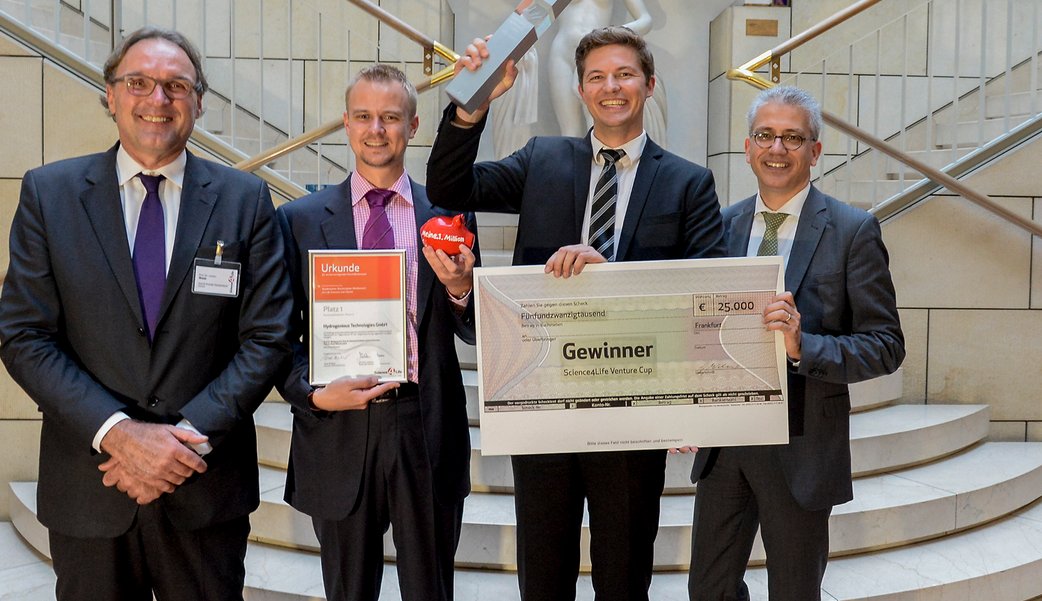 From left to right: Professor Jochen Maas, Sanofi-Aventis GmbH, Germany; Florian Enzenberger, Hydrogenious Technologies GmbH; Daniel Teichmann, Hydrogenious Technologies GmbH; Tarek Al-Wazi, Minister of the State of Hessen for Economics, Energy, Transportation, and Development. © Science4Life
Second prize, an award of 10,000 euros, went to AOM-Systems GmbH, Darmstadt. Their optical sensors characterize droplets in real time and in situ and allow the automation of industrial spray processes. This saves on production costs and valuable resources.
Third prize, an award of 5,000 euros, went to cytena GmbH, Freiburg. Their innovative single-cell printing technology can be used in cell research and professional diagnostics. It is particularly important in the fight against cancer.
Fourth prize, an award of 3,000 euros, went to oldntec GmbH i. Gr., Oldenburg. Their automatic emergency call system detects when an electric device has not been used for an unusually long period of time. This enables disabled or elderly people to live independently as it provides, in addition to existing emergency calls, an extremely reliable method of alerting medical services.
Fifth prize, an award of 3,000 euros, went to FreshDetect GmbH, Karlsfeld. Their handset for the microbiological examination of foods by means of fluorescence correlation spectroscopy (FCS) checks the freshness of food, even through transparent packaging.
Sixth through tenth prizes, awards of 2,000 euros each, went to (in alphabetical order) 300Microns, Eggenstein-Leopoldshafen; Akesion GmbH, Schriesheim; DexLeChem GmbH, Berlin; GLYCONIC, Hamburg; and PoreGenic Biosciences GmbH, Rostock.
Science4Life
Compared with other countries, Germany lags behind in the number of newly founded companies. Science4Life aims to bring young entrepreneurs into contact with professionals in their expert network. Their main objective is to encourage the creation of new companies with sustainable economic success.
The competition consists of three phases: the idea, the concept, and the business plan. Participants are invited to attend workshops and seminars and they receive feedback after each level. Experts from many sectors essential for the establishment of a new company, such as lawyers, bankers, researchers, and marketing experts, act as coaches and evaluators.
---
Also of interest:
A finalist of note from 2013 (only available in German)