The Arbeitsgemeinschaft Deutscher Universitätsprofessoren und -professorinnen für Chemie (ADUC, Association of German University Professors in Chemistry) honors up to three habilitation candidates each year for work reported in original and significant publications.
The prizes were presented at the Chemiedozententagung organized by the Gesellschaft Deutscher Chemiker (GDCh, German Chemical Society) and ADUC in Regensburg, Germany, on March 2, 2015. This year's winners were:
| | |
| --- | --- |
| | Tanja Gaich studied Molecular Biology and Chemistry at the Universities of Salzburg and Vienna, Austria. and received her Ph.D. under the supervision of Johann Mulzer in Vienna in 2009. After postdoctoral work with Phil S. Baran, The Scripps Research Institute, La Jolla, CA, USA, from 2009 to 2010, she started her independent career at the University of Hanover, Germany, and has been supported by a Sofja-Kovalevskaja Prize from the Alexander-von-Humboldt Foundation since 2012. |
| | |
| --- | --- |
| | Her research is focused on the total synthesis of polycyclic natural products and methodology development to enable generalized access to structurally related natural product groups. |
Viktoria H. Däschlein-Geßner studied chemistry at the Universities of Marburg and Würzburg, Germany, and obtained her Ph.D. from Technische Universität Dortmund, Germany, in 2009 for work supervised by Carsten Strohmann. After postdoctoral research with T. Don Tilley, University of California, Berkeley, USA, from 2009 to 2010, she returned to Würzburg to work towards her habilitation. She was made junior research group leader funded by the Emmy-Noether Program in 2012.

Däschlein-Geßner's research interests include organometallic and main-group metal chemistry with a focus on s-block metal compounds. Recent efforts have involved the application of carbenoid species and carbene complexes in bond-activation reactions and catalysis.
Michael Sommer studied chemistry at the University of Bayreuth, Germany, and the University of Granada, Spain. He completed his Ph.D., supervised by Mukundan Thelakkat, in Bayreuth in 2009. After postdoctoral work in Bayreuth, as well as with Wilhelm Huck at the University of Cambridge, UK, from 2010 to 2012, he was appointed research group leader in the Department of Macromolecular Chemistry at the University of Freiburg, Germany.

Sommer's research is centered on the synthesis and self-assembly behavior of a variety of conjugated and smart materials for use in organic electronics and sensors.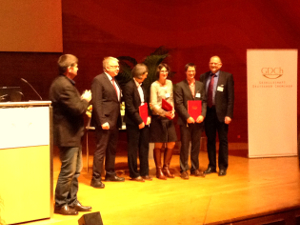 The ADUC Prize winners.

---
Selected Publications of Tanja Gaich
Enantioselective, Protecting-Group-Free Total Synthesis of Sarpagine Alkaloids – A Generalized Approach,
S. Krüger, T. Gaich,
Angew. Chem. Int. Ed. 2015, 54, 315–317.
DOI: 10.1002/anie.201407280
Light-Mediated Total Synthesis of 17-Deoxyprovidencin,
N. Toelle, H. Weinstabl, T. Gaich, J. Mulzer,
Angew. Chem. Int. Ed. 2014, 53, 3859–3862.
DOI: 10.1002/anie.201400617
Aiming for the Ideal Synthesis,
T. Gaich, P. S. Baran,
J. Org. Chem. 2010, 75, 4657–4673.
DOI: 10.1021/jo1006812
Selected Publications of Viktoria H. Däschlein-Geßner
Selective Dehydrocoupling of Phosphines by Lithium Chloride Carbenoids,
S. Molitor, J. Becker, V. H. Gessner,
J. Am. Chem. Soc. 2014, 136, 15517–15520.
DOI: 10.1021/ja509381w
Methandiide as a Non-Innocent Ligand in Carbene Complexes: From the Electronic Structure to Bond Activation Reactions and Cooperative Catalysis,
J. Becker, T. Modl, V. H. Gessner,
Chem. Eur. J. 2014, 20, 11295–11299.
DOI: 10.1002/chem.201404131
Structure Formation Principles and Reactivity of Organolithium Compounds,
V. H. Gessner, C. Däschlein, C. Strohmann,
Chem. Eur. J. 2009, 15, 3320–3334.
DOI: 10.1002/chem.200900041
Selected Publications of Michael Sommer
Simple Synthesis of P(Cbz-alt-TBT) and PCDTBT by Combining Direct Arylation with Suzuki Polycondensation of Heteroaryl Chlorides,
F. Lombeck, R. Matsidik, H. Komber, M. Sommer,
Macromol. Rapid Commun. 2015, 36, 231–237.
DOI: 10.1002/marc.201400437
Structure Influence on Charge Transport in Naphthalenediimide–Thiophene Copolymers,
M. M. Szumilo, E. H. Gann, C. R. McNeill, V. Lemaur, Y. Oliver, L. Thomsen, Y. Vaynzof, M. Sommer, H. Sirringhaus,
Chem. Mater. 2014, 26, 6796–6804.
DOI: 10.1021/cm5033578
Microphase-Separated Donor–Acceptor Diblock Copolymers: Influence of HOMO Energy Levels and Morphology on Polymer Solar Cells,
M. Sommer, S. M. Lindner, M. Thelakkat,
Adv. Funct. Mater. 2007, 17, 1493–1500.
DOI: 10.1002/adfm.200600634