The KNCV Van Marum-Medal is awarded every two years by the Koninklijke Nederlandse Chemische Vereniging (KNCV, Royal Netherlands Chemical Society) to persons who made a significant contribution to the development and application of chemistry in our daily lives. The medal is named after Martinus van Marum (1750–1837), who introduced modern chemistry based on the theories of Lavoisier in the Netherlands.
Arne Mast, Utrecht, The Netherlands, is the recipient of the 2014 medal. Mast is honored for his outstanding contribution in the areas of chemistry promotion and education. He has also been working on successful activities in the field of chemistry education and training. The award will be presented during the a chemistry symposium at Radboud University, Nijmegen, The Netherlands, on April 7, 2015.

Arne Mast received his Drs. in chemistry from the University of Amsterdam, The Netherlands, in 1973 and qualified as a teacher for chemistry and physics the same year. He was coordinator of chemistry teacher training at the Amsterdam University of Applied Sciences from 1990 to 1993, worked at the chemistry department at VU University Amsterdam from 1993 to 1997, and was senior advisor for external relations at the University of Amsterdam from 1997 to 2002. He taught chemistry at the University of Applied Sciences, Utrecht, from 2012 to 2013. Since then, he works as an independent chemistry teacher, providing teaching materials, lessons plans, courses, and workshops.
In 2002, Mast became director of Stichting C3, a foundation providing educational resources for promoting chemistry, life sciences, and process engineering to young people. Mast has been a honorary member of the Department of Chemistry Education of the KNCV since 2013. He has received the Dutch Royal honors (Knight) in 2008.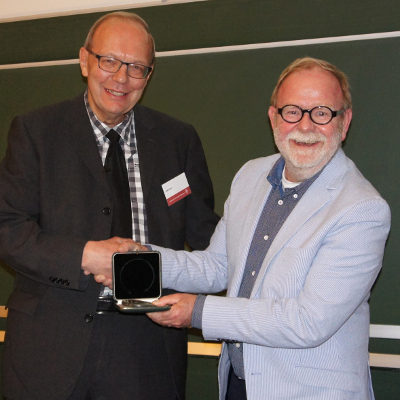 Dr. Rob Zsom, Chairman of the jury (left), Drs. Arne Mast (right)

---