Professor Sereina Riniker, ETH Zurich, Switzerland, has been awarded this year's Ewald Wicke Prize by the Ewald Wicke Foundation and the Deutsche Bunsen-Gesellschaft für physikalische Chemie e.V. (DBG, German Bunsen Society for Physical Chemistry). It is awarded to distinguished young scientists up to an age of 35 for outstanding scientific achievements in the area of applied physical chemistry.
The prize, which is endowed with € 2,500, honors her outstanding work in the field of method development for simulations of biological and chemical systems. It was presented at the General Assembly of the German Bunsen Society for Physical Chemistry (Bunsentagung 2015) in Bochum, Germany, on May 14, 2015.

Sereina Riniker was born in Lenzburg, Switzerland, in 1985. She completed her master's degree in chemistry at ETH Zurich, Switzerland, with a research project at the Autonomous University of Barcelona, Spain, in 2008. After an internship in the research department of Givaudan AG, Vernier, Switzerland, and a research stay with Berend Smit at UC Berkeley, CA, USA, she returned to ETH Zurich in 2009 to obtain a Ph.D. in molecular dynamics simulations under the supervision of Wilfred van Gunsteren. From 2012 to 2014, she held a postdoctoral position in cheminformatics under the supervision of Gregory Landrum at the Novartis Institutes for BioMedical Research in Basel, Switzerland, and Cambridge, MA, USA. She was appointed Assistant Professor of Computational Chemistry at ETH Zurich in 2014.
Among other honors, Riniker received the IBM Research Prize for Computer Modelling and Simulations in Chemistry in 2010.
Professor Riniker's research focuses on the development of methods and software for classical molecular dynamics (MD) simulations and cheminformatics, and their application to biological and chemical questions.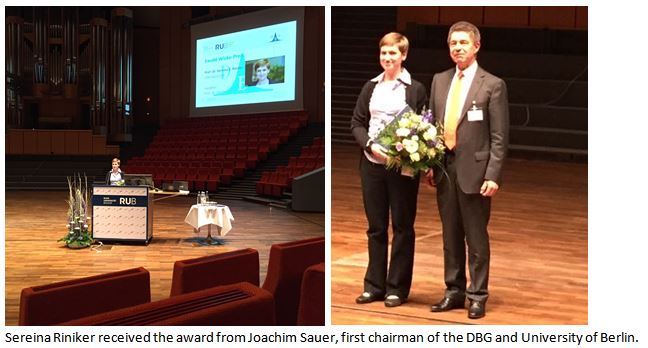 ---
Selected Publications
Also of Interest