Biocatalysis is a broad and highly interdisciplinary field that combines chemistry, biology, chemical engineering, and bioengineering.
With the upcoming 5th Int. Congress on Biocatalysis, Hamburg, 29.08.–02.09.2010, which focuses on this rapidly evolving field and industrial biotechnology, ChemCatChem has dedicated a special issue to cover various topics of biocatalysis:
protein design and engineering,
high-throughput screening methods,
asymmetric syntheses,
artificial metalloenzymes,
stereoselective and regioselective preparation of compounds,
natural compound analogues,
process development by immobilization.
Prof. Uwe T. Bornscheuer (Chairman of Editorial Board of ChemCatChem), Institute of Biochemistry, Greifswald University, Prof. Andreas Liese, Institute of Technical Biocatalysis, Hamburg University of Technology, and Prof. Garabed Antranikian, Institute of Technical Microbiology, Hamburg University of Technology, edited the issue which presents an excellent collection of articles informing the readers of current issues and developments in the field of biocatalysis.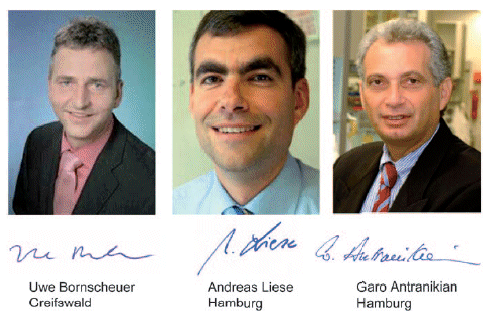 ---