Professor Molly Stevens at the Institute of Biomedical Engineering and Department of Materials, Imperial College London, UK, was recently the recipient of the Polymer International (PI)-IUPAC Award for Creativity in Applied Polymer Science or Polymer Technology. She was awarded the prize at 43rd IUPAC World Polymer Congress (Macro2010), in Glasgow, UK, where the award presentation was part of the opening ceremony of the conference. The award was given after a short introduction by Professor Kurt Geckeler (Editor-in-Chief of Polymer International, see photograph). Her keynote lecture as part of the prize during the Polymers for Tissue Engineering and Regenerative Medicine symposium at Macro2010 was also well attended.
The award winner is selected by members of a scientific committee representing Polymer International and the IUPAC Polymer Division to recognize the outstanding contribution of a young scientist to polymer science and this prize is presented every two years at the IUPAC World Polymer Congress. Professor Molly Stevens is the second winner of the IUPAC-Polymer International Award, the first winner being Professor Zhenan Bao, Stanford University, USA.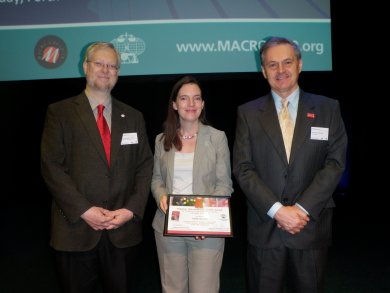 Award winner Professor Molly Stevens with Professors Geckeler and Ober (right and left, respectively).
Research in Professor Stevens' group focuses on developing novel approaches to tissue engineering much of which makes use of novel polymer composites and nanomaterials. These materials are likely to prove very powerful in the engineering of large quantities of human mature bone as well as other vital organs. As well as leading a large multidisciplinary group at Imperial College London, Professor Stevens is also the co-founder of BioCeramicTherapeutics. In addition to the PI-IUPAC prize, her work has been recognized by a number of awards including the Rosenhain Medal and Prize (2010) and the Norman Heatley Award (2010). She is the recipient of numerous grants including a European Research Council (ERC) individual investigator grant for pioneering biomaterials research as applied to biosensing and regenerative medicine.
We again extend our congratulations to Professor Stevens.
---