After attending the highly successful 5th Asian Conference on Coordination Chemistry at the University of Hong Kong, July 12–16, 2015, Preeti Vashi, Deputy Editor of the European Journal of Inorganic Chemistry, and Neville Compton, Deputy Editor of Angewandte Chemie and Editor-in-Chief of Chemistry – A European Journal, took the opportunity to visit the chemistry department at Hong Kong Baptist University (HKBU) on July 17, 2015, to meet with Professor Raymond Wai-Yeung Wong, President of the Hong Kong Chemical Society and member of the International Advisory Board of Chemistry – An Asian Journal, and other members of his department.
The Hong Kong Chemical Society is one of the 13 chemical societies that make up the Asian Chemical Editorial Society (ACES), which co-own Chemistry – An Asian Journal, the Asian Journal of Organic Chemistry, and the newly launched ChemNanoMat.
In a busy program we took the opportunity to listen to two invited talks at HKBU, the first about the recent results obtained by Professor Hiroshi Nakazawa from Osaka City University, Japan, on C–C bond cleavage using iron silyl complexes. Research shows that the silyl ligand on the iron complex is indispensable for the cleavage of the C–C bond in organonitriles. Previous work from his group on recent developments in the coordination chemistry of multidentate ligands featuring a boron moiety were highlighted in a Focus Review in Chemistry – An Asian Journal.

In the second invited lecture at HBKU, Professor David Parker from the University of Durham, UK, spoke about EuroTrackerTM Dyes, which featured some of the recent results he had published in Chemistry – A European Journal and Angewandte Chemie on some fascinating lanthanide complexes, in particular europium and terbium, that display a range of cell-imaging applications. The photophysical properties of some of these complexes with functionalized triazacyclononane carboxylate or phosphinate macrocyclic ligands have been rationalized on the basis of DFT-calculated structures. The brightness of the corresponding complexes can be optimized by varying the nature, number, and position of electron-donating or electron-withdrawing aryl substituents.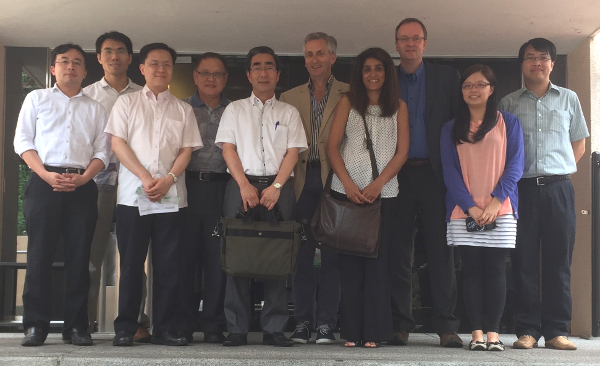 From left to right: Gary Ka-Leung Wong, Xunjun Zhu, Raymond Wai-Yeung Wong, Beng Ong, Hiroshi Nakazawa, David Parker, Preeti Vashi, Neville Compton, Cheuk Lam Ho, and Ken Cham-Fai Leung.

Sandwiched between these two talks, Neville Compton gave a presentation on the secrets of the success of Angewandte Chemie, the flagship journal of the Gesellschaft Deutscher Chemiker (GDCH, German Chemical Society), and its function as a role model for the development of Chemistry – A European Journal, which is owned by 16 chemical societies that are part of ChemPubSoc Europe. The journal, which is celebrating its 20th anniversary in 2015, in turn has served as a catalyst for the development of 10 other ChemPubSoc Europe journals, such as the European Journal of Inorganic Chemistry, ChemBioChem, and ChemMedChem. Angewandte Chemie also was instrumental in the subsequent development of Chemistry – An Asian Journal, which is now in its 10th volume.
The students in the audience were interested in the new technological developments and in particular in "14 Tips for Writing Better Science Papers". The latter handouts, which were snapped up at the end of the lecture, were prepared by Richard Threlfall, Editor of the Asian Journal of Organic Chemistry, in collaboration with ChemistryViews and are designed to improve the chances of getting work published in top journals.
From left to right: Neville Compton, Preeti Vashi, and Cheuk Lam Ho.

In between the talks, the speakers and ourselves had lunch with Professor Raymond Wai-Yeung Wong and members of the faculty including Assistant Professor Gary Ka-Leung Wong, Assistant Professor Xunjun Zhu, Professor Beng Ong, Assistant Professor Cheuk Lam Ho, and Assistant Professor Ken Cham-Fai Leung, all of whom have been regular contributors to our family of journals. For instance, Gary Ka-Leung Wong's most recent work will feature in a special issue of the European Journal of Inorganic Chemistry on "nanobioinorganic chemistry: converging inorganic chemistry and biology at the nanoscale", which will appear in September. Gary's work discusses the effects of morphology and linker length on the properties of peptide-lanthanide upconversion nanomaterials (UCNPs) as G2 phase cell cycle inhibitors. (The G2 phase is a period of rapid cell growth during which the cell prepares for mitosis.) UCNPs show great potential as luminescent probes in medical imaging. Topics of conversation ranged from the current research topics undertaken, to some of the key topics facing publishers and scientists alike such as open access.
Later in the afternoon, Cheuk Lam Ho, together with one of her students, showed us some of the interesting sights of Hong Kong. A highly informative and entertaining time was had by all and new friendships were forged.
---
Also of Interest
Tips for Writing Better Science Papers,
Richard Threlfall,
ChemistryViews 2013.
ChemPubSoc Europe
Organization of 16 European chemical societies serving more than 70,000 members between them and sharing the obligation to support and advance chemical sciences via publishing
Asian Chemical Editorial Society (ACES)
Organization of 13 major chemical societies in the Asia-Pacific region aims at creating a modern publishing forum for research in Asia and coordinating future publishing activities among the member societies