The 7th Spanish-Portuguese-Japanese Organic Chemistry Symposium (SPJ-OCS) was held in the Aula Magna Faculty of Chemistry, located at the Reina Mercedes Science Campus of the University of Seville, Spain, from June 23 to 26, 2015. Sponsored by Real Sociedad Española de Química (Spanish Royal Society of Chemistry), Sociedade Portuguesa de Química (Portuguese Chemical Society), and the Chemical Society of Japan, the SPJ-OCS symposium was attended by approximately 140 participants (excluding students). Thirty-three presentations were given and 73 posters were presented.
The Asian Journal of Organic Chemistry and the European Journal of Organic Chemistry co-sponsored three poster prizes, with one winner coming from each of the countries represented at the symposium. The Portuguese speakers selected the Spanish poster, the Spanish speakers selected the Japanese poster, and the Japanese speakers then selected the Portuguese poster. Three copies of "Directed Selectivity in Organic Synthesis" by Tanja Gaich and Ekkehard Winterfeldt were presented to the prize winners, Satoshi Minakata, Javier Iglesias Sigüenza, and Catarina Dias.
The conference included all areas of organic chemistry but the majority of the lectures focused on gold catalysis and C–C cross coupling reactions.
Manuel Alcarazo, who has recently moved from the Max-Planck-Institut für Kohlenforschung, Mülheim an der Ruhr, to Georg-August-Universität, Göttingen, both Germany, reported on the synthesis, structure, and applications of cationic phosphines, arsines and sulphides. For more information on cationic ligands and their significant effects in Pt and Au catalysis see a paper in Angewandte Chemie. Here Alcarazo and colleagues describe the preparation of pyridiniophosphines, a new family of bench stable cationic phosphines, through a short and highly modular synthesis. These compounds depict excellent π-acceptor properties when used as ligands, and as a consequence, a remarkable ability to enhance the Lewis acidity of the metals they coordinate.
Mariola Tortosa, Universidad Autónoma de Madrid, Spain, pointed out the importance of boronic esters as versatile intermediates for the preparation of a wide range of organic molecules and their attractiveness in the development of new anticancer drugs. She gave an interesting lecture entitled "Synthesis of Versatile Synthetic Intermediates through Copper-Catalyzed Borylations", where she highlighted that the lower cost of copper and toxicity versus other transition metals and the unique reactivity of boryl-copper intermediates make these processes eye catching.
Hansjörg Dietrich from Bayer CropScience Deutschland GmbH gave an exciting lecture on Indaziflam, an innovative broad spectrum herbicide. It belongs to the alkylazine chemical class. Dietrich talked about the need for a novel mode of action to control and eradicate unwanted weeds in agricultural plantations and that Indaziflam is effective against a wide range of weeds and offers long-term results.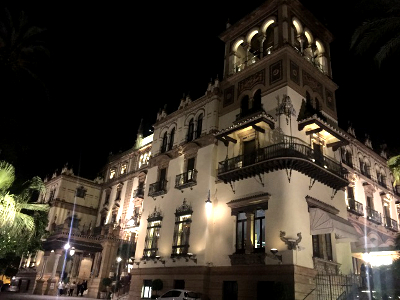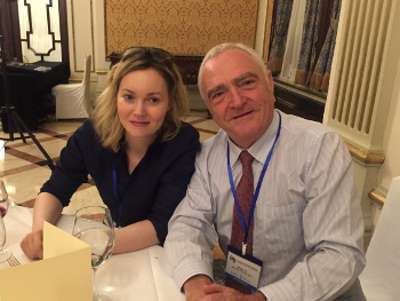 Left: Symposium Dinner at the Venue Hotel Alfonso XIII, right: Aileen Mitchell, Deputy Editor Asian Journal of Organic Chemistry, enjoyed the conference dinner, which involved a spectacular flamenco show, with Miguel Yus, Universidad de Alicante, Spain. (Photos: Ⓒ Aileen Mitchell)
---