The passion of chemists overwhelms hot summer days in Korea. The 48th General Assembly and 45th World Chemical Congress of the International Union of Pure and Applied Chemistry (IUPAC) took place in Busan Metropolitan City, the largest harbor city in Korea, from August 7–14, 2015. More than 3,500 participants attended this meeting, including nine plenary lecturers, 481 invited speakers, 114 oral speakers, and more than 2,000 poster presenters in 116 symposia.

Opening Ceremony
The opening ceremony was held at the auditorium of BEXCO, the venue of IUPAC-2015. Byung-soo Suh (pictured below right), Major of Busan Metropolitan City, welcomed all the participants and asked them to see, taste and feel the beauty and excitement of Busan city. After his welcoming remarks, Natalia Tarasova, IUPAC Vice-president from D. Mendeleev University of Chemical Technology of Russia, gave her plenary lecture (details see below), and Mark Cesa, IUPAC President, welcomed the delegates of the IUPAC General Assembly and participants of the World Chemistry Congress.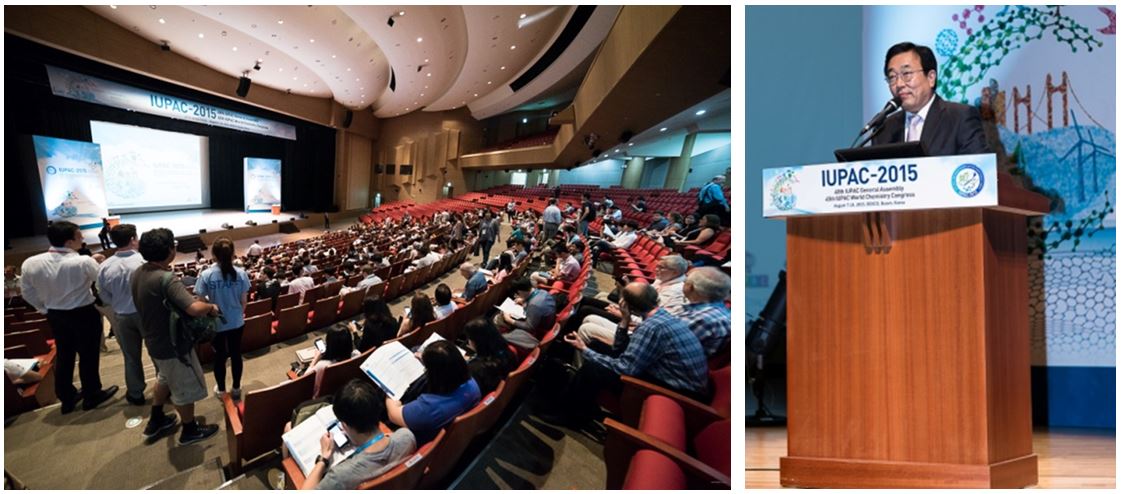 Awards
The 2015 Distinguished Women in Chemistry or Chemical Engineering award was presented to twelve female scientists. The awards program, initiated as part of the 2011 International Year of Chemistry celebrations, was created to acknowledge and promote the work of female chemists and chemical engineers worldwide. The awardees have been selected based on excellence in basic or applied research, distinguished accomplishments in teaching or education, and demonstrated leadership or managerial excellence in the chemical sciences.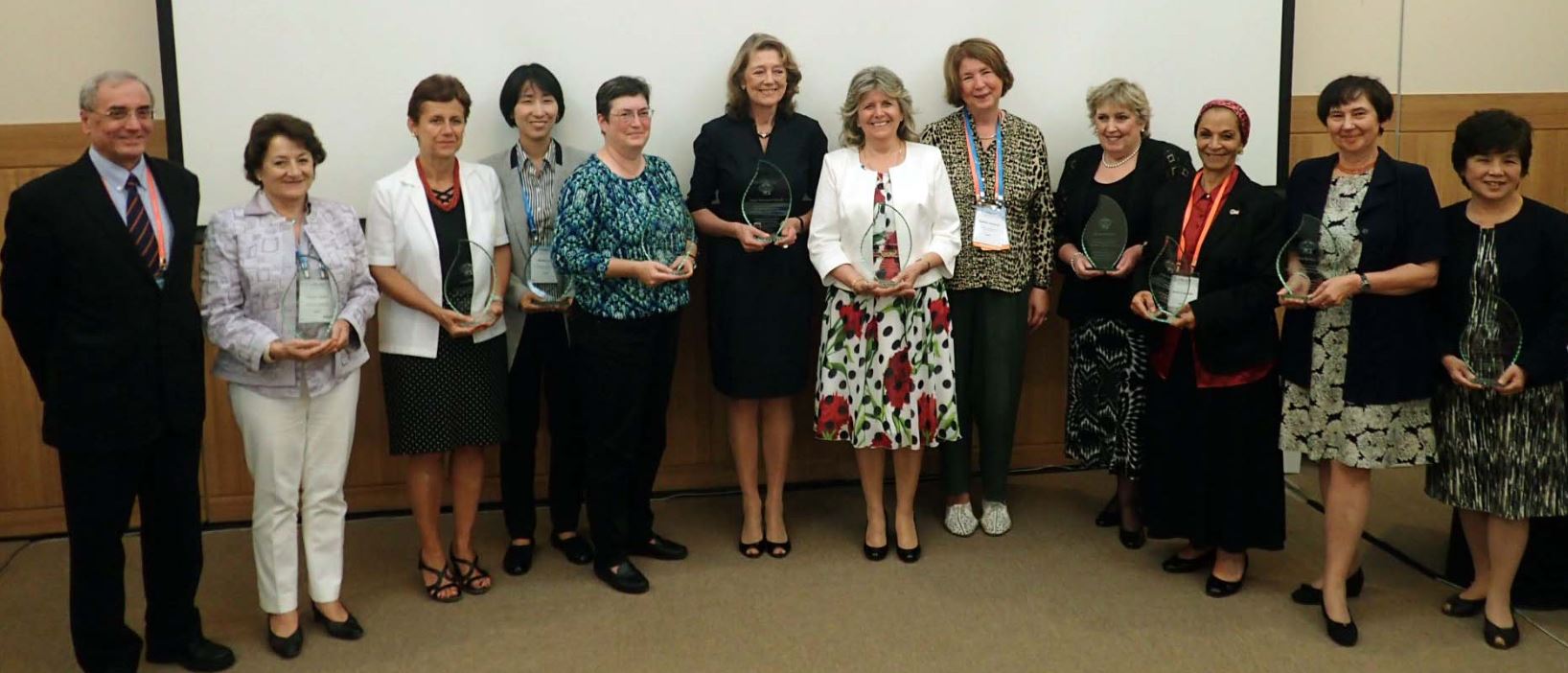 (left to right) Mark Cesa, IUPAC President, Carmen Nájera, University of Alicante, Spain; Lucia Banci, University of Florence, Florence, Italy; Maki Kawai, RIKEN and University of Tokyo, Japan; Janet Hering, Swiss Federal Institute of Aquatic Science and Technology, Dübendorf, Switzerland; Helga Rübsamen-Schaeff, AiCuris GmbH & Co. KG, Wuppertal, Germany; Livia Simon Sarkadi, Corvinus University of Budapest, Hungary; Natalia Tarasova, IUPAC Vice President; Margaret Brimble, The University of Auckland, New Zealand; Nadia G. Kandile, Ain Shams University, Heliopolis, Cairo, Egypt; Ewa Bulska, Uniwersytet Warszawski, Warsaw, Poland; Hyunjoo Lee, Korea Advanced Institute of Science and Technology (KAIST), Daejeon, South Korea.
Karen Gleason, Massachusetts Institute of Technology (MIT), Cambridge, MA, USA, and Roberta Sessoli, Università degli Studi di Firenze, Florence, Italy, were also awarded. They were presented with their awards at the 150th ACS meeting during the Women Chemists Committee Luncheon.
World Chemistry Leadership Meeting
The World Chemistry Leadership Meeting (WCLM), a part of the IUPAC General Assembly, gives representatives from NGOs a platform to discuss issues of global concern. This year so called Young Observers (YOs), young scientists working for the WCLM, were involved. They first met on Tuesday, August 11, with IUPAC members to developed their ideas into presentations for the WCLM.
During the WCLM, three plenary speakers: Yuan-Tseh Lee, Nobel Laureate from the University of California, Berkeley, USA, and Academia Sinica, Taiwan, Hubert Mandery, Director General, Cefic (European Chemical Industry Council), and Javier Garcia Martinez, IUPAC Bureau Members from the University of Alicante, Spain, ignited the conversations with three very inspiring talks about the role of chemistry in solving our most pressing challenges. Then, teams of YOs presented the conclusions of their work on how IUPAC can develop to most effectively contribute to the global chemistry community.
Javier Garcia Martinez gave the plenary lecture of the WCLM. In his talk, he gave examples on how chemistry can help solve the major problems our world is facing. He focused on the ten most critical areas, including energy, climate, food, water, and health. Together with Elena Serrano-Torregrosa, Garcia Martinez is Editor of the book "The Chemical Element: How Chemistry Is Key to Solving our Global Challenges".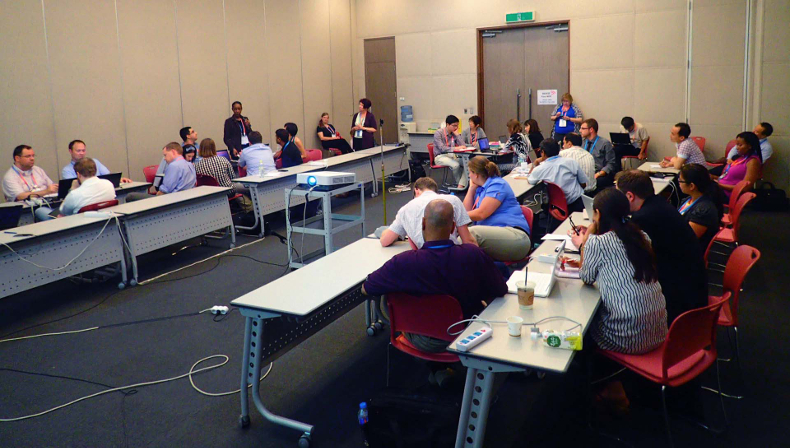 Eminent Speakers
Under the theme of "Smart Chemistry, Better Life" the congress was honored to host eminent plenary lecturers, Graham Fleming (USA), Natalia Tarasova (Russia), Barry M. Trost (USA), Andre Geim (UK, 2010 Nobel Laureate), Michael Grätzel (Switzerland), Jonathan V. Sweedler (USA), Roger D. Kornberg (USA, 2006 Nobel Laureate), Yuan T. Lee (Taiwan, 1986 Nobel Laureate), and Akira Suzuki (Japan, 2010 Nobel Laureate), and other eminent invited speakers.
Natalia Tarasova, D. Mendeleev University of Chemical Technology of Russia, asked in her talk if chemistry meets the needs of the world. The 2012 Rio+20 Conference on Sustainable Development initiated a process to develop a set of Sustainable Development Goals (SDGs) by the end of 2015. Seven goals out of 17 are dedicated to tackling environmental issues – water management, access to modern and sustainable energy, sustainable cities, sustainable consumption and production patterns, urgent action to combat climate change, sustainable management of marine and terrestrial resources, and ecosystems. Chemistry and chemical technology are considered as the means to achieve these strategic goals.
One-atom or one-molecule thick crystals, 2D crystals, are among the hottest topics in materials science and condensed matter physics. Andre Geim, University of Manchester, UK, reported how these isolated atomic planes can be assembled into complex heterostructures. Made layer by layer in a precisely chosen sequence, such van der Waals heterostructures have clean and atomically sharp interfaces. Emerging trends in this vast research field include mass transport in graphene-based nanocapillaries and proton transport through graphene and boron-nitride crystals.
Akira Suzuki, Hokkaido University, Japan, talked about cross-coupling reactions of organoboranes as an easy way for carbon-carbon bonding. Carbon-carbon bond formation reactions are key steps in building complex molecules such as pharmaceuticals, agrochemicals, liquid crystals, and OLED materials. Consequently, these coupling reactions have been actively utilized not only in academic laboratories but also in industrial processes.
In parallel to the World Chemistry Congress, the IUPAC General Assembly was held with delegates from all around the world who discussed critical issues for the chemistry community, the work done by the divisions and communities of IUPAC, and the priorities for the next two years.
IUPAC 2017
The 46th World Chemistry Congress (IUPAC 2017) and the 49th General Assembly will take place at the WTC Convention Center in São Paulo, Brazil, from July 9–14, 2017.
---
Also of interest