Under the topic Chemistry for a Sustainable Future, the 16th Austrian Chemistry Days took place at the University of Innsbruck, Austria, from September 21–24. As in previous years, this largest bi-annual conference of the Gesellschaft Österreichischer Chemiker (GÖCH; Austrian Chemical Society) was organized in cooperation with another European chemical society; this year together with the Società Chimica Italiana (SCI; Italian Chemical Soaciety).
The Austrian Chemistry Days provided a lively forum for approx. 500 participants from 12 countries for communication in all areas of chemistry and chemical technology. The program included four plenary and six invited lectures given by internationally recognized scientists, as well as oral and poster presentations, a student program, and company excursions.
Opening Ceremony
During the opening ceremony, Professor Tilmann Märk, Rector of the University of Innsbruck, Professor Herbert Ipser, President of the GÖCH and University of Vienna, Austria, and Professor Hubert Huppertz, Head of the Scientific Committee and University of Innsbruck, gave welcoming addresses.
A festive lecture celebrated the retirement of Professor Bernhard Kräutler, University of Innsbruck, who is not only a well-known organic chemist, but was also very active for the GÖCH. For example, he was heavily involved in development of the European publishing consortium ChemPubSoc Europe and was responsible for the GÖCH becoming part of it. Today 16 chemical societies form ChemPubSoc Europe. They jointly own 11 journals and the online Magazine ChemViews. For his great service to ChemPubSoc Europe, Professor Kräutler recently became one of the first ChemPubSoc Europe Fellows.
Students Program
A special program for undergraduate students was organized by the young chemists of the GÖCH. Topics included presenting of scientific findings, workshops in LaTeX, and a career session. In the latter, for example, workers from different chemical professions with various academic degrees talked about their experiences.
The young chemists of the GÖCH are just starting to build up a network. Currently, the activities are driven by a team of six students from Innsbruck who are in the process of expanding their network to other Austrian universities. The students program here was very well received and will help to motivate and inspire others to become involved.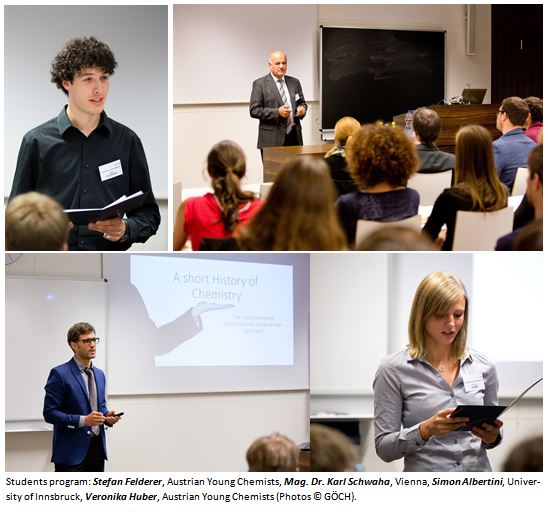 Awards
Professor Hubert Huppertz presented this year's awards. Leila Maringer, University of Linz, Martin Pfaffeneder-Kmen, University of Vienna, Sebastian Steiner, TU Vienna, Christoph Regl, University of Salzburg, and Robert Pollice, TU Vienna, were awarded for their outstanding diploma or master thesis. Dr. Thomas Reichmann, University of Vienna, Dr. Jan Philipp Kollender, University of Linz, and Dr. Christine Artner, TU Vienna, were awarded for their excellent PhD theses.
The Anton Paar GmbH sponsors an award for an outstanding publication from Austria. The Anton Paar Science Award 2015 was presented to Dr. Gilles Bourret, University of Salzburg, for his article on Coaxial lithography published in Nature Technology [1].
The Habilitation Prize, which is financed from the funds of Monatshefte der Chemie (Chemical Monthly), was awarded this year jointly to Dr. Hannes Mikula, TU Vienna, for his paper published in Angewandte Chemie on the development of 18F labelled tetrazine with favorable pharmacokinetics for bioorthogonal PET imaging [2] and to Dr. Christoph Kreutz, University of Innsbruck, for his paper on ligand-detected relaxation dispersion NMR spectroscopy: dynamics of preQ1-RNA binding published also in Angewandte Chemie [3].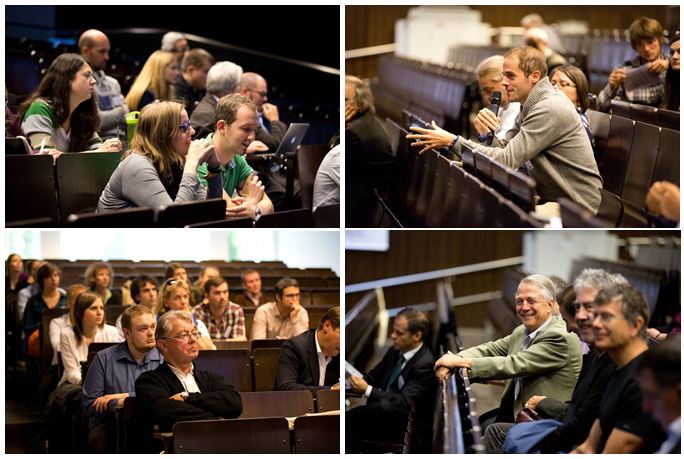 During the talks: Professor Ulrich Schubert (bottom left), University of Vienna and former President of EuCheMS, and Professor Bernhard Kräutler (bottom right), University of Innsbruck. (Photos: Matthias Glätzle © GÖCH).
Plenary Lectures
Professor Helmut Schwarz, Technische Universität Berlin, Germany, talked about single-atom catalysis. He uses spectroscopic studies and computational chemistry to gain detailed insights in the active site of catalysts and to reveal mechanistic aspects of the making and breaking of chemical bonds as well as the elementary steps involved.
Examples Schwarz has studied include metal-mediated carbon-carbon bond formation; low-temperature, catalytic oxidation of CO; the coupling of NH3 and CH4 to produce HCN; oxygen-centered radicals as active sites in catalytic hydrocarbon activation, e.g. the oxidative coupling of methane 2CH4–C2H6; and how "doping" of cluster species can be used to affect thermal reactions.
Chemistry has played a key role in the development of light sources. Around 1895, incandescent lamps were developed using C, Os, and W. At the beginning of the 20th century research concentrated on the search for luminescent materials (phosphors) for low- and high-pressure discharge lamps, cathode-ray tubes, and x-ray detectors. Today's LEDs using (Al, In, Ga)P, (In, Ga)N-, nitrides, ceramics, have revitalized research on inorganic luminescent materials for highly efficient solid state light sources.
Professor Thomas Jüstel, Münster University of Applied Sciences, Steinfurt, Germany, showed that the demand for stable and efficient luminescent materials with little thermal quenching and high linearity is currently the driving force for material research on rare-earth activated oxides, nitrides, and oxynitrides [4].
During the last 20 years of proteomics research it became obvious that biological systems are much more complex and dynamic than ever expected. Proteomics turned from a pure high-throughput technique into a quantitative and high content analytical concept. Accordingly, major developments were necessary in sample preparation, separation techniques, and mass spectrometry for the analysis of the individual protein species.
Professor Friedrich Lottspeich, Max Planck Institute of Biochemistry, Munich, Germany, discussed the state of the art, the future potential, and the limitations of different proteomics strategies. These include discovery proteomics vs. targeted proteomics, bottom-up approaches vs. top-down concepts (used today where proteins are cleaved into peptides), and label-free vs. isotopic labeling approaches in different contexts.
Professor Alberto Credi, Università di Bologna, Italy, talked about photoactive molecular devices, machines, and materials and introduced his recent work on a molecular motor that runs with light. Continuous irradiation induces a relative movement between the molecules based on repetitive driving cycles [5].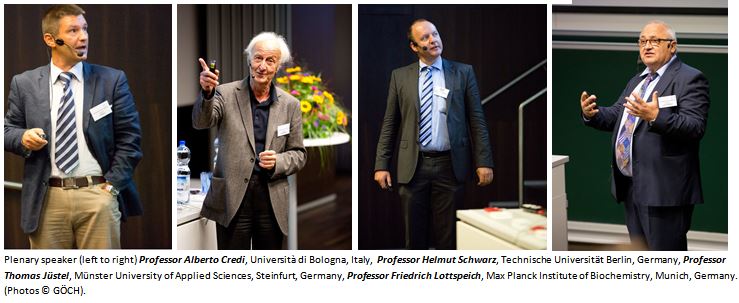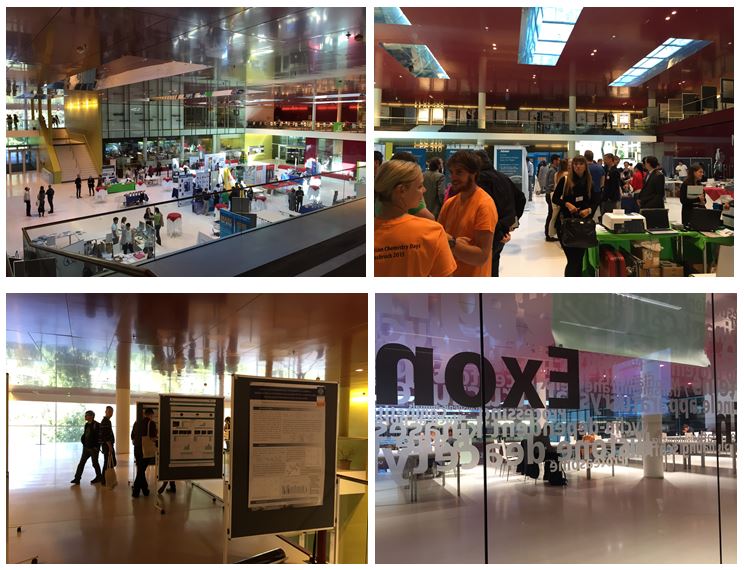 The breaks offered lots of opportunities to meet people, discuss the presentations, look at the posters and the exhibition, or to enjoy the marvelous view of the mountains.


A jazz band played during the Conference Dinner.
On the right: Gabriela Ebner, GÖCH, Professor Herbert Ipser, President of the GÖCH and University of Vienna, Dr. Erich Leitner, Executive Director of GÖCH, during the poster prize ceremony (Photos: Matthias Glätzle © GÖCH).
Next Conference
The 17th Austrian Chemistry Days will take place in Salzburg, Austria, in September, 2017.
---
References
[1] Tuncay Ozel, Gilles R. Bourret, Chad A. Mirkin, Nature Technol. 2015, 10, 319-324. DOI: 10.1038/nnano.2015.33
[2] Christoph Denk, Dennis Svatunek, Thomas Filip, Thomas Wanek, Daniel Lumpi, Johannes Fröhlich, Claudia Kuntner, Hannes Mikula, Angew. Chem. Int. Ed. 2014, 53, 9655-9659. DOI: 10.1002/anie.201404277
[3] Thomas Moschen, Christoph Hermann Wunderlich, Romana Spitzer, Jasmin Levic, Ronald Micura, Martin Tollinger, Christoph Kreutz, Angew. Chem. Int. Ed. 2015, 54, 560-563. DOI: 10.1002/anie.201409779
[4] Luminescent Materials (Thomas Jüstel, Stephanie Möller, Holger Winkler, Waldemar Adam), Ullmann's Encyclopedia of Industrial Chemistry, Wiley-VCH, Weinheim, Gernany, 2012. DOI: 10.1002/14356007.a15_519.pub2
[5] G. Ragazzon, M. Baroncini, S. Silvi, M. Venturi, A. Credi, Nature Nanotechnol. 2015, 10, 70-75. DOI: 10.1038/nnano.2014.260