Models for heterogeneous catalysis can be discussed based on a surface-science approach (see figure). These models catch part of the complexity of the real system, which is connected with the finite size of active components and the flexibility of the arrangement of atoms in the active component. They play an important part in determining the activity and selectivity of the system.
Hans-Joachim Freund, Fritz Haber Institute of the Max Planck Society, Germany, reports on the necessity to include materials flexibility in a description of catalytic phenomena. This has been largely neglected in theoretical modeling of catalytic reactions, but may be necessary to reach an atomistic understanding of both the energetic and, in particular, the kinetic aspects of catalysis, which is a kinetic phenomenon, after all.
Freund shows, by virtue of several examples, how the phenomena addressed, express themselves.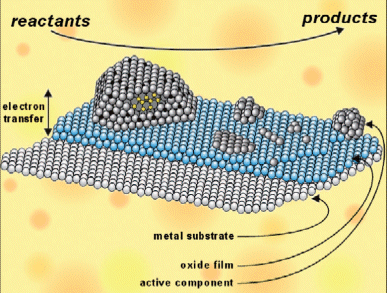 ---