Ada Yonath, who won the Nobel Prize in Chemistry in 2009 and was only the fourth woman to receive the award, recently spoke to Christian Remenyi, the editor of Nachrichten aus der Chemie, about her scientific work, the challenges of conducting science in smaller countries, and why it's better to be a science star than a pop star. In this article, ChemistryViews presents some of the key highlights from the interview.
Ada Yonath on …
… the ribosome …
I love the work. I also love the pictures of the ribosome, its aesthetics — it's simply very, very pretty.
… her attitude to science …
In science self-restriction is wrong. Your projects have to be important; they must be significant. All that matters is the scientist's powerful, overwhelming curiosity. If your curiosity is strong enough you will find a way — even in a small country, even without money.
If I had decided I could not do anything significant in science — and it doesn't have to be the Nobel Prize to be significant — I would have written [novels].
… understanding science …
The question of what understanding or knowing is, is very relative. If I ask a fifth-grader what DNA is, they'll tell me everything they have learned at school. They believe they now know this. But a professor with a Nobel Prize for DNA interactions may freely admit that he by no means knows everything about DNA.
… the brain-drain …
There is brain-drain all over the world. And that's OK. Because science is not local: it must be international.
The central problem is to educate people. For a small country like Israel, educating people is a significant commitment. And then to lose more than 50 % to the rest of the world — no wonder people feel frustrated! In my view, the country doesn't offer enough opportunities for young people to do competitive research. I think the country should give this some thought.
… the difference between a pop star and a science star …
I don't think I'd like to be a pop star exactly. Stars in art in general — in theatre, concerts, in music — are stars because everyone in the audience thinks they can appreciate what the star does. If the artist on the stage doesn't perform the way the crowd wants them to, people boo or throw eggs.
In my case, it may be that not all scientists have a high regard for my research, but at least they are my peers and they can judge me as scientists. Besides, scientists don't usually throw eggs.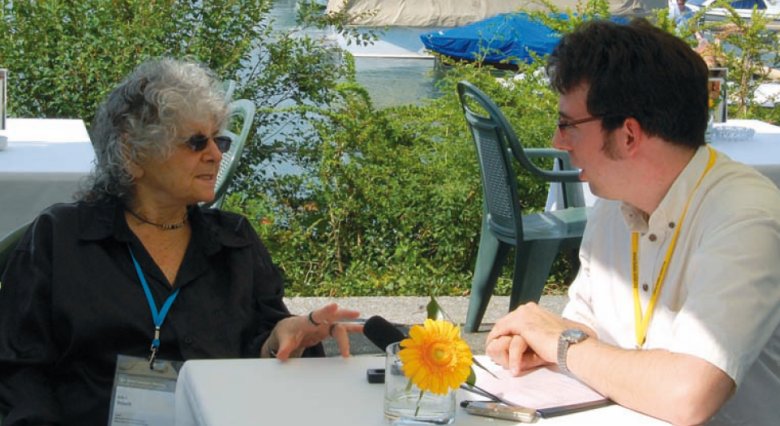 Figure 1. Ada Yonath with Nachrichten editor Christian Remenyi.
Research of Ada Yonath
Ada Yonath is known for her pioneering work in ribosomal crystallography, which focuses on protein biosynthesis. She determined the high-resolution structures of ribosomal subunits, discovered the symmetrical region that navigates the polypeptide polymerization process, and visualized the ribosomal tunnel. She also elucidated the modes of action of over 20 antibiotics targeting the ribosome, paving the way for structure-based drug design. Yonath introduced cryo bio-crystallography, a novel technique that became routine in structural biology, enabling intricate projects that were otherwise considered formidable.
CV Ada Yonath
Ada E. Yonath, née Lifshitz, was born on 22 June 1939 in Jerusalem, Israel. She studied chemistry at the Hebrew University of Jerusalem from 1959. Following her Bachelor's degree, she studied biochemistry from 1962 and, after obtaining her Master's degree in 1964, moved to the Weizmann Institute, Rehovot, Israel, where she worked on her Ph.D. in the field of X-ray crystallography until 1968.
After stays at the Mellon Institute, Pittsburgh, PA, USA, and the Massachusetts Institute of Technology (MIT), Cambridge, MA, USA, she returned to the Weizmann Institute's Department of Chemistry in 1970. In 1974, she moved to the Department of Structural Chemistry, where she held an associate professorship from 1984. Since 1988, she has been Professor of Structural Biology and since 1989 Director of the Kimmelmann Center for Biomolecular Assemblies at the Weizmann Institute.
Parallel to her work at the Weizmann Institute, Yonath has been a lecturer at Tel Aviv University, Ben-Gurion University of the Negev, and the Open University of Israel since 1971. She conducted research at the Dental School of the University of Alabama, Tuscaloosa, USA, (1974), at the University of Chicago, IL, USA, (1977–1978) and with Heinz-Günter Wittmann at the Max Planck Institute for Molecular Genetics in Berlin-Dahlem, Germany, (1979–1983). From 1986 to 2004, she headed one of the three Max Planck working groups at DESY in Hamburg, Germany, which were founded to use DESY's synchrotron radiation for biological structure elucidation.
Awards
Ada E. Yonath has received numerous awards and honors for her contributions to the field of ribosomal crystallography, including the Nobel Prize in Chemistry in 2009, the Israel Prize, Harvey Prize, Wolf Prize in Chemistry, Paul Ehrlich and Ludwig Darmstaedter Prize, and the Albert Einstein World Award of Science. She is a member of several scientific organizations, including the United States National Academy of Sciences, the Israel Academy of Sciences and Humanities, and the European Molecular Biology Organization. In 2014, she was named an ordinary member of the Pontifical Academy of Sciences by Pope Francis. In addition, Yonath has received honorary doctorates from several universities, including De La Salle University, the Joseph Fourier University, the Medical University of Lodz, the University of Warwick, and Carnegie Mellon University. In 2020, she was elected a Foreign Member of the Royal Society.
---