Ada Yonath, 2009 Nobel Prize winner, spoke to Christian Remenyi, Editor of Nachrichten aus der Chemie about her work, science in small countries, and why it's better to be a science star than a pop star. ChemViews presents some of the highlights.
Ada Yonath on …
… the ribosome …
I love the work. I also love the pictures of the ribosome, its aesthetics — it's simply very, very pretty.
… her attitude to science …
In science self-restriction is wrong. Your projects have to be important; they must be significant. All that matters is the scientist's powerful, overwhelming curiosity. If your curiosity is strong enough you will find a way — even in a small country, even without money.
If I had decided I could not do anything significant in science — and it doesn't have to be the Nobel Prize to be significant — I would have written [novels].
… understanding science …
The question of what understanding or knowing is, is very relative. If I ask a fifth-grader what DNA is, they'll tell me everything they have learned at school. They believe they now know this. But a professor with a Nobel Prize for DNA interactions may freely admit that he by no means knows everything about DNA.
… the brain-drain …
There is brain-drain all over the world. And that's OK. Because science is not local: it must be international. The central problem is to educate people. For a small country like Israel, educating people is a significant commitment. And then to lose more than 50 % to the rest of the world — no wonder people feel frustrated! In my view, the country doesn't offer enough opportunities for young people to do competitive research. I think the country should give this some thought.
… the difference between a pop star and a science star …
I don't think I'd like to be a pop star exactly. Stars in art in general — in theatre, concerts, in music — are stars because everyone in the audience thinks they can appreciate what the star does. If the artist on the stage doesn't perform the way the crowd wants them to, people boo or throw eggs. In my case, it may be that not all scientists have a high regard for my research, but at least they are my peers and they can judge me as scientists. Besides, scientists don't usually throw eggs.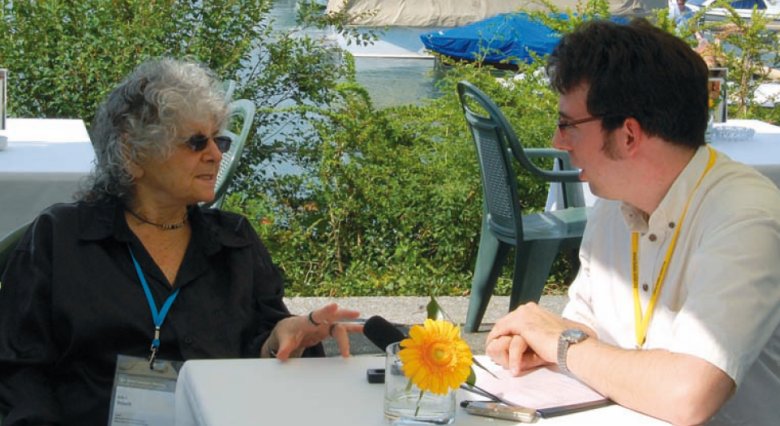 Ada Yonath with Nachrichten editor Christian Remenyi.
---