DI Dr. Dr. h.c. Alfred Teischinger is Professor for Wood Technology and Head of the Department Material Sciences and Process Engineering, both at BOKU Wien (University of Natural Resources and Life Sciences, Vienna) in Austria. Here he talks with Dr. Vera Koester for ChemViews Magazine about wood chemistry, chemical processing of wood, and wood as an engineering product.
What do you find most fascinating about wood science and technology?
It is the importance of wood as a renewable and most abundant resource, the complexity and variability of the biological structure, and the many technological approaches to utilize this resource. It is really difficult to address only one specific fascinating feature, it is the enormous variability and complexity of bio-based material as a result of an evolutionary material adaption and improvement process over millions of years.
The oldest living creatures are trees, the biggest living things are trees and, if man did not interfere, trees would be the predominant plants on earth, based on the unique biomaterial wood.
Considering the hierarchical structure of wood from the tree, the boards and strands, the wood cells and fibres, the cellwall layers and chemical consitutents, there are still many open scientific questions on each hierarchical level with an enormous technological potential of intelligent wood utilization.
What do you think are the most important trends in this field right now?
The book A Forest Journey describes the importance of wood throughout the history of mankind in an impressive way. Currently, we can see various tracks in science and technology in pursue of a future wood utilization:
Timber and engineered wood products for enhanced building with wood as a green alternative to more fossil-fuel intensive building materials.
Wood as a resource for a green chemistry.
Wood as an energy carrier.
Due to the variety of raw materials and proper eco-cycling of wood products, these three approaches match each other, although sometimes they also compete over their raw material basis.
Where is the field heading, in your opinion?
Wood chemistry and chemical processing and wood as engineered wood products will develop parallel to each other, as both fields are very important for the future development of our businesses and society. The whole forest-based sector can significantly contribute to the emerging "bio-based economy".
As my background is mechanical wood technology, I leave the outlook for the proper pursuit of the chemical utilization of wood to the colleagues from wood chemistry and chemical engineering. But the change from current pulping processes to an advanced wood refinery by utilizing all wood components as a basis for fine chemicals is obvious.
What do you think are the most important future applications?
Concerning high volume applications, timber in construction will be a very important trend in future wood utilization. Wood in construction and indoor design is a significant carbon sink and consumes significantly less energy in production compared to cement, steel, aluminium, or plastics. Wood-based materials will gain new applications in various fields beyond traditional uses in construction and furniture.
"New Materials from Trees", a mission from the Wallenberg Wood Science Centre (WWSC), Stockholm, Sweden, can be seen as a new approach in wood utilization from chemicals and nanostructured cellulose to engineered wood fibres and materials. The WWSC is a research center which aims to build a research program that can develop new material products using the Swedish forests.
One has to consider that scientific research is just the basis for new knowledge. Innovation is the other part of the game in order to bring new ideas into the market.
What do you think are the biggest challenges?
There are several challenges: One is the raw material basis – wood is a renewable resource but also limited to the forest land which is available. In Europe the current annual growth is about 400 mio tons of air-dried wood (only 60 % thereof is currently harvested), which is available for the various wood process chains.
In addition, the sector also needs a much deeper scientific dialogue about research needs and issues comprising the whole field of mechanical and chemical wood technology. We need a holistic understanding of wood as a raw material and all its potential utilizations tracks.
Which countries are key players and which role does Austria play?
According to the different process chains and material uses, different players in the utilization of wood can be identified. Currently, Sweden and Finland are on the forefront in the field of bio-refinery, transferring the conventional pulp and paper industries into a new generation of chemical wood processing, but the German BioEconomy Cluster is also gaining in significance.
Austria as a small country also has some excellent approaches in science and technology and already demonstrates some best practice examples in industrial chemical wood refining, too. When considering wood as an innovative engineered building material, Austria and Germany are currently the leading countries in Europe.
Traditionally, the USA and Canada are leading countries in wood research and wood utilization. After failing to keep up with innovation for a while, both countries are rejuvenating wood science and technology. I am not very familiar with the Far East, China for example, but one can see that there are enormous activities in wood research and technology, too.
What are your current research activities?
My main research emphasis is in the field of mechanical wood conversion processes as a basis for innovative engineered wood products. We are in pursuit of new mechanical wood disintegration techniques in order to disintegrate roundwood into proper strands instead of the traditional chipping or sawing method. This should keep the natural wood material structure and should lead to superior, resource-efficient wood-based materials.
Please tell us a bit about how your career has developed?
My family ran a small sawmill and wood processing plant, so this was my first approach to wood. I decided to take up wood related studies and I was among the first students of the newly established curriculum of wood technology at BOKU Vienna, University of Natural Resources and Life Science, Austria. Starting with a very industry-driven mind, I also became interested in research and was invited by my wood technology professor to write a dissertation. This was my career track to science and technology.
What would you like to be doing ten years from now?
Basically I will be retired – but I hope to still be involved in the search of new technologies for resource-efficient wood utilization. I also want to stay in contact with my students and observe their career development. They may always count on my advice.
What other interests do you have?
Research, lecturing, and related obligations, such as scientific community service, administrative tasks at the university etc., are very time-consuming. If there is some time left, I like skiing (on skis with a wood core) and biking. Living in the vicinity of Vienna, visiting a concert or opera occasionally is not only a must, but also a great pleasure. And then there is my family as a place for retreat and regeneration.
Thank you for the interview.
---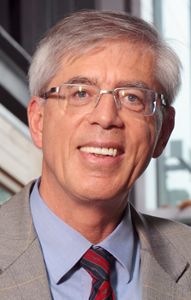 Alfred Teischinger studied Wood technology at BOKU University Vienna, Austria, and gained his Ph.D. from the Institute of Wood Science and Technology, also Vienna. After an Assistant Professor position there, he went to the University of Washington, Seattle, USA, with a Fulbright Scholarship. In 2000, Taischinger was appointed Full Professor for Wood Technology at BOKU Vienna. From 2001 to 2015, he was scientific director of the Competence Centre for Wood Composites and Wood Chemistry (Wood K plus), and since 2013, he is Head of the Department of Material Sciences and Process Engineering at BOKU.
Professor Teischinger is chairman of the Austrian Standard committee for wood and wood-based materials, Editor of the Series "LIGNOVISIONEN", a publication of the Institute of Wood Science and Technology at BOKU Wien, and member of the editorial board of Wood Research, the European Journal of Wood and Wood Products, and Holztechnologie. He is a member of various national and international organizations in the field of wood and wood industries and fellow of the International Academy of Wood Science (IAWS).
Selected Publications