The Wachenburg is a castle located at the top of a hill overlooking Weinheim and the Rhine valley towards Mannheim and Ludwigshafen in Germany. On the occasion of his 80th birthday, Professor Klaus Unger invited 150 scientists to the castle to look into the future of materials sciences and technology and to celebrate together. Unger is a distinguished researcher in the field of porous materials that are used in heterogeneous catalysis and high performance liquid chromatography (HPLC).
At the birthday symposium Focus Science – Today for Tomorrow, seven talks were given by former students and colleagues. The afternoon was moderated by Dr. Reinhard Ditz, TU Clausthal, Germany, and was rounded off by coffee and cake and piano music. In the evening a dinner took place in the beautiful yard and the cellar of the castle.


Magnificent view from the castle. Dr. Ulrich Müller from BASF SE, Ludwigshafen, Germany, and Profesor Kurt Wagemann, Executive Director of DECHEMA (Society for Chemical Engineering and Biotechnology), Frankfurt, Germany. Pictures © fotostudio fischer, Weinheim
Dr. Eva E. Wille and Dr. Peter Goelitz from Wiley-VCH, Weinheim, gave an overview of Unger's publishing activities, especially with Wiley-VCH. As locals to Weinheim, they gave a view on the area where large chemical companies such as BASF and Merck are located and and where wine is grown.
Professor Ferdi Schüth, MPI für Kohleforschung, Mülheim/Ruhr, Germany, talked about the status and perspectives of porous materials as a key field in materials science. At the beginning of his talk, he showed an older picture of Klaus Unger and described him as somebody who is always working, who likes a glass of wine, and who is the most well-dressed Professor in Germany.

Professor Rüdiger Kniep, MPI für Chemische Physik fester Stoffe, Dresden, Germany, took the opportunity to look at accidental developments. One example was the biomineral of ear dust, octoconia. The crystals act as a sensor for gravity and linear acceleration in the inner ear [1].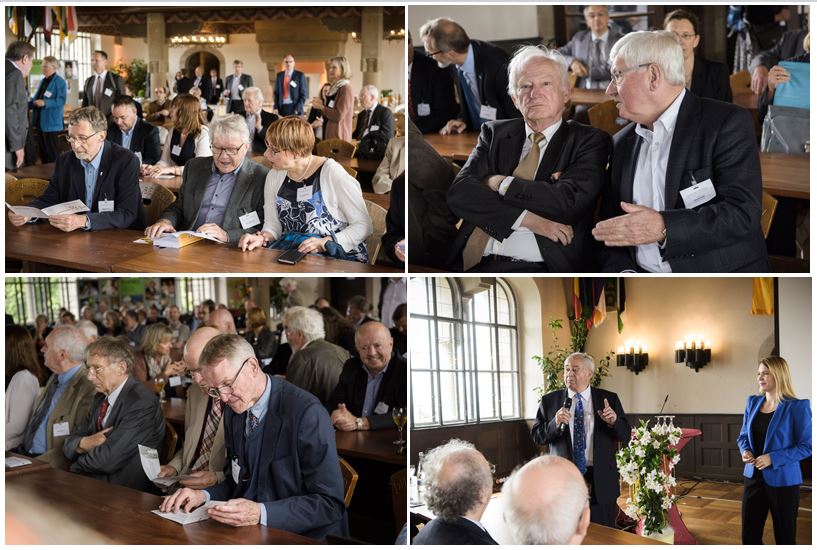 During the presentations. (top left to bottom right) Dr. Wolfgang Grimm, Germany, Dr. Hans Astheimer, Freiburg, Germany, and Dr. Pirjo Irmeli Korhonen, Centre for Economic Development, Transport and the Environment, Finland; Professor and Dr. Ewald Gallei, formerly BASF, talking; Professor Jens Weitkamp, formerly University of Stuttgart, Germany, and Dr. Bengt-Arne Persson, Sweden; and Klaus Unger with the piano player. Pictures © fotostudio fischer, Weinheim
Dr. Michael M. Schulte from Merck/Milliopre KGaA, Darmstadt, Germany, talked about material architectures in chromatographic sorbents and fuel cell electrodes.
Professor Joachim Sauer, Humboldt-University of Berlin, Germany, and President of the German Bunsen Society, presented what has been expected from quantum chemistry for zeolite research and what has been achieved 35 years later.
Dr. Ulrich Müller from BASF SE, Ludwigshafen, Germany, gained his diploma and Ph.D. under the supervision of Klaus Unger. He said he knows many 80-year olds, he does not know many who organize a symposium for their 80th birthday, but he definitely knows nobody who uses the subtitle "Today for Tomorrow" for this birthday symposium. But this is how he knows Klaus Unger: According to him, Unger has always been a role model. Müller talked about zeolites yesterday, today and tomorrow.
Professor Athanasios I. Liapis, Missouri University of Science and Technology, Rolla, MO, USA, talked about porous polymeric media for bioseparations, biocatalysis, and drug delivery.

Left to right: Professor, Dr. Andreas Hahn, CEO ZetA Partikelanalytik GmbH, Mainz, Germany, and Professor Mika Linden, Ulm University, Germany; Professor Wolfgang Lindner, Vienna, Austria, and Dr. Reinhard Ditz, TU Clausthal, Germany. Pictures © fotostudio fischer, Weinheim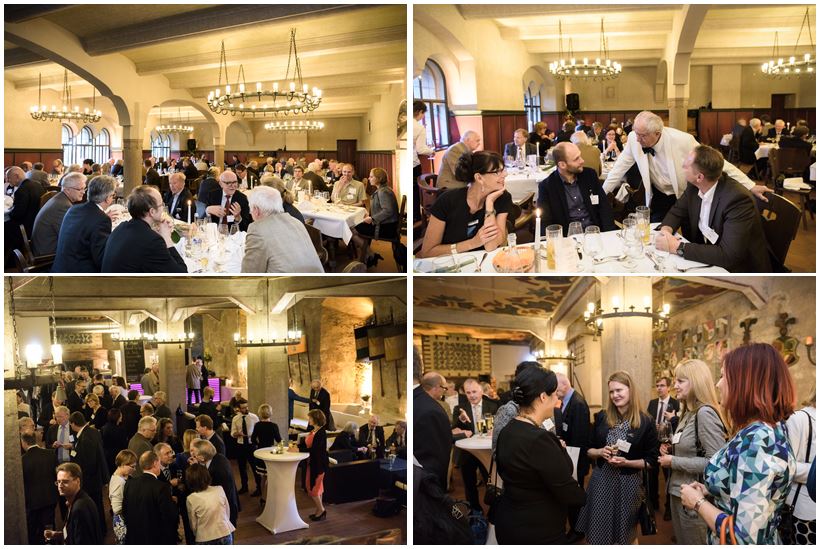 During the evening's dinner and drinks. Pictures © fotostudio fischer, Weinheim
Reference
[1] Structural Relationship between Calcite–Gelatine Composites and Biogenic (Human) Otoconia, Paul Simon, Wilder Carrillo-Cabrera, Ya-Xi Huang, Jana Buder, Horst Borrmann, Raul Cardoso-Gil, Elena Rosseeva, Yuri Yarin, Thomas Zahnert, Rüdiger Kniep, Europ. J. Inorg. Chem. 2011, 35, 5370–5377. DOI: 10.1002/ejic.201100756
---
Also of Interest
80th Birthday: Klaus Unger,
ChemViews Mag. 16 June 2016.
Porous materials and HPLC researcher Klaus Unger celebrates his 80th birthday
Klaus Unger Received CASSS Prize,
ChemViews Mag. 9 November 2010.
Klaus K. Unger, Johannes Gutenberg University, Mainz, Germany, received CASSS Scientific Achievement Award