The compound Amphidinin B could become a new co-player in fighting cancer. Indian researchers have synthesized the linear polyketide at a gram-scale and showed that it kills breast cancer cells very efficiently.
Amphidinin B is found in the dinoflagellate Amphidinium, a single-celled marine creature. Up to now, the substance's biological properties could not be tested as the available amounts were too low. Jhillu S. Yadav and his co-workers at Indian Institute of Chemical Technology in Hyderabad have now changed that by developing a stereoselective total synthesis.
Construction of the key, substituted tetrahydrofuran moiety was achieved by Sharpless asymmetric epoxidation, base-induced epoxide ring-opening, radical cyclization, diastereoselective reduction of the exo-cyclic double bond, one-pot allylation followed by debenzylation, Evans alkylation, and Yamaguchi esterification.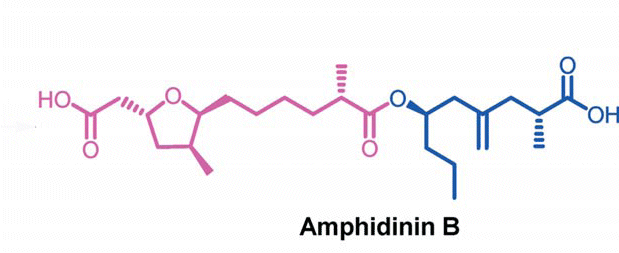 Images: (c) Wiley-VCH
---