Many countries and postal authorities will join in the celebrations of IYC by issuing postage stamps related to chemistry. A nice way to promote the value and importance of chemistry to society.
Countries who have produced a stamp include: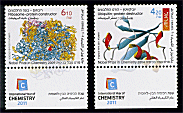 Professor Ehud Kleinan, President of the Israel Chemical Society:
"Chemistry is a fascinating science that is concerned with the material world on a molecular level, dealing with the structures of molecules, their aggregates and their interactions with other molecules and with all forms of energy. Understanding fundamental processes such as storage, transmission, and conversion of the information and energy is possible only through a sufficient command of the molecular basis of these processes. Therefore, chemistry plays a central role in all basic and applied fields of science, including physics, biology, medicine and all technological disciplines."
Chemistry Nobel Prizes to three Israeli scientists:
Professor Aaron Ciechanover and Avram Hershko of Technion – Israel Institute of Technology, and Irwin Rose of the University of California, Irvine, were awarded the 2004 Nobel Prize in Chemistry for discovering the mechanism that removes damaged or unnecessary proteins. (right stamp: ubiquitin)
The 2009 Nobel Prize in Chemistry was awarded jointly to Professor Ada E. Yonath of the Weizmann Institute of Sciences, Venkatraman Ramakrishnan of the Medical Research Council, Cambridge, UK, and Thomas A. Seitz of Yale University, USA, for showing what the ribosome looks like and how it functions. (left stamp: ribosome)

"The art design author of the stamp issue is Dr. Igor Benca, artist – Dean of the Faculty of Fine Arts in Banska Bystrica, who belongs to the most renowned Slovak artists today. Following the consultations with the Slovak leading chemist, who has been dealing with organic chemistry, Dr. L'ubomir Floch, he incorporated the message related to the whole society in the stamp design. Both chemical compounds that participate in photosynthesis, H2O and CO2, are separated by an international warning pictorgam in the form of black and yellow tape. … the author draws our attention to a number of positive and negative relations of both chemical compounds in our modern industrial society."


The stamp shows vitamin C as an example of chemical research and the resulting achievements in Switzerland.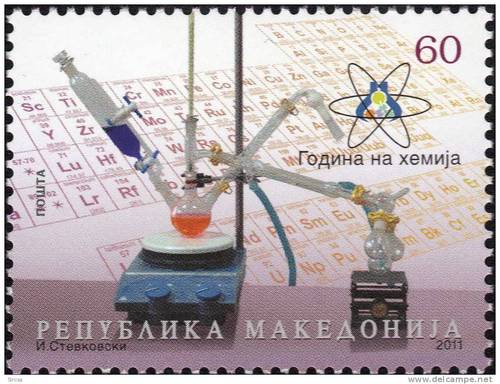 A dropping funnel and distillation apparatus are shown in fron t of a periodic table on this stamp.
Republique Gabonaise (west central Africa)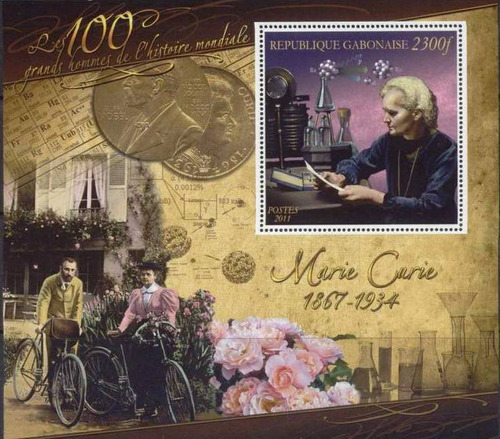 The stamp honores Marie Curie. It might only be made for collectors without any valid postal use.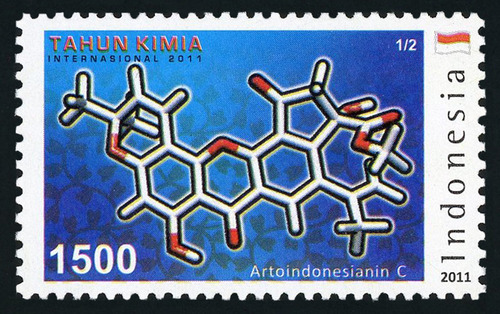 Indonesia created two stamps. This one shows the structure of the molecule Artoindonesianin C.
---