Nobel Prize in Physiology or Medicine

is divided, with one half jointly to Bruce A. Beutler, The Scripps Research Institute, La Jolla, CA, USA, and Jules A. Hoffmann, University of Strasbourg, France, for their discoveries concerning the activation of innate immunity

and the other half to Ralph M. Steinman, Rockefeller University, NYC, USA, for his discovery of the dendritic cell and its role in adaptive immunity.
Ralph Steinman died on September 30. This information reached the Nobel Assembly at Karolinska Institutet via the president of Rockefeller University at 14.30 CET on October 3, 2011. Earlier the same day, at 11.30 CET, they had announced the 2011 Nobel Laureates in Physiology or Medicine without knowing of Ralph Steinman's death.
Interview with Ralph Steinman (podcast) by the European Journal of Immunology and the related article in the journal: Dendritic Cells: Understanding Immunogenicity from October 2007.

more details below




Nobel Prize in Physics

is awarded "for the discovery of the accelerating expansion of the Universe through observations of distant supernovae" with one half to Saul Perlmutter, Lawrence Berkeley National Laboratory and University of California, Berkeley, CA, USA,

and the other half jointly to Brian P. Schmidt, Australian National University, Weston Creek, Australia, and Adam G. Riess, Johns Hopkins University and Space Telescope Science Institute, Baltimore, MD, USA.




Nobel Prize in Chemistry

was awarded to Dan Shechtman, Technion – Israel Institute of Technology, Haifa, Israel, "for the discovery of quasicrystals".
---
Physiology/Medicine
Interview with Ralph Steinman by the European Journal of Immunology and the related article in the journal: Dendritic cells: Understanding immunogenicity
Key articles on dendritic cells by Ralph Steinman and others published in the European Journal of Immunology since the Supplement on Breakthroughs in immunology include:
Physics
The book below is recommended there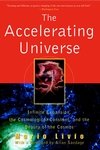 The Accelerating Universe: Infinite Expansion, the Cosmological Constant, and the Beauty of the Cosmos
Mario Livio
Wiley, New York, USA, 2001.
ISBN: 978-0-471-39976-6
It is out of print but available on demand and as an e-book
Chemistry
Nobel Prize in Chemistry 2011
The Nobel Prize in Chemistry has been awarded to Dan Shechtman, Israel Institute of Technology, for the discovery of quasicrystals