The Cluster of Excellence "Unifying Concepts in Catalysis" offers in open competition the Clara Immerwahr Award
The Clara Immerwahr Award will be conferred annually to a young female scientist at an early stage of her career (postdoctoral fellow, junior researcher) for outstanding results in Catalysis Research. It is associated with a financial support of 15.000 Euro for a research stay at UniCat and thought to pave the way for setting up an independent research group in the consortium or for establishing close collaborative links with UniCat. The award is sponsored by the TU Berlin and BASF SE.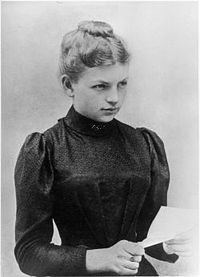 The Clara Immerwahr Award winner 2012 will be announced in December 2011 and will be honored during a public ceremony involving a guest lecture held by an internationally renowned female scientist in February 2012 at TU Berlin.
Application Documents
We expect applications of postgraduate female researchers with no restrictions to nationality or home institution who are not older than 35 years. The application must include: An application letter, a curriculum vitae, a letter containing a one page summary of the candidate's achievements, a project description (2 pages), a publication list, PDF files of 3 of the published papers and two letters of recommendation. The application and all submitted documents must be in English.

Application deadline: November 15, 2011