The annual Times Higher Education (TimesHE) University rankings for 2011/2012 have been published. The overall rankings placed California Institute of Technology (Caltech), USA, in the top position, with Harvard and Stanford Universities, USA, second and third, respectively. As with the QS World University Rankings published earlier this year, the US and the UK dominate the top 20. The highest ranking Asian universities are the University of Tokyo, Japan, at 30 and the University of Hong Kong, China, at 34.
Several universities are notable for the difference in position from the QS Ranking, which had the University of Cambridge, UK, as the best overall university. According to the TimesHE Rankings, the University of Cambridge is not even the best university in the UK, coming in sixth, with their traditional rival, the University of Oxford, ranked two places higher. In contrast, the TimesHE leader, Caltech, was ranked twelfth overall by the QS Rankings.
In both rankings, the ETH Zurich (Swiss Federal Institute of Technology) is the only university in a non-English speaking country to appear in the top 20.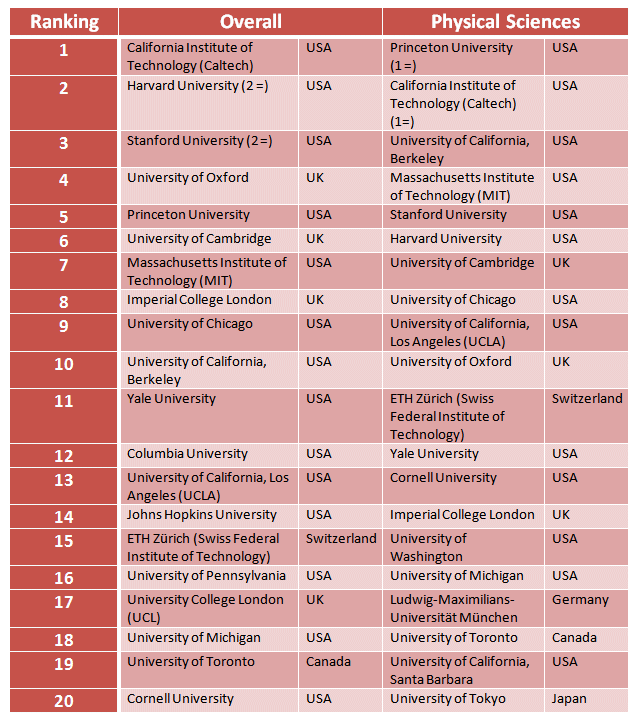 The TimesHE Rankings have been developed with Thomson Reuters and employ 13 separate performance indicators grouped under the categories:
Teaching — the learning environment (30 %)
Research — volume, income and reputation (30 %)
Citations — research influence (30 %)
Industry income — innovation (2.5 %)
International outlook — staff, students and research (7.5 %).
---
TimesHE Rankings:
See also: