Last month, ChemistryViews.org featured an article in which we asked readers to vote for their favorite chemistry joke and to submit their own. As you can see below, we received many great jokes.
One joke stood out as the most liked by our readers. This was the joke: Why do chemistry professors like to teach about ammonia? Because it's basic material.
It was submitted by Albano Galán, a Ph.D. student in the group of Professor Pablo Ballester at the Institute of Chemical Research of Catalonia in Tarragona, Spain. He will receive a copy of the book Molecules that Changed the World.
We took the opportunity to ask Albano (pictured) a few questions:
Which was your favorite joke from our article (other than your own)?
They all sucked. It was so easy to beat them … But seriously, the one about the helium not reacting was really good.
Why did you choose to study chemistry?
I decided to study chemistry because I wanted to learn how the world works at its very basis.


What do you enjoy most about chemistry?
That it is ridiculously fun. There's not a single day that I do not enjoy working in the lab cooking up some stuff.
And what is your field of research?
Supramolecular chemistry.
Congratulations Albano, and thank you to everybody who submitted a joke or voted.
Breakdown of voting: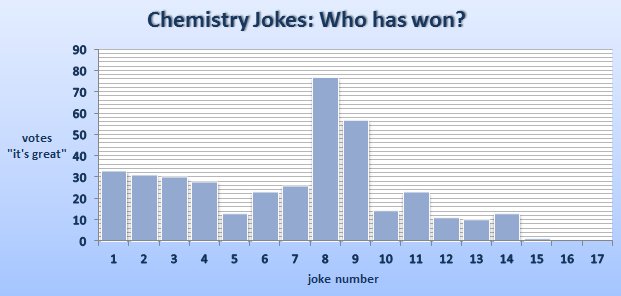 Heisenberg is out for a drive when he's stopped by a traffic cop.
The cop says: " Do you know how fast you were going?"
Heisenberg replies: "No, but I know where I am".
Helium walks into a bar.
The bar tender says "We don't serve noble gasses in here."
Helium doesn't react.
Two atoms are walking down the street.
Says one atom to the other, "Hey! I think I lost an electron!"
The other says, "Are you sure??"
"Yes, I'm positive!"
A Higgs boson walks into a church, "We don't allow Higgs bosons in here!" shouts the priest.
"But without me, how can you have mass?" asks the particle …
A chemist swallowed some acid. He cried out and another chemist took a basic soln. of NaOH and told him drink it to neutralize the acid.
One day "METHYL"(-CH3) went out to play. His mom called him back but "DIMETHYL ETHER" returned instead.
Why?
Because mom called by saying, "CH3-O-CH3, come back!"
Why did the white bear dissolve in water?
Because it was polar.
Why do chemistry professors like to teach about ammonia?
Because it's basic material.
Two men walk into a bar.
The first says, "I'll have some H2O."
The second one says, "I'll have some H2O too." Then he dies.
You can either be part of the solution or part of the precipitate.
Erwin Schrodinger brings his sick cat to the doctor.
After waiting several hours in the waiting room, the doctor finally comes out. So Erwin says, "Well, doc?"
And the doctor says, "I have good news and I have bad news."
Should I tell a sodium joke? Na.
A neutron goes to the theater. The cashier says, "For you, no charge".
What do dipoles say in passing?
"Have you got a moment?"
Xenon was walking through the city when it met X-rays.
X-rays called to Xe, "Hey! Have you seen my NaCl crystal?"
Xenon replied, "No, I am a stranger."
A chemist goes into a drugstore. "I'd like a box of acetylsalicylic acid, please".
The drugist asks: "Do you want Aspirin?"
"Yes, of course, but I can never remember this strange word!"
218Po went to the Barber and returned as a completely different person.
---