After a tough year in 2009, things are beginning to improve for the chemical industry, with three of the top European chemical companies reporting solid profits in the first quarter of 2010.
However, the chairmen for Bayer, BASF and Merck all remain cautious about the coming months…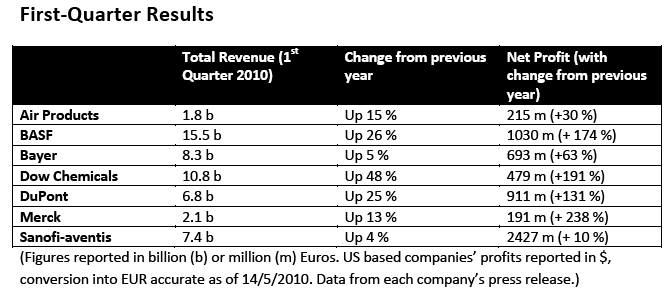 ---
Bayer
"Bayer is well on track – and we plan to grow again this year," said Werner Wenning, Chairman of the Board of Management of Bayer.
The Material Science division of Bayer posted a clear recovery in an increasingly stabilizing market environment, while HealthCare saw a slight improvement in sales and earnings. The CropScience business weakened distinctly in the first quarter against the prior-year period. This was due to the general market trend and a late start to the season caused by the weather.
"We remain confident for 2010 overall and are raising the outlook for the Bayer Group," Wenning said. However, he said the prospects remain uncertain, which means 2010 will not be an easy year either.
---
BASF
The Chemicals, Plastics, Performance Products and Functional Solutions segments grew substantially this quarter thanks to renewed demand from customer industries, particularly the automotive, electric and electronic industries.
"We expect our sales to grow again in 2010 and outpace global chemical production. We anticipate that the income from operations before special items will improve considerably and that we will again earn a premium on our cost of capital," said Dr. Jürgen Hambrecht, Chairman of the Board of Executive Directors of BASF SE.
However, he points out that "the recovery remains shaky." Risks result mainly from the continuing financial and debt crisis, which is intensifying in some areas, the winding down of national stimulus programs, volatile raw materials markets, excess capacities, growing geopolitical tensions, and protectionism.
---
Merck
All four divisions of the Merck Group recorded increases in first-quarter 2010 revenues – most notably the Chemicals divisions – indicating that the company weathered the global economic crisis of 2009 and is now back on track.
"Although we don't expect 2010 will be easy, we did start the year quite well, especially in our Chemicals business," said Dr. Karl-Ludwig Kley, Chairman of the Executive Board of Merck KGaA.
"Because of the good results in our Liquid Crystals division, we have raised our guidance for 2010 and now expect the operating result of our Liquid Crystals division to rise by 60% to 70 % and the Group operating result to increase between 30 and 40 %."
---