At the World Economic Forum in Davos, Switzerland, Corporate Knights, a Toronto-based media and investment research company, announced its annual Global 100 list of the world's most sustainable corporations. It named Syngenta (32), Sigma-Aldrich (38), Novozymes (43), and Ecolab (47) as the best chemical companies.
The list is based on publicly-disclosed information from global mid-, large-, and mega-cap companies with a market cap upwards of $2 billion. Companies are then evaluated across 12 key performance indicators (KPIs) that measure an organization's management of resources, employees, and finances.
In terms of resources, the company's energy use, emissions, water use, and waste generated are analyzed. To evaluate a company's financial sustainability, factors including revenue, EBITDA (earnings before interests, taxes, depreciation and amortisation), and the ratio of CEO compensation to the average employee's compensation are taken into consideration. To determine the sustainability of a company's employee management practices, reports of fatalities or lost time, turnover, diversity in leadership, and female representation on the board and in management are considered.
The ranking exclusively considers characteristics that can be measured quantitatively. Certain indicators are prioritized over others across industries. For example, safety rankings are not particularly important to banks, as the financial sector work doesn't pose physical danger. But safety performance is an important measure of sustainability in the transportation industry, where physical well-being can be at stake.
Table. 2015 global 20 most sustainable corporations in the world (Souce: Corporate Knights).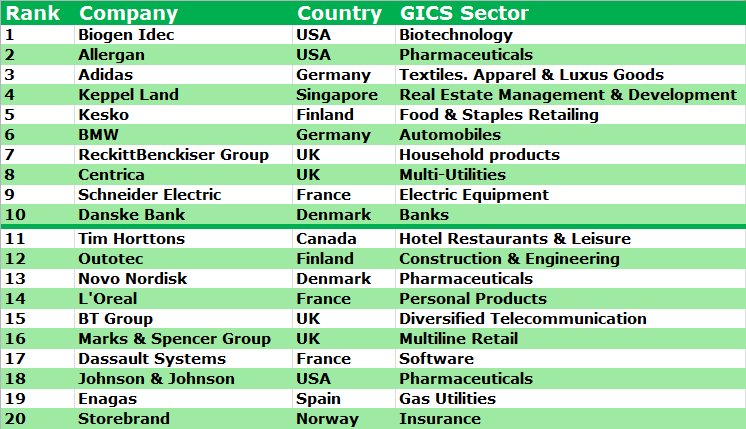 ---