At the final day of the 65th Lindau Noble Laureate Meeting, 36 Nobel Laureates presented a joint declaration discussing the threat of climate change. This Mainau Declaration 2015 on Climate Change was read and signed on Mainau Island, Lake Constance, Germany, on Friday, July 3. At the Lindau meeting, Nobel Laureates and young scientists enjoyed international research dialogue.
The Mainau Declaration describes the threat of climate change and provides the Nobel Laureates' advice on climate change. They say that if the consumption of the resources of the world is "left unchecked, our ever-increasing demand for food, water, and energy will eventually overwhelm the Earth's ability to satisfy humanity's needs, and will lead to wholesale human tragedy".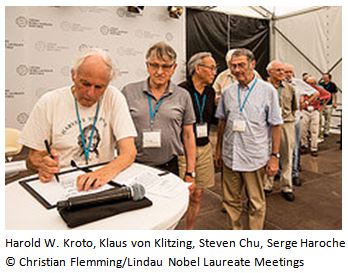 The speaker of this initiative, Professor Brian P. Schmidt, 2011 Physics Nobel Laureate from Australian National University, Canberra, stated that the challenge of the next five years is to get a global plan for the next 50 to 100 years in place. Looking at the Climate Report of the Intergovernmental Panel on Climate Change (IPCC), we have to find out how much CO2 we can put into the atmosphere within the next 50 to 100 years without harming the climate.

Professor Steven Chu, 1997 Physics Nobel Laureate from Stanford University, USA, and one of the initiators of the declaration, said that there are uncertainties about climate change, but we know enough to know the general course of what is going on. He advised that we should not wait 50 years to be absolutely sure what is going to happen. Like the issue with second hand smoke, climate change affects us all. Steven Chu compared it with a fire insurance. "You don't wait till your house is on fire to take an insurance."
The Nobel Laureates hope that at the United Nations Climate Change Conference in Paris in December 2015, crucial action will be taken to limit future global emissions. "This endeavor will require the cooperation of all nations, whether developed or developing, and must be sustained into the future in accord with updated scientific assessments." The Declaration goes on that "Failure to act will subject future generations of humanity to unconscionable and unacceptable risk."
Professor Peter C. Doherty, 1996 Physiology and Medicine Noble Laureate from University of Melbourne, Australia, said as politicians care about votes, to progress, scientists and the press need to carry the message out to the general public and to educate them.
60 years ago, in 1955, 51 Nobel Laureates had presented a declaration on Mainau Island of the dangers of nuclear weapons under the initiative of Professor Otto Hahn, 1944 Chemistry Nobel Laureate.
---
Also of interest