Poly(vinyl methyl ether) (PVME) is a water-soluble polymer that undergoes a phase separation at around 37 °C. The mechanism of the phase separation has been investigated by Peiyi Wu and colleagues, Fudan University, China, by use of FTIR spectroscopy combined with 2D correlation analysis.
They show that heating the hydrated polymer first causes the CH3 groups to start the dehydration process, followed by the CH2 groups. Water molecules were shown to leave the CH2 groups very fast, and dehydration of CH2 groups is finished before that of CH3 groups. Next, water-PVME adducts, from interaction between the hydrophilic CH3−O groups and water, start to dissociate: The 1:2 adducts partially dissociate to 1:1 adducts before fully dissociating and releasing water molecules.
This is the first time that the changing order of dehydration of hydrophobic groups and the step-wise breakage of the hydrophilic group hydrogen bonds have been shown, giving a better understanding of structure−property relationships of temperature-sensitive polymers.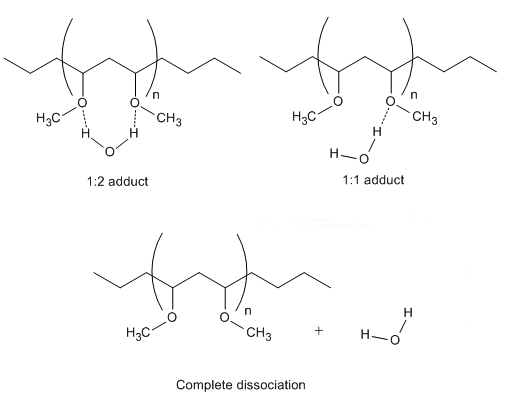 Images: (c) Wiley-VCH
---