The magazine Nachrichten aus der Chemie celebrated its 60th anniversary at the ACHEMA exhibition, Frankfurt, Germany.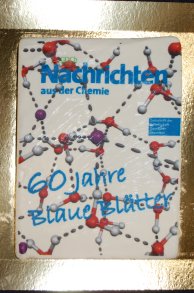 The Nachrichten or the Blaue Blätter, as it used to be called and is still affectionately known, is the membership magazine of the Gesellschaft Deutscher Chemiker (GDCh, German Chemical Society). It includes news about important developments in chemistry, related sciences, as well as the social aspects, activities, and offers of the GDCh.
The anniversary was celebrated with a Blaue Blätter-themed cake and a well-deserved glass of champagne or two for everyone.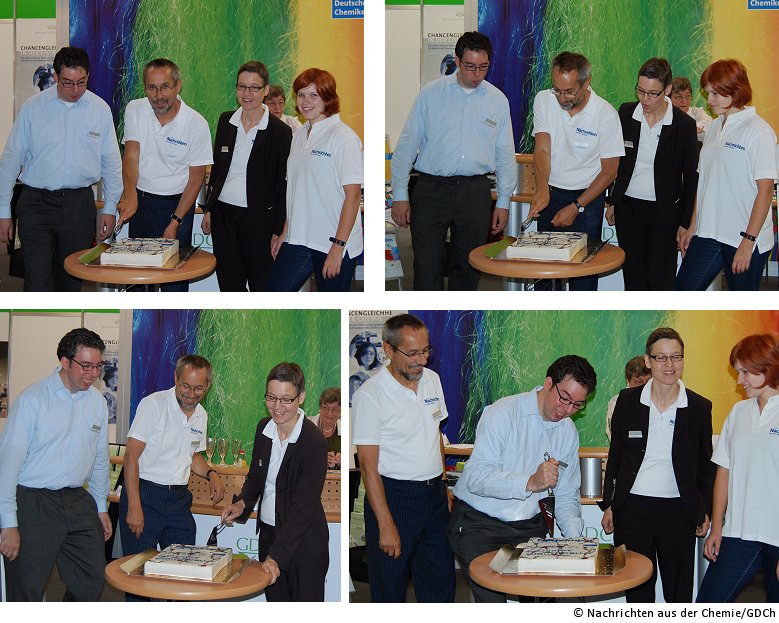 Cutting the cake are: Dr. Ernst Guggolz (center), Editor-in-Chief, Dr. Frauke Zbikowski (right), Editor, Dr. Christian Remenyi (left), Editor and member of the Editorial Board of ChemViews magazine, pictured with Nachrichten's current intern (far right).
---
Also of interest:
Trend Reports 2011
The latest trend reports published annually in Nachrichten aus der Chemie in which authors spot and compile an overview of inspiring work and recent trends in the most important chemical disciplines
Ada Yonath: Scientists Don't Usually Throw Eggs
C. Remenyi, Nachrichten aus der Chemie, talks with Ada Yonath about why it's better to be a science star than a pop star, her work, and science in small countries