BASF, SABIC, and Linde have begun construction of the world's first demonstration plant for electrically heated large-scale steam cracker furnaces. By using electricity from renewable sources instead of natural gas, the new technology has the potential to reduce CO2 emissions of one of the most energy-intensive production processes in the chemical industry by at least 90 % compared to technologies commonly used today.
Steam crackers play a central role in the production of basic chemicals and require a significant amount of energy to break down hydrocarbons into olefins and aromatics. Typically, the reaction is carried out in furnaces at temperatures of about 850 °C. Today, these temperatures are achieved by burning fossil fuels. By running the process on electricity, CO2 emissions are to be reduced.
The demonstration plant will be fully integrated into one of the existing steam crackers at BASF's Verbund site in Ludwigshafen. Commissioning is planned for 2023. The demonstration plant will process about 4 metric tons of hydrocarbon per hour and consume 6 megawatts of renewable energy.
The plant is designed to test two heating concepts in parallel (pictrured): Direct heating applies an electric current directly to the process tubes inside the reactor. Indirect heating uses radiative heat of heating elements placed around the tubes. Testing these two concepts will make it possible to respond flexibly to different customer and site requirements.
BASF and SABIC are investing together in the project. The demonstration plant will be operated by BASF. Linde is the engineering, procurement, and construction partner for the project, and, in the future, will commercialize the developed technologies. This project demonstrates how global companies can successfully collaborate by combining their expertise in technology development, engineering, procurement and construction execution, and operation.
The project has been granted €14.8 million by the German Federal Ministry for Economic Affairs and Climate Action under its "Decarbonization in Industry" funding program. The program is supporting energy-intensive industries in Germany in their efforts to achieve carbon neutrality.
---
Also of Interest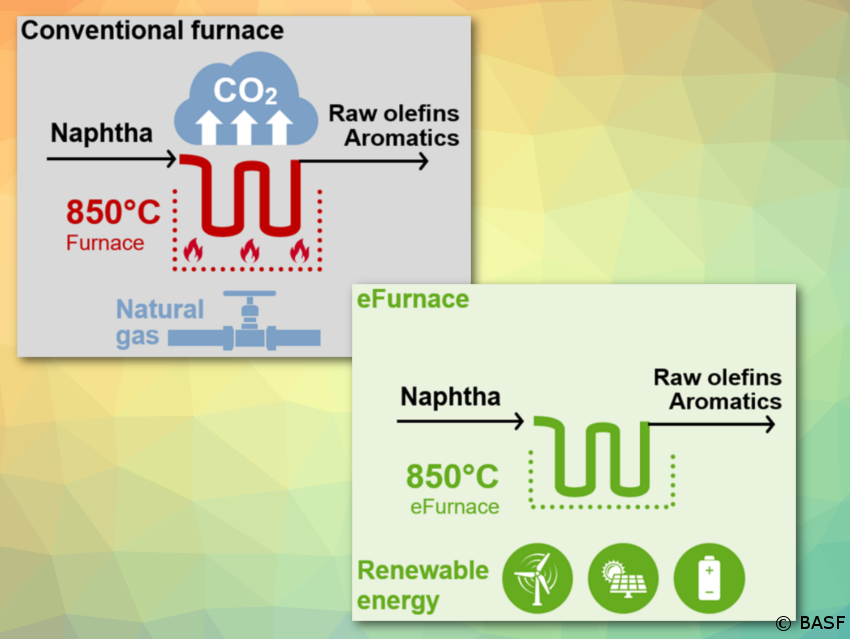 BASF, SABIC, and Linde join forces to demonstrate innovative concept to reduce CO2 emissions