The Justus Liebig Laboratory in Gießen, Germany, has been awarded the EuChemS Historical Landmarks Award in recognition of its pioneering research and teaching role in the development of chemistry as a modern science. The award was presented in a ceremony where a plaque was installed at the entrance of the building, where Liebig conducted his research and trained international scientists from 1824 to 1852. The building is a museum since 1920.
The Justus Liebig Society, which operates the museum, aims to preserve the historical and scientific context of Liebig's laboratory. The museum has an exhibition area of 379 m² and offers experimental lecture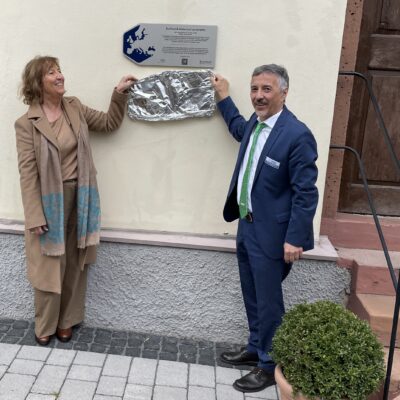 s to the general public. It receives approximately 8,000 visitors from all over the world every year.
The ceremony included speeches from Gerd Hamscher (pictured on the right), Chairman of the Justus Liebig Society and Professor at Justus Liebig University in Gießen, Martin Rößler, Regierungsvizepräsident of the Gießen Regional Council of the State of Hesse, and Frank-Tilo Becher, Mayor of the City of Gießen. Angela Agostiano (pictured), President-elect of EuChemS and Professor at the University of Bari, Italy, introduced the work of EuChemS and the Historical Landmarks Award programme.
The Historical Landmarks Award recognizes sites that have played a decisive role in shaping the cultural fabric and history of Europe, to acknowledge the importance of chemistry for European history and cultural heritage. It was introduced in 2018 and has been given to six other sites in Europe: the Ytterby Mine in Sweden, the ABEA industrial complex on Crete in Greece, the mines of Almaden in Spain, the Edessa hemp factory in Greece, the research station on the Jungfraujoch in Switzerland, and the chemical laboratories in Coimbra in Lisbon and Porto in Portugal. The Liebig Laboratory is the first site in Germany to be awarded.
Christoph Meinel, Chairman of the GDCh Commission Historical Sites of Chemistry and Emeritus Professor at the University of Regensburg, Germany, and Peter R. Schreiner (pictured below), Professor at the Justus Liebig-University Gießen, provided an introduction to Liebig's life and work. Justus von Liebig, one of the founders of organic chemistry, made significant contributions to agricultural and biological chemistry. He transformed chemistry education by combining research and teaching in a laboratory, engaging his students in a way that became the norm. Liebig was also a prominent European figure, mentored by influential chemists (Karl Wilhelm Gottlob Kastner, Joseph Louis Gay-Lussac) and author of the popular book Chemische Briefe (1844), which was widely translated. He founded Annalen der Chemie (1832), a leading chemistry journal still in circulation today under the name European Journal of Organic Chemistry.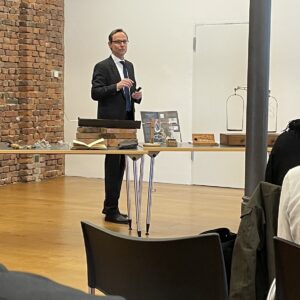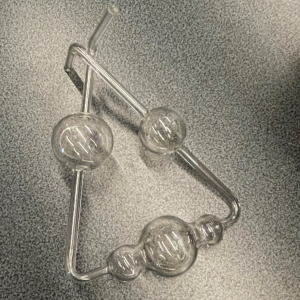 Peter Schreiner explains Liebig's Five-Bulb Apparatus for the elemental analysis of organic substances.
---
Also of Interest