Even in case of a large chemical or pharmaceutical company, 99.99 % of all scientists work outside of the organization. So, as a company, how can you increase the percentage of scientists involved in generating new ideas? And how do you attract the best minds to participate?
Merck in Darmstadt, Germany, has developed the Innovation Cup for this purpose. During a visit, I had the opportunity to learn about the concept and was highly impressed by the inspiring and friendly atmosphere, as well as the amazing people I had the chance to meet there. I heard a lot: "It's a great experience". And it was a remarkable experience for me as a temporary guest, too.
Exceptional Talent
For the 13th time, offsite, in the green, Merck invited around 40 international Ph.D. students to learn how research and development works in the chemical and pharmaceutical industry, as well as to collaborate in teams to develop an idea into a full project plan. Additionally, the participants gain access to the network of Innovation Cup alumni. On their webpage, Merck describes the event as a "unique chance to network with the brightest students from all around the world" [1].
The young scientists were selected through a two-stage application process from over 3000 applicants. "These individuals are all hand-picked, highly intelligent people who have won awards, some of whom have already founded their own companies. They come from top universities such as Harvard, Yale, Oxford, Cambridge, Heidelberg, and Munich", explained Dr. Ulrich Betz, Vice President Innovation Merck and the Innovation Cup's organizer, founder, and mastermind.
Their backgrounds were diverse, spanning fields such as chemistry, biology, physics, medicine, biochemistry, biotechnology, computer science, data science, pharmacy, and engineering. Similarly, their nationalities and current locations spanned across 13 countries, including Australia, China, Finland, France, Germany, Israel, Mexico, Spain, the UK, and the USA. "Top talents from all over the world, from various cultural backgrounds, come together to tackle the same problem from different perspectives. This significantly increases the probability of producing highly innovative outcomes", remarks Dr. Christian Tidona, Managing Director of the BioMed X Institute, Heidelberg, Germany, who has been supporting the participating teams with his experience in biomedical research and entrepreneurship since the inception of the Innovation Cup.

Figure 1. Group picture (Photo: © Merck)
Experiencing Innovation
The participants worked in small teams to develop ideas for innovative projects in the fields of oncology, neuroscience/immunology, medicinal chemistry, protein engineering, artificial intelligence, neuromorphic computing, and smart manufacturing. They spent the week developing on a concept for implementation. This included generating ideas, narrowing down the options, conducting research to determine the most promising idea, and ultimately selecting the idea to focus on and work with. In addition to the scientific aspects, they had to consider questions regarding economic viability, technical feasibility, potential patent restrictions, existing work in the field, safety concerns, as well as team dynamics. Ultimately, they had to convince a jury of Merck scientists and managers about their project.
Many of the participants mentioned that working in the international and interdisciplinary teams under time pressure was both a challenge and a great opportunity. They were pleasantly surprised by how they were able to start working directly with a team of unfamiliar individuals. It was also noted that "everyone is super motivated and focused".
The teams were coached by former participants, and selected retirees from Merck supported them with their expertise and experience. Additionally, there was the opportunity to seek guidance from senior managers and researchers from Merck regarding specific questions.
Shen Ning, an M.D.-Ph.D. candidate at Boston University School of Medicine/Massachusetts General Hospital and Co-founder and Co-CEO of INIA Biosciences, Boston, MA, USA, participated as an alumni coach for the first time this year. She stated, "As a team coach, I believe it is important to not only encourage innovative ideas but also build an effective team. That is truly the key ingredient to success, and I am grateful for the opportunity to learn about facilitating teamwork."
In my conversations with the participants, I came to realize that the people involved are the crucial driving force behind innovation. While technology is often seen as crucial for innovation, it is actually the individuals with diverse perspectives, knowledge, experiences, skills, and even cultures who make the most significant impact. When individuals from different backgrounds and areas of expertise come together, engage in discussions, and learn from each other, it creates the ideal environment for fostering innovation.
To drive innovation effectively, it is also crucial to incorporate an external perspective and involve partners in the process. Speed is also essential, with a focus on failing fast, learning quickly, and conducting internal and external testing to ensure the relevance of the pursued innovation. The integration of digital and AI technologies forms the foundation of this approach. Individuals need to have a basic understanding of what is possible and be aware of the available tools to be able to effectively collaborate with data scientist experts. They don't necessarily need to become experts themselves, but understanding the vocabulary and terminology associated with these technologies is vital.
To round up the program, there were lectures, opportunities to connect with participants from previous events, and team-building and networking activities.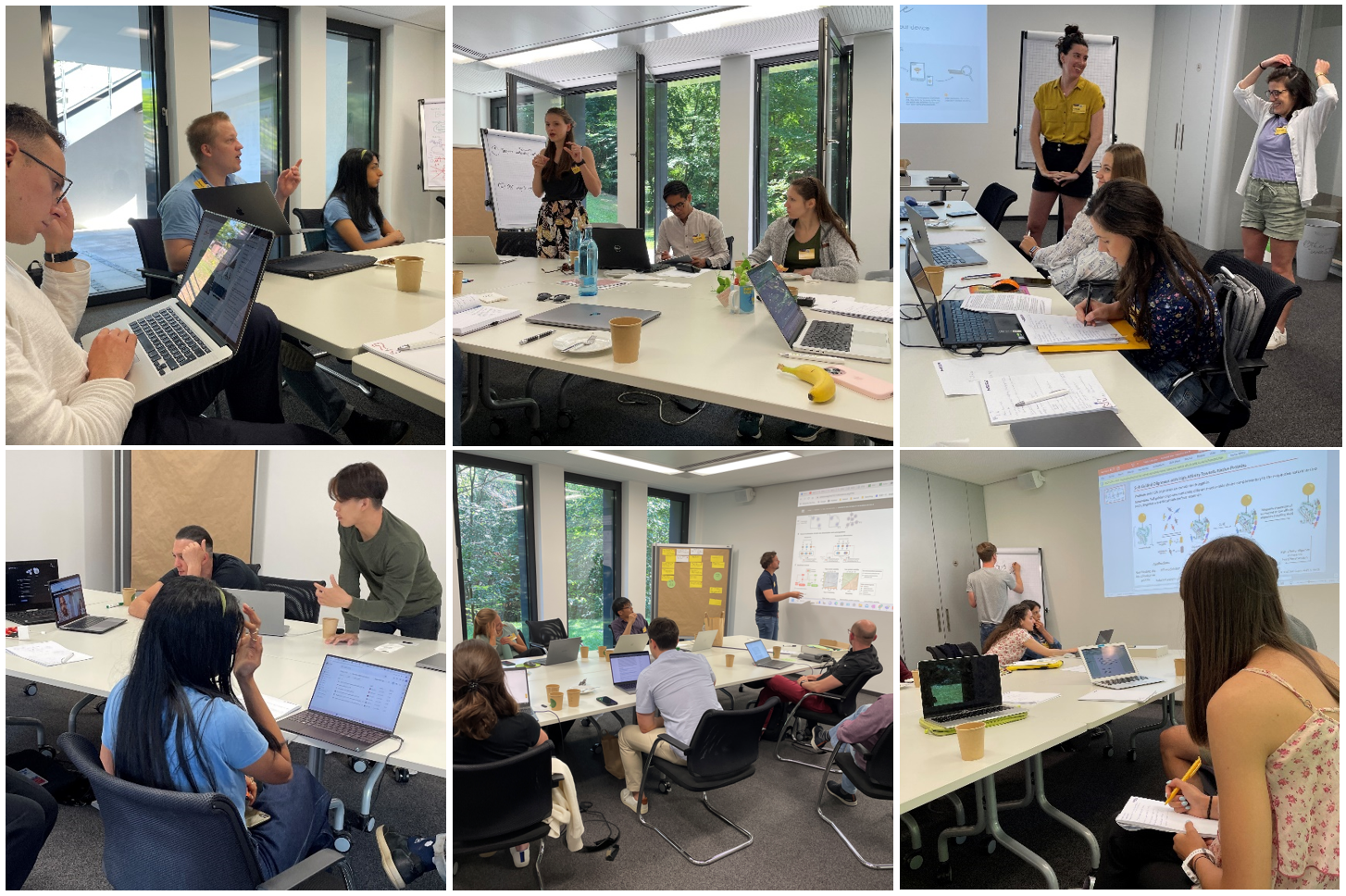 Figure 2. Teamwork.
Pitch Perfect
At the end of the event, the teams had the chance to compete for the EUR 20,000 Innovation Cup for the most convincing project plan. Runners-up were eligible for prizes of EUR 5,000 and EUR 3,000.
The jury consisted of experts with diverse backgrounds, requiring the teams to strike a balance between providing a general overview and delving into technical details. On the one hand, the pitch needed to be structured to explain the concept in general terms, catering to jury members who may have limited knowledge in the specific area. These members might support the project based on the big picture. On the other hand, it was equally important not to stay at a general level, as this would fail to convince the experts who can identify specific weaknesses and shortcomings in the pitch.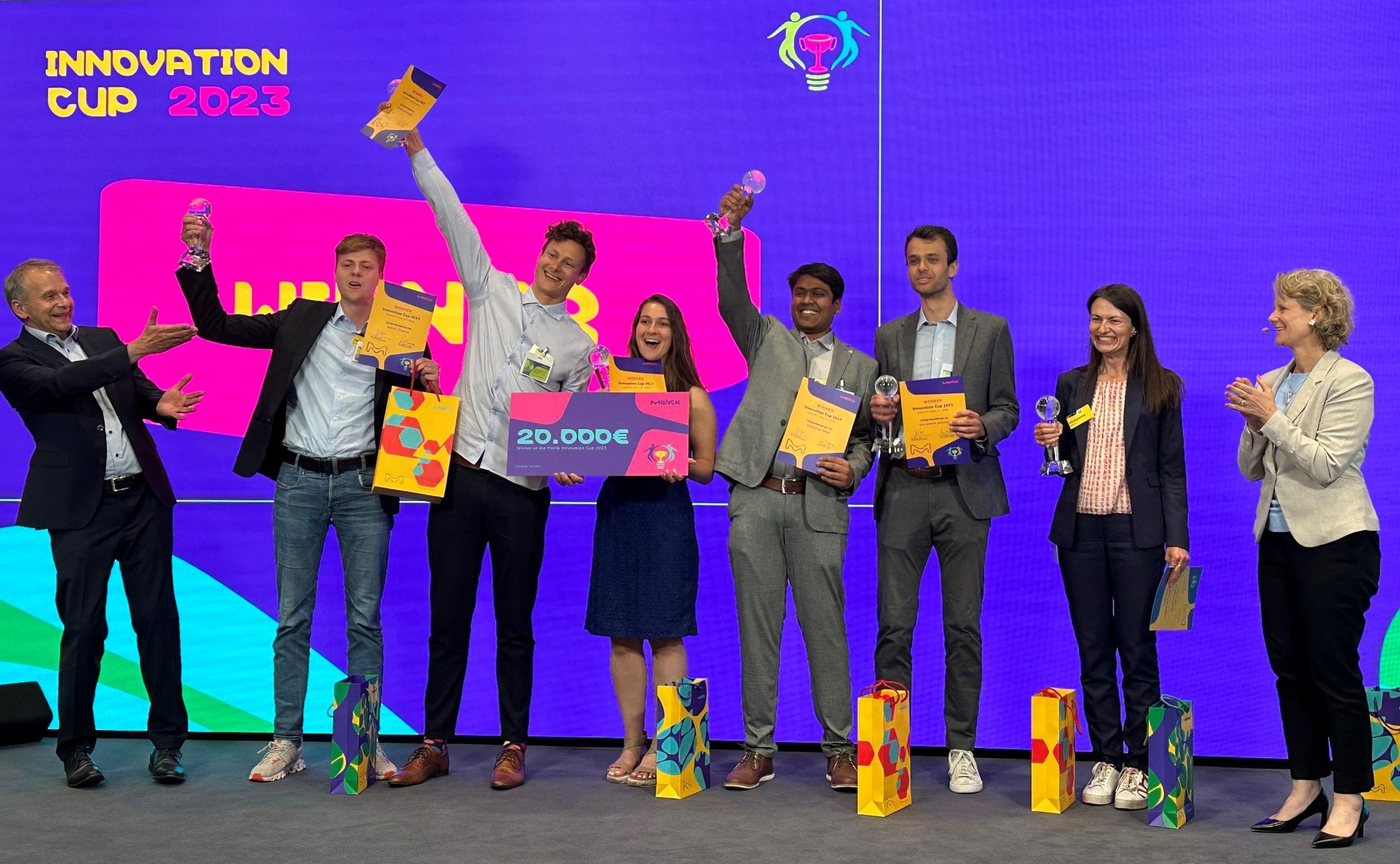 Figure 3. Happy EUR 20,000 Innovation Cup 2023 winner. From left to right: Ulrich Betz (Merck), Jakob Träuble, Philipp Rosendahl, Anastasia Georgiou, Rudrarup Bose, Alexandre Guiraud, Dragana Savic (coach), and Laura Matz (Merck, Group Science and Technology Officer). (Photo: © Merck)
Just the Beginning
Attending and potentially winning the Innovation Cup maybe just mark the beginning. Throughout the years, numerous ideas generated in the Innovation Cups have been either implemented by Merck or have led to the establishment of start-ups. Additionally, a growing alumni network has been developed, offering various events for participation.
The program provides candidates with the opportunity to secure permanent employment with Merck, with tailored positions created for the top performers to ensure their skills are used effectively, resulting in a mutually beneficial match.
"It's a beautiful project and my favorite one," says Ulrich Betz – and you could tell. This definitely contributes to the positive atmosphere. Christian Tidona adds: "I thoroughly enjoy these highly interdisciplinary scientific discussions and the speed at which thoughts are processed. It's not the style where you spend two or three hours trying to align, but rather it's about fast thinking, rapid dismissal of ideas, and the emergence of new thoughts. It's fantastic. It's like high-performance sports."
Similar to sports, personal commitment and the willingness to invest in an idea play a crucial role in these discussions and are what persuade others. Why should someone else invest in my idea if I'm not fully committed? The participants' personal commitment brought an infectious energy and an atmosphere of collaboration and inspiration to the event, which I also enjoyed.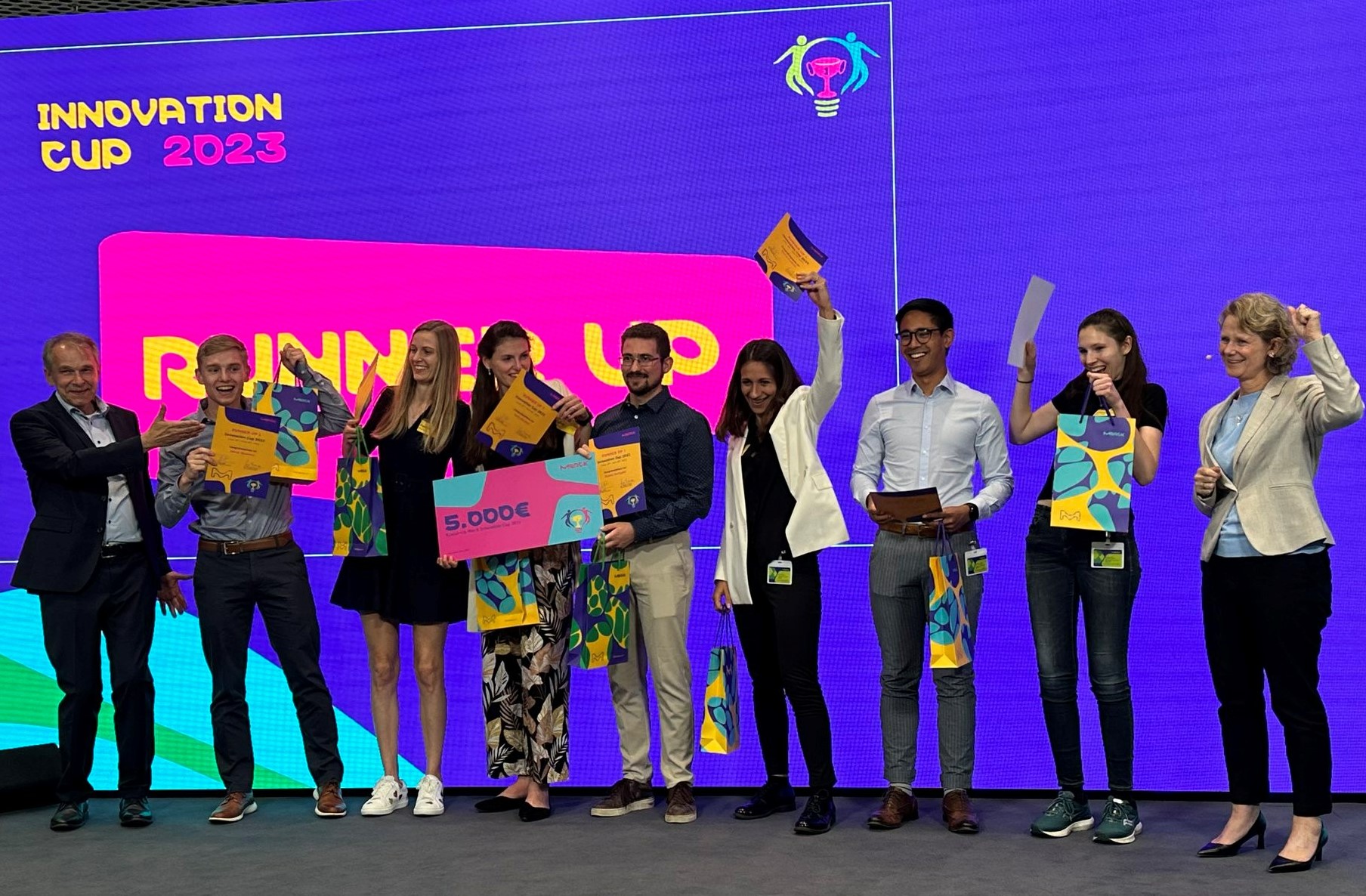 Figure 4. Runners-up from left to right: Jakob Woerner, Pauline Pfuderer, Yulia Kacher, Emilio Dorigatti, Giulia Cantini, Kenneth Verstraete, and Karin Hrovatin (coach). (Photo: © Merck)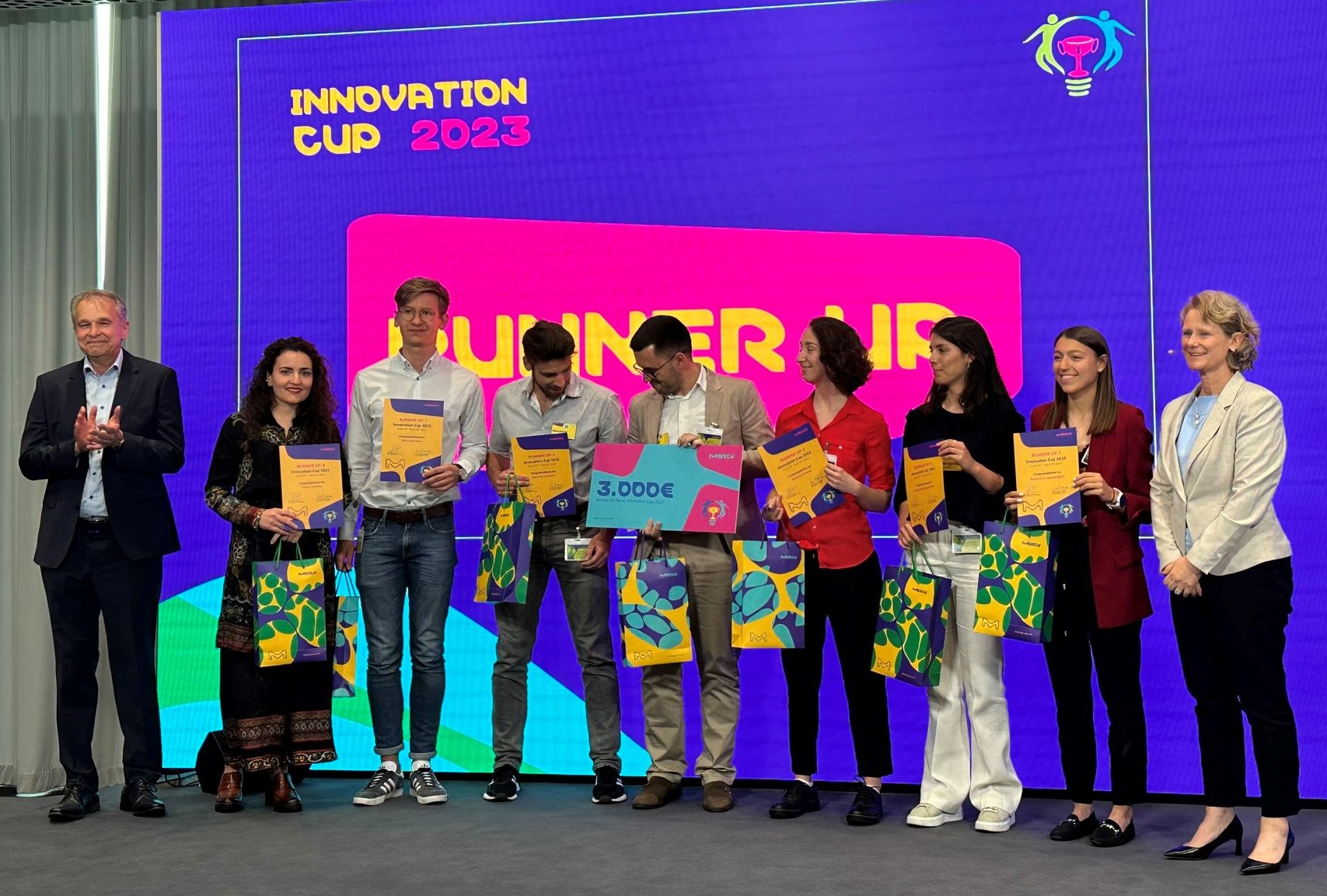 Figure 5. Second Runners-up from left to right: Elena de Vita, Oleg Borodin, Severin Lechner, Dusan Ruzic, Eleanor Ivens, Margarida Espadinha, and Beatrice Lansbergen (coach). (Photo: © Merck)
Reference
[1] Innovation Cup website (accessed June 16, 2023)
---
Also of Interest

Remembering Emanuel August Merck (1855 – 1923) on his 100th death anniversary

Tobias Erb, Marburg, Germany, is working on capturing CO2 and converting it into new chemical building blocks using biocatalysts

A growing collection of articles with valuable insights and personal experiences on the intersection of chemistry and entrepreneurship